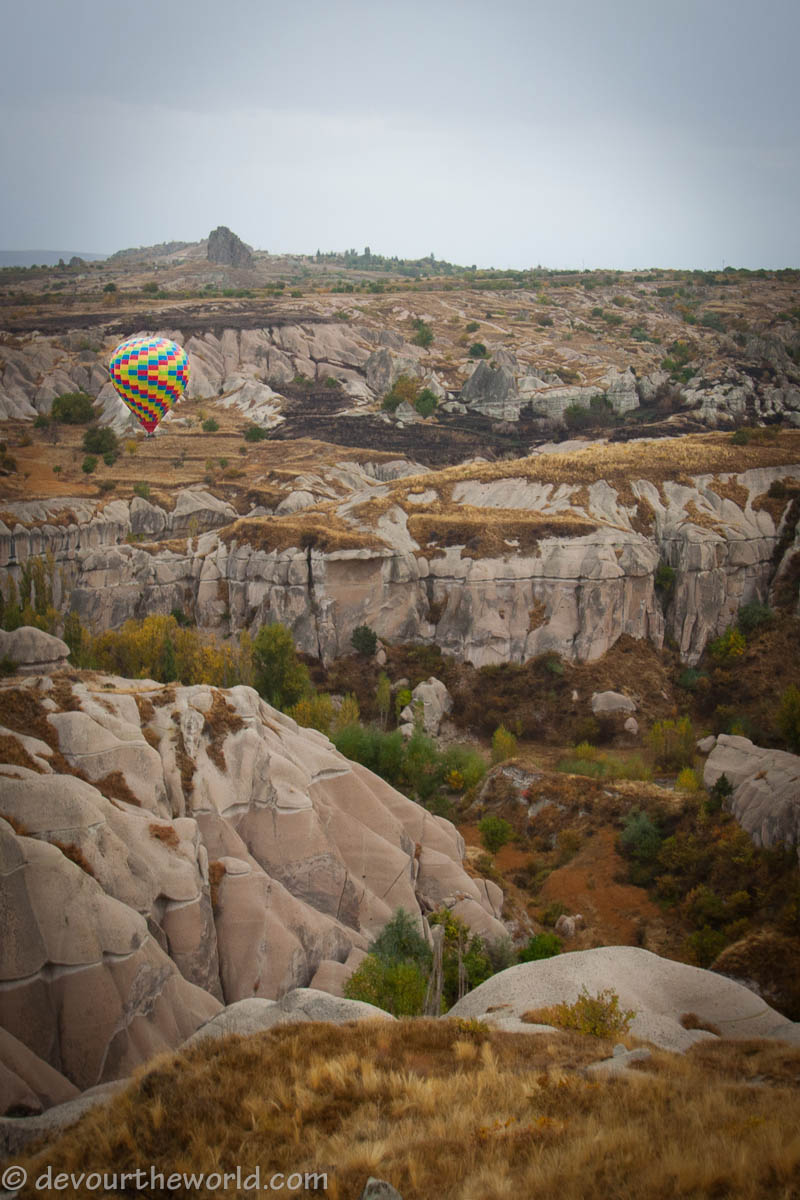 I am suspended high up in the air in nothing more than a wicker basket that is hanging by a string attached to a huge sack of hot air.  The very same person who can't even stand on a chair because of her knee knocking fear of heights.  Conceptually, it sounds crazy.  Luckily, I lack common sense so I didn't have that to prevent me from being the first to climb into the basket as everyone else pondered the mechanics on how best to get into the basket [note: it's impossible to maintain lady-like composure when climbing into the basket when you're barely 5′ 3″ – even if you took gymnastics for the better part of your childhood].
The rain that swept into Cappadocia in the middle of the night came as a surprise to me, given the beautiful day before.  Much to my disappointment, it was still raining when the van came to pick up a bleary group of hopeful aeronauts at 6:00am.  In true "L.A. Story" fashion, we were driven down the hill about 100 meters away to a waiting area stocked with a light breakfast and coffee.  After 45 minutes of "go"/"no go" flight statuses, our flight was finally a "go"…maybe. We were taken to an alternate launch site in hopes of re-routing our flight pattern to avoid some gusty winds.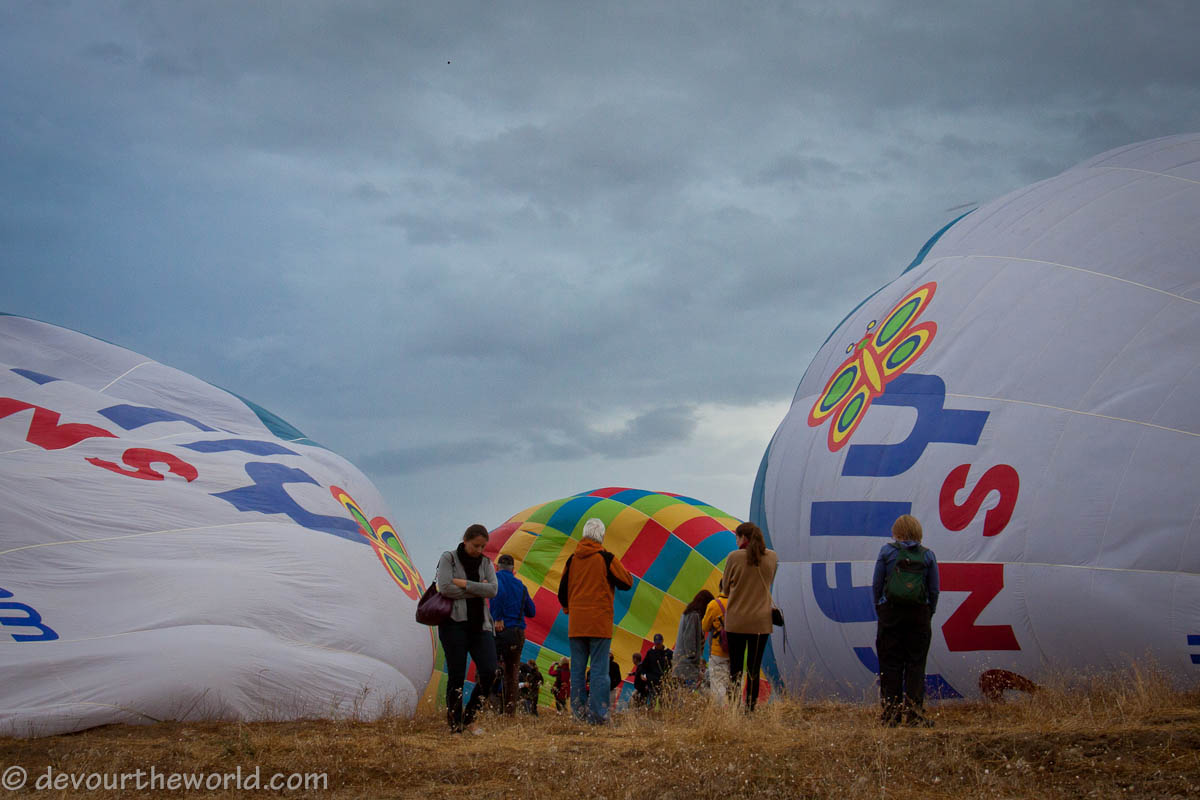 We [the amateur photographers] tried to be as unobtrusive as possible as we stepped in, out, and around the balloons as they were being inflated.  The pilots were surprisingly patient in the face of our obnoxious efforts to get that "perfect shot".  I was unsuccessful in my attempts at staying unobtrusive or at capturing the perfect shot.  However, I considered it a win that I managed not to set myself on fire.  That would've put a damper on the trip.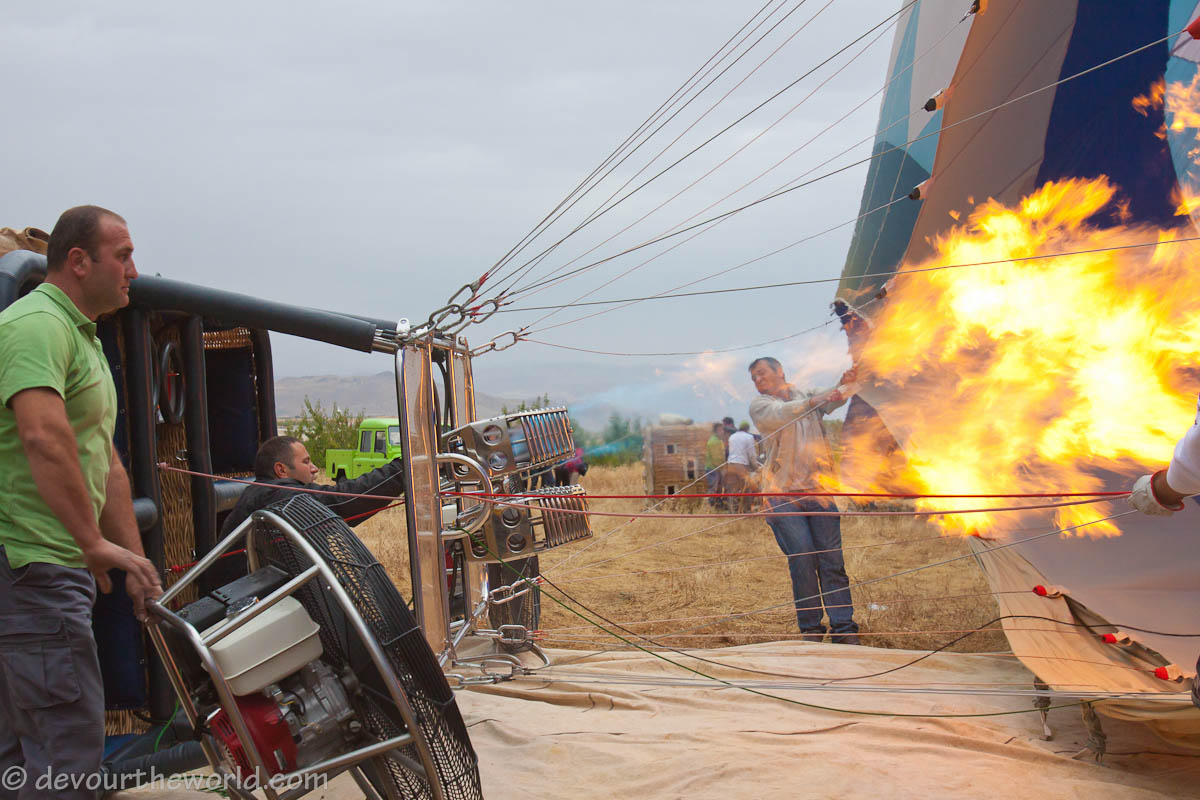 Even as we boarded the balloon, we still weren't sure that we'd actually take flight.  The goal was to wait for the perfect moment for lift off.  So we waited…and swayed in the basket…and waited.  Took a few pictures…swayed some more…
I was so busy taking photos of everything, doing little 360's in our 1/4 of the basket that I didn't even realize when we were up in the air.  Once I did, I kinda panicked. The annoying cackle you'll hear in the video – yeah, that was me.
Unfortunately, soon after we took off, Captain Mike felt that we needed to land as we were headed into the storm.  He was truly disappointed that we weren't able to take flight but expressed his concerns over our safety.  It was actually the best of both words – we got to take flight and we were refunded our money since we were only up for about 10 minutes.  I enjoyed the short flight that we did have but I do feel the need to go back for another chance at a flight…and to hang out and relax at the Kelebek.
Since I was unable to truly experience a full flight, Can you share your experiences with me if you had the opportunity for a successful flight?  What did you see??  If you haven't done this before, is this something you'd want to do – or are you like me and terrified of heights??

Butterfly Balloon
Phone: +90 384 271 3010 Email:
fly@butterflyballoons.com
Funniest quote of the morning to our group from one of the other pilots as he deadpanned: "You will be flying with Captain Mike [Green]. He is afraid of heights… Good luck."