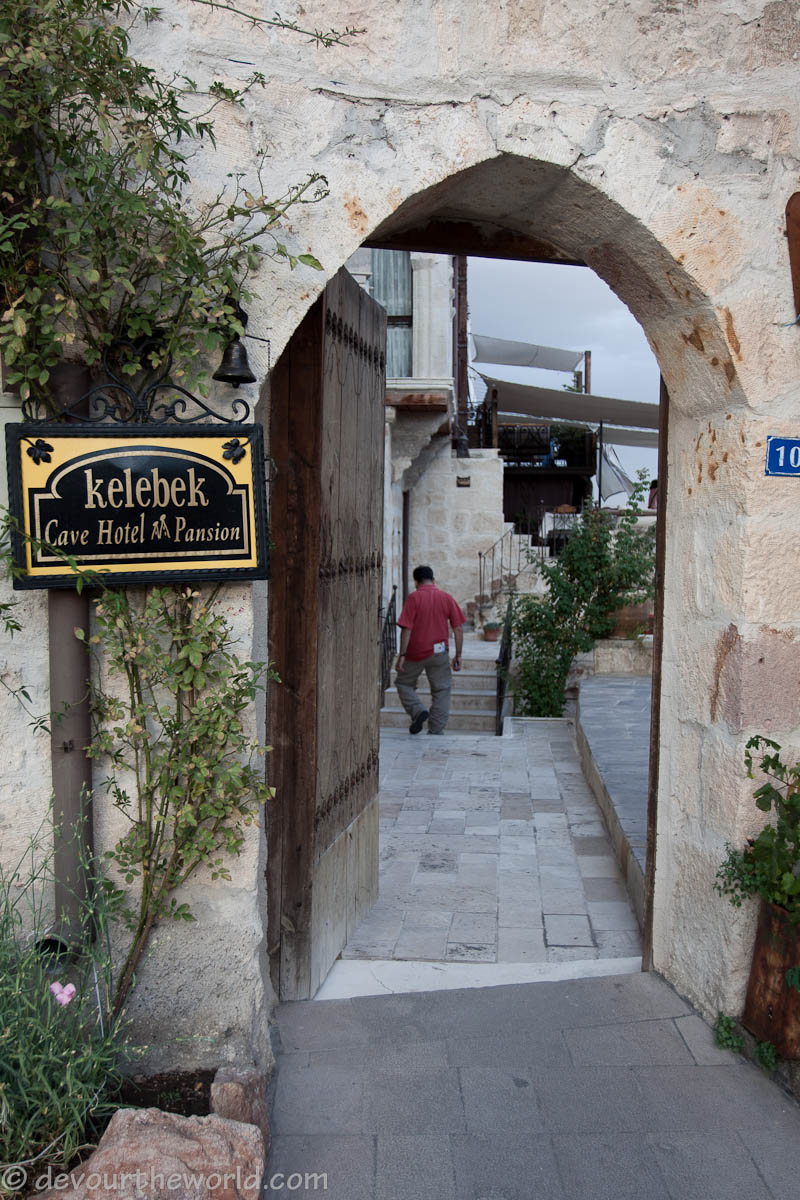 I lost something here, something I never expected to lose.  The best thing about losing it was that it opened up my hands to grasp something even better.  You see, the thing that I lost was my sense of time. Generally speaking, my every day life is ruled by time – how much [or little] time I have to accomplish all my tasks. I get a little crazy when I see the clock moving forward and I'm not moving with it.  In my career, I am almost in constant motion.  However, somehow I couldn't seem to move away from this spot at the Kelebek Cave Hotel in Goreme.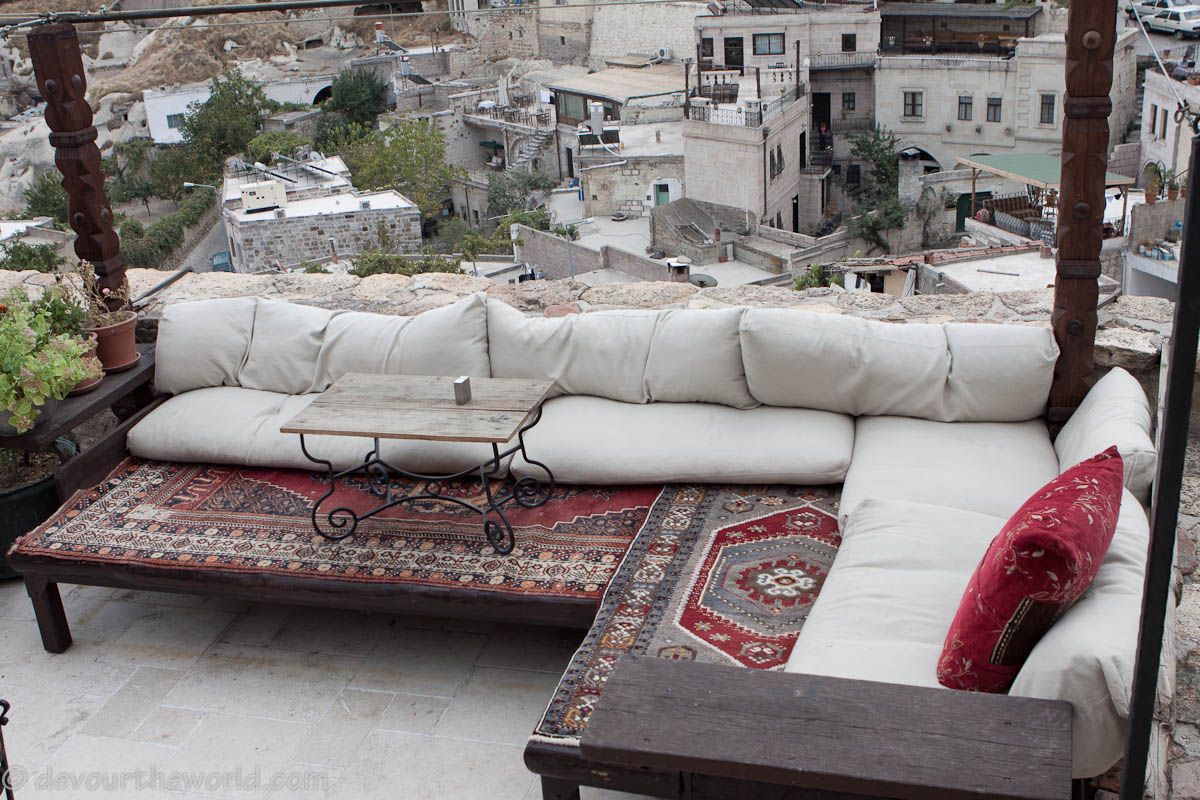 No matter how much I tried to move away from this spot, the cushions seemed to suck me right back in [I'm pretty sure that there's some sort of vacuum attached to these cushions].  I spent hours here, doing everything and absolutely nothing.  I did some daily activities that one would expect to do in Cappadocia but ultimately, I just couldn't wait to get back to the hotel.  Some days I would be so sleepy, that I'd have to crash for a bit in my very large cave room, equipped with a fireplace.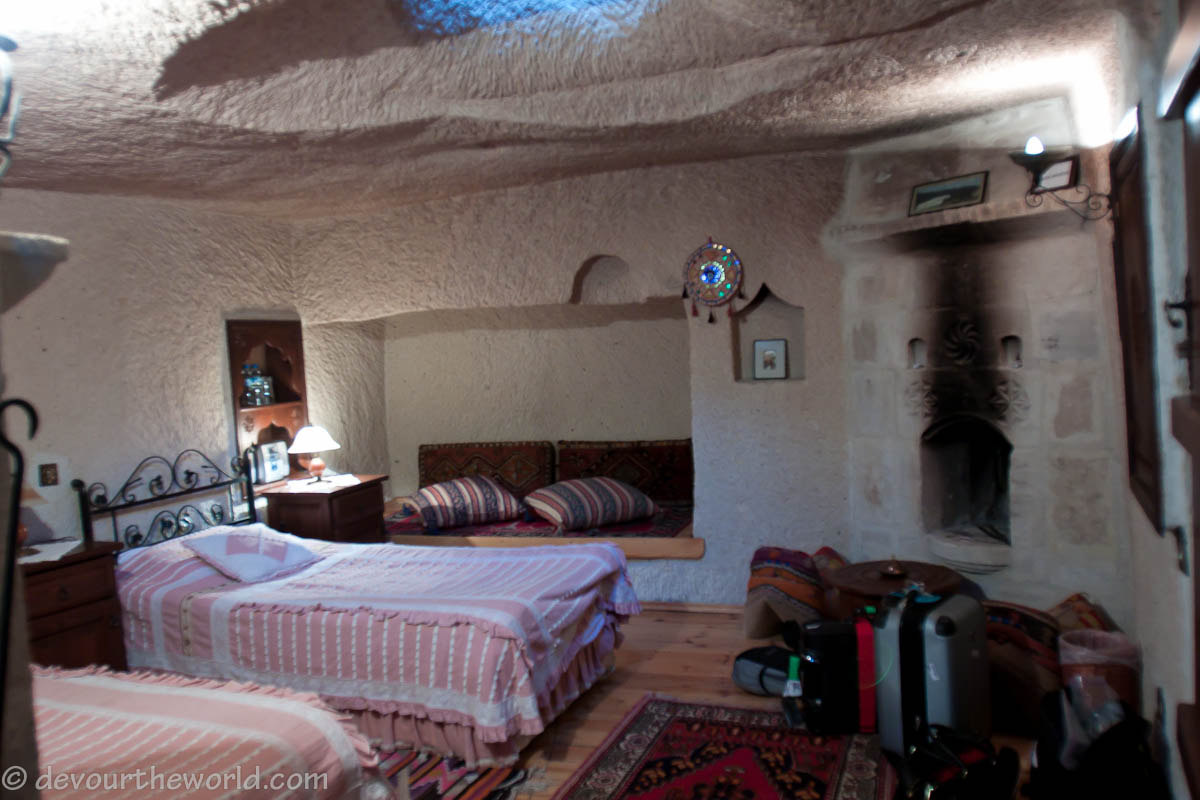 I loved starting my day off with a traditional Turkish breakfast [where I seemed to lose some more hours sitting and drinking tea].  It was hardy enough to get me through lunch.  Well, it was probably hardy enough because I had to try EVERYTHING on the boards.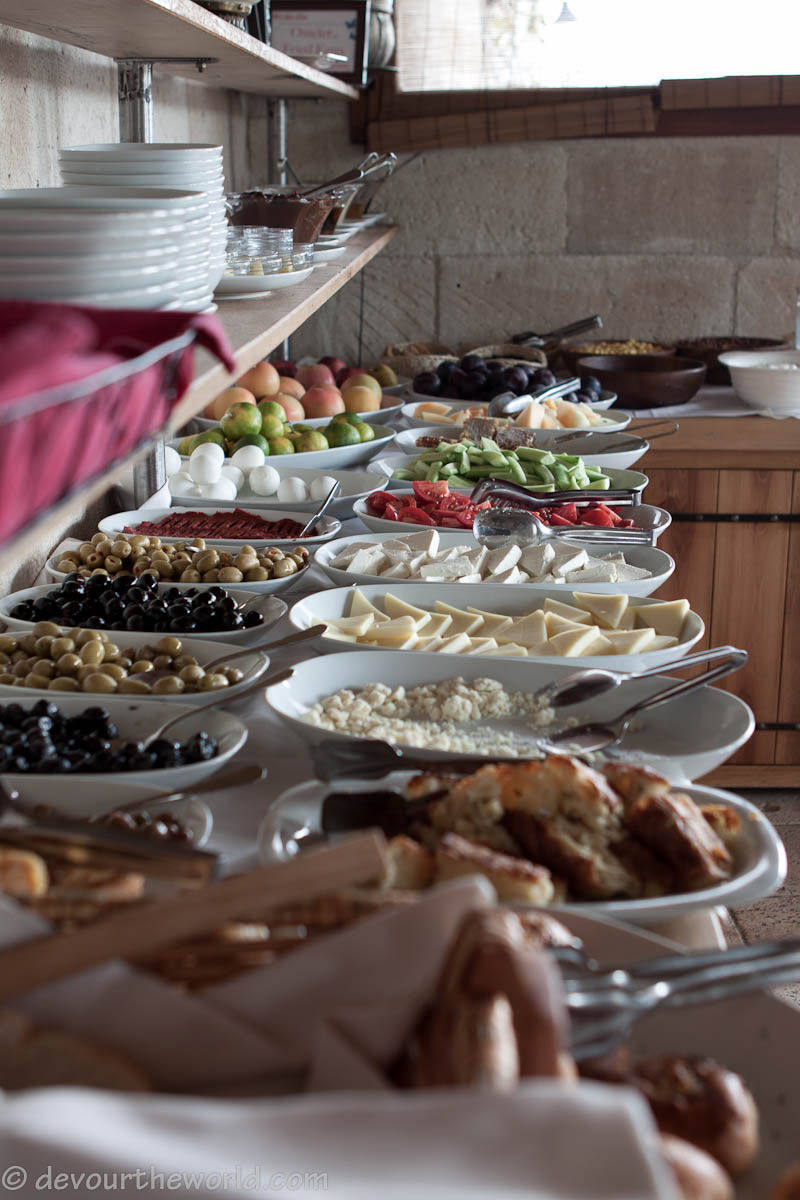 I'd bring my tea out onto the patio to take in the stunning views.  I took countless photos every day I was here.  The scenery seemed to change by the seconds.  I could post hundreds of my craptastic photos but I suspect you'd leave before getting to the end of this post.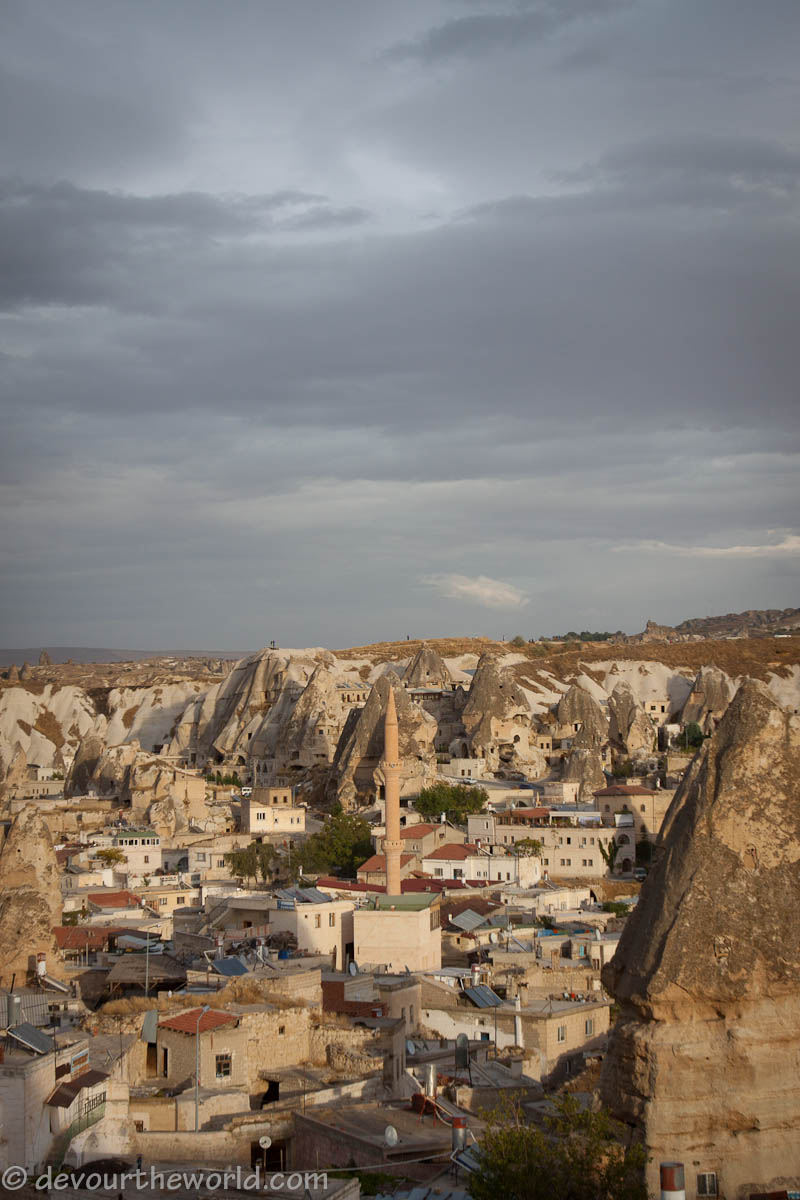 I learned how to slow down here.  In my usual whirlwind to get everything done, I tend to overlook so many small details, like the quietness of the valley seconds before it's inhabitants start moving about.  Looking back at my trip, I realized that the strongest memories I have of Turkey is my time in Cappadocia.  I gave myself a chance to breathe here and to take everything in.  I learned that just because I'm in motion doesn't mean that I'm absorbing or acquiring anything.  Sometimes the best course of action is inaction.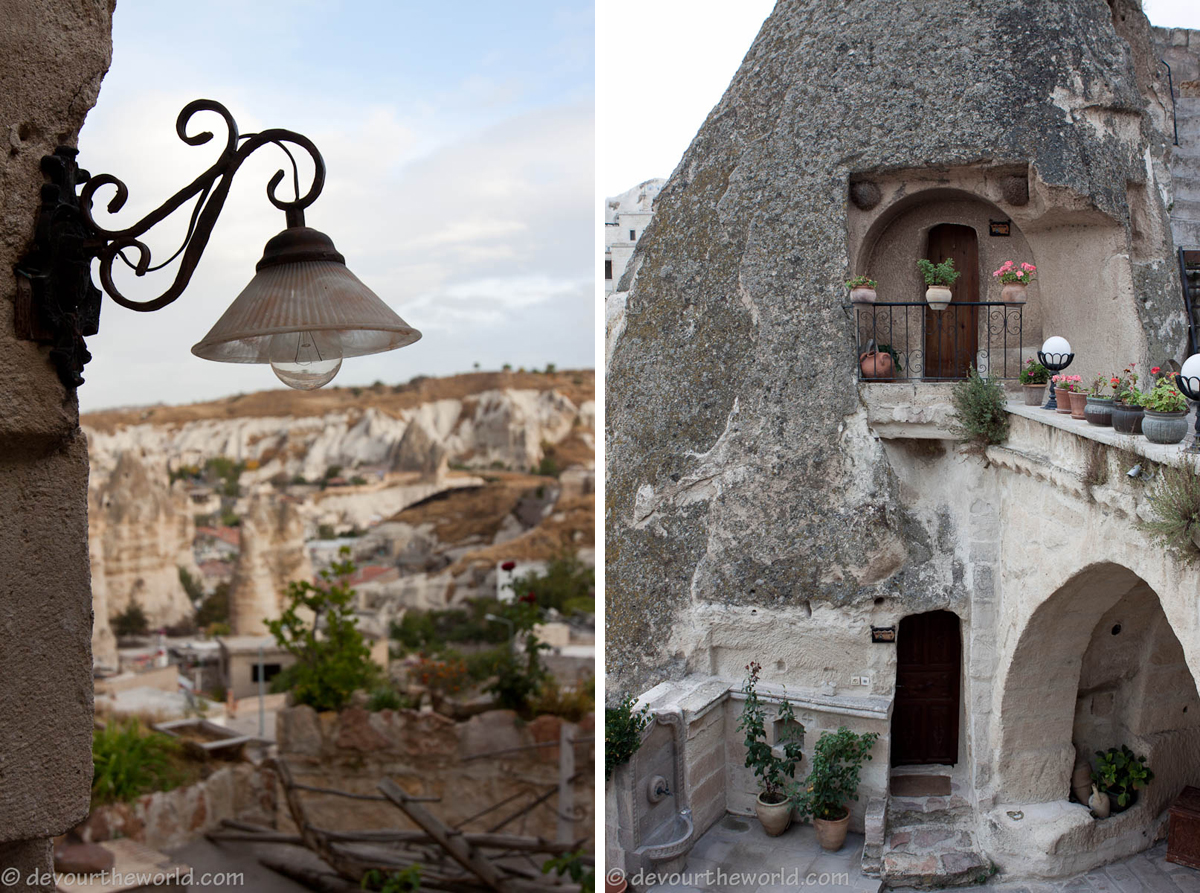 Slowing down is a relatively new concept to me. What I gained from that slow down in the middle of my trip was invaluable as a traveler, one that I try to do in all my trips.  What have you gained from slowing down in your travels? 
Note about the hotel: I paid for my own hotel stay.  My reviews are my own.  Some suggest getting the chimney rooms but I really like having my bathroom en-suite since it gets pretty cold [for my Southern Cali Girl sensibilities] during the evenings.
Kelebek Cave Hotel
Aydinli Mahallesi, Yavuz Sokak, No:1 50180 Goreme Nevsehir TURKEY