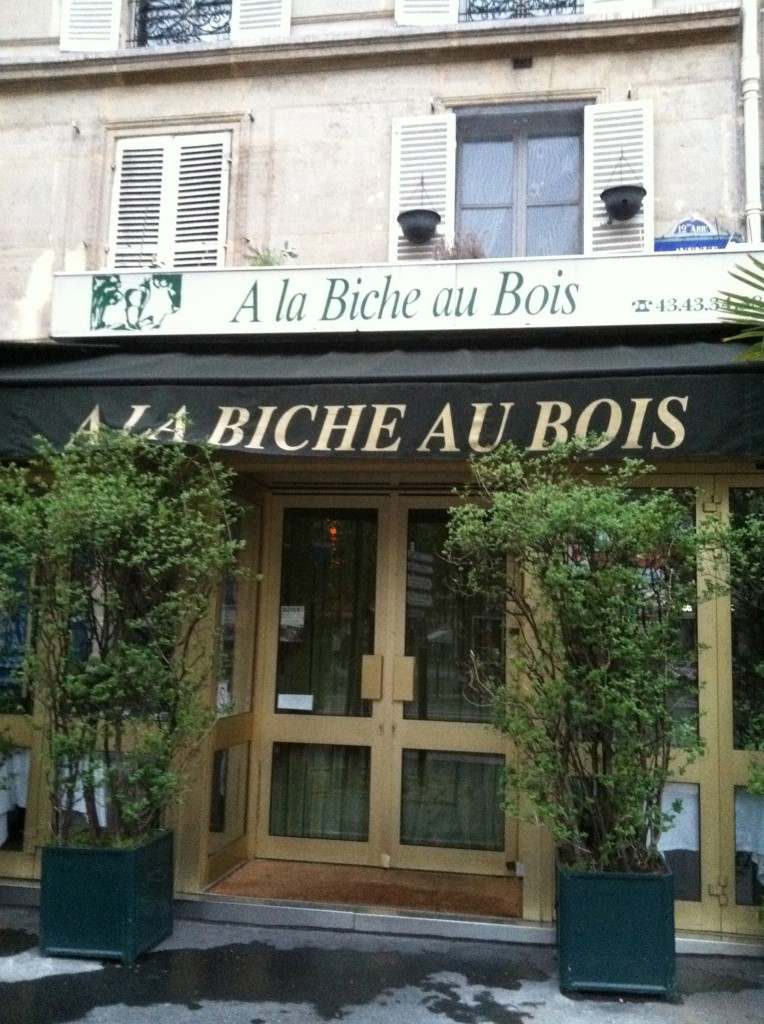 "So I just need to know…where exactly are we eating lunch at when we get to Paris?" Aya asked as we sat on the tarmac at LAX.  Hmmm.  Lunch was about 20 hours away.  I was ill prepared to answer that question at that precise moment as so many factors would need to be weighed.  I had a huge list of Paris restaurants that would take us a month to get through but I wasn't really ready to make a final decision for a meal that was still 20 hours away.  I smiled…this was going to be a great trip – like minded individuals who's main goal was to eat their way through France.
I have a hard time trying to find restaurants where I want to eat.  There are so many options out there, I just hate picking the wrong one.  In cities like Paris, it's almost impossible to find a truly bad/horrible place to eat – but that's not what I'm after.  I want to eat at the most enjoyable.  With the countless amounts of information on the internet, we're lucky to have access to a lot of resources, including suggestions from my trusted friends.  It's the weeding out that becomes the challenge.
A La Biche Au Bois was the perfect first night dinner since it was only a block away from our hotel and we were completely exhausted from our travels.  My only notes on this place was that it was known for it's game dishes.  My friends, Aya & Sao, were up to trying anything during our week in France.  They make the perfect travel companions.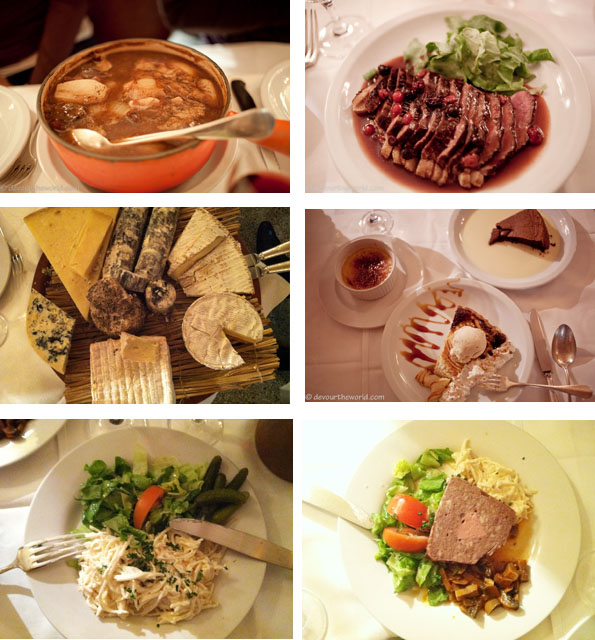 We ordered the Set menu [4 courses] for about 30 euros per person.  I ordered the duck while my travel companions had the Coq Au Vin.  I loved dipping my bread into their Coq Au Vin sauce – such an excellent flavor!  I loved how my duck was perfectly cooked – too often my duck is over cooked, rendering it a bit too chewy for my tastes.  The cheese course was excellent!! I could've consumed the entire plate but I was saving myself for dessert, which happened to be one of the best desserts we had with any of our dinners.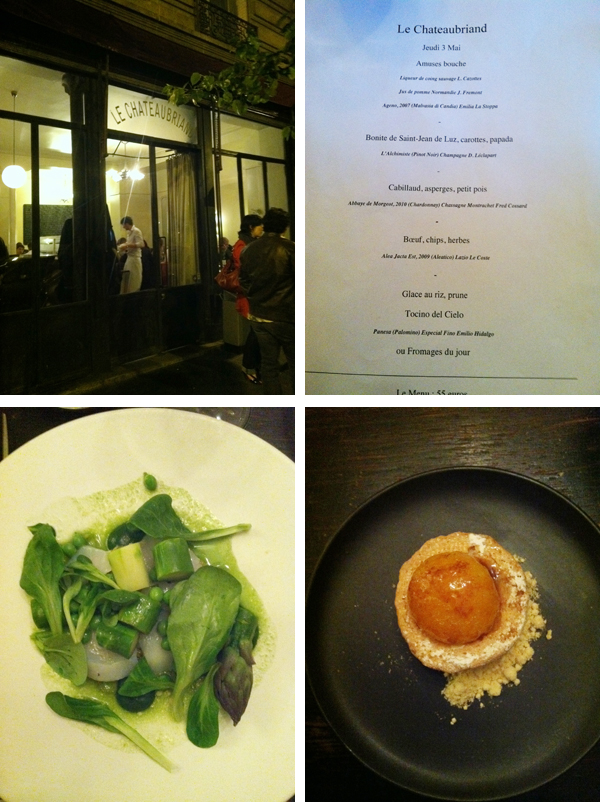 Le Chateaubriand came highly recommended by my friends, Dylan at Eat Drink & Be Merry and his wife, Jeni at Oishii Eats.  Since we were reservationless we decided to get to the restaurant a little early for the 2nd seating at 9:30pm. We were lucky enough to grab a table right away for a late 1st seating due to a cancellation!
At 55 euros per person, it was a little pricier than our previous night's dinner but we enjoyed the incredibly inventive menu! Our favorite was a toss up between the beef and the asparagus dish.  So perfectly cooked and freshly seasoned.  I was especially happy to have been able to get into the restaurant when I saw the huge long line for the 2nd seating!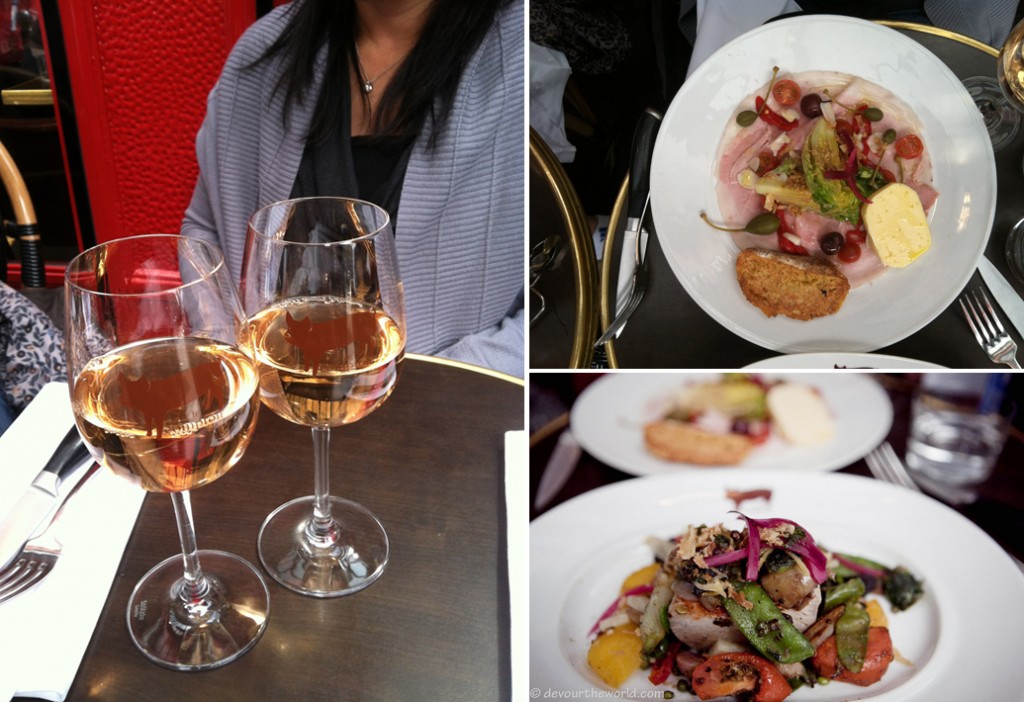 Our meal at Le Comptoir du Relais was solid. Since we didn't have a reservation, we waited in line for the lunch service, about 45 minutes.  Since we were a party of 3, it did take us longer to be seated than the couples that were in back of us.  When we were finally seated, we opened the all French menu.  Instead of panicking or pulling out our non-existent dictionary [we're really lazy travelers], we just started looking at everyone else's plates.  Luckily, the couple next to us took pity upon us and gave their tips on what was good and what should be avoided.  We had the seared Tuna on a bed of roasted seasonal vegetables, a jambon plate [pictured above], and escargot.  And wine, of course.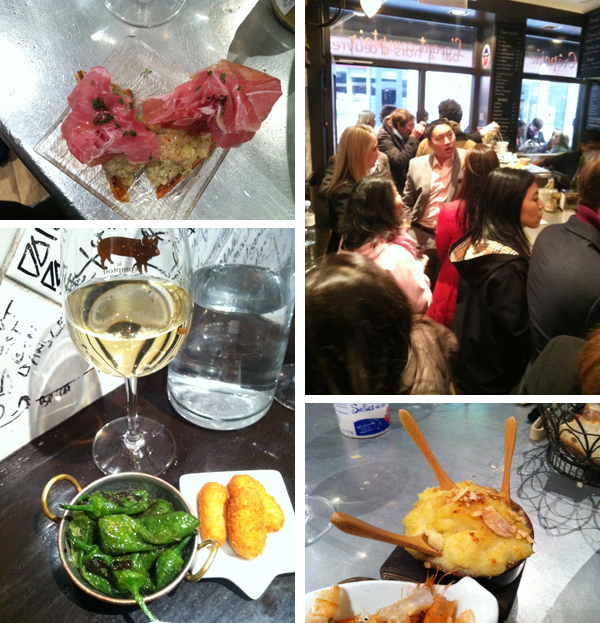 One of my favorite meals in Paris was at L'Avant Comptoir, located right next to Comptoir du Relais.  While I enjoyed my meal at Comptoir, I LOVED my meal at L'Avant Comptoir!  The charged atmosphere, the delicious food choices, and reasonable prices [we got out of there for about 45 euros for the 3 of us which included about 10-12 dishes, a chocolate crepe and 4 glasses of wine] made it the obvious choice.  If I had more time, I would have loved to go back!

The one time we had time for a leisurely breakfast, I took my friends to Le Preau which I discovered on my last trip to Paris.  I had been pleasantly surprised by the nice crunch to the croissant as well as the creamy goodness of the Cafe au Lait.  It was located close to our hotel so we didn't have to go out of our way.  I've read some negative reviews on this place but my experiences have been nothing but positive! They were a lot of fun and joked with us. [I guess I'm easy that way].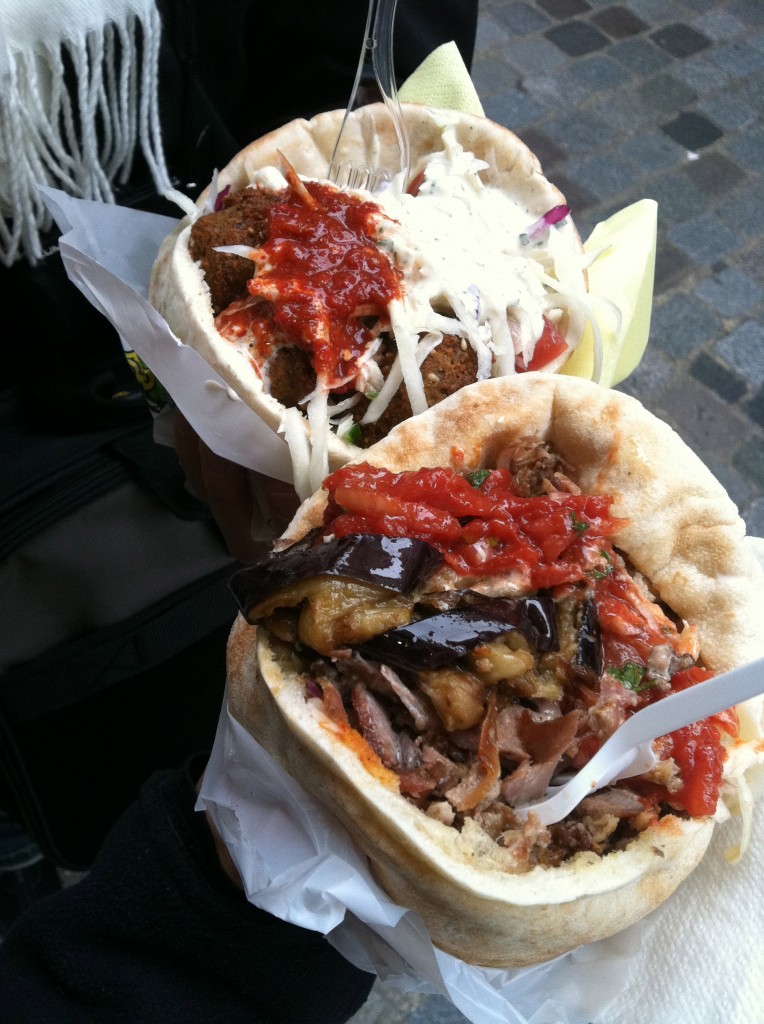 One of the cheapie lunches we had was a head to head comparison of L'As du Fallafel and Mi-Va-Mi Shwarma at about 7 – 8 euros each.  Dylan had mentioned that if the lines were too long at L'As du Fallafel, I might want to give Mi-Va-Mi a try and that it was different but still good.  That obviously had spurred the need to do a head to head comparison.
I tried a sample of the Mi-Va-Mi falafel and didn't really care too much for the flavor or the dried out texture so I opted to try the Shwarma instead.  I was glad I did. It had a nice cumin/curry flavor to the meat.  I requested it to be spicy with everything.  I loved the eggplant included in the shwarma.
The L'As du Fallafel was stuffed full of vegetables.  I loved the pickled crunchy vegetables that gave it a fresh flavor and a good counterpoint to the soft falafel.  The falafels were wonderfully seasoned as well.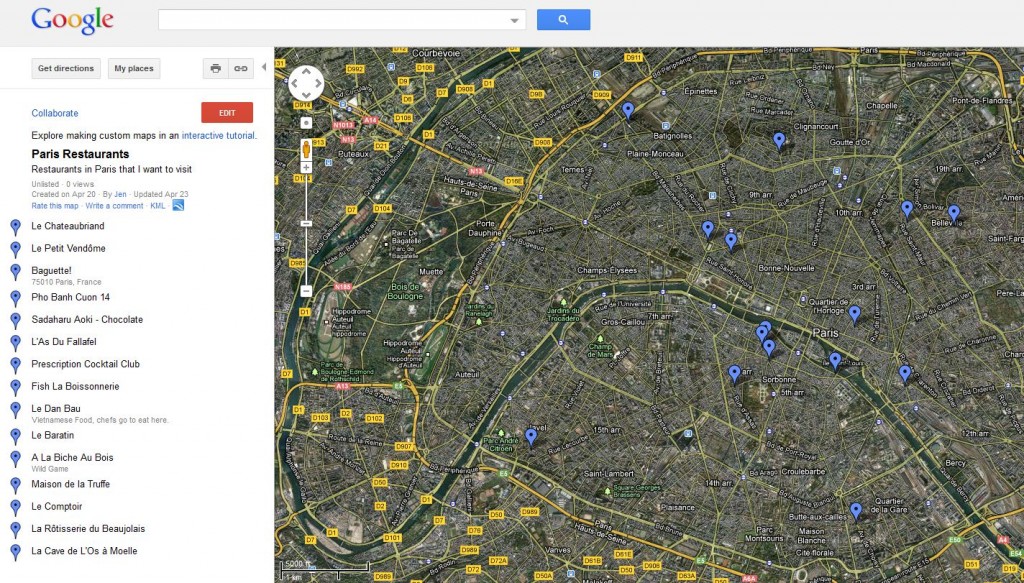 So how did I narrow down my choices for restaurants?  I didn't.  I just mapped all the restaurants on Google Map's "My Places".  I had fairly good access to internet, even when I was away from the hotel so all I needed to do was pull up "My Places" app and check out the restaurants that were close to where I was.  From there, I just went on my merry way to yet another amazing meal.  If you haven't used it yet for your travel planning, I highly recommend it!  [Incidentally, I also had one called, "Paris Shopping" & "Paris Patisseries". Don't leave home without it.]
A La Biche Au Bois
45 Avenue Ledru-Rollin, 75012 Paris, France +33 1 43 43 34 38 Metro: Gare de Lyon [or Bastille a bit further]  
Le Chateaubriand
129 Avenue Parmentier, 75011 Paris, France +33 1 43 57 45 95 Metro: Goncourt  
L'Avant Comptoir
Le Comptoir, Carrefour de l'Odéon, 75006 Paris, France +33 1 44 27 07 97 Metro: Odeon  
Le Comptoir du Relais
9 Carrefour de l'Odéon, 75006 Paris, France +33 1 44 27 07 97 Metro: Odeon Tip: As reservations book up 6 months in advance, I suggest going in for the lunch seating & waiting in line. We didn't have to wait too long. Obviously, the smaller your group, the easier it is to be seated.  Couples were seated much quicker than the 3 of us.  
Le Preau
18 Boulevard Richard Lenoir 75011 Paris, France +33 1 47 00 90 40 Metro: Bastille or Breguet-Sabin [closer] Tip: I wouldn't necessarily make a special trip here, just if you're in the area, I really liked the croissants & coffee here.  
L'As du Fallafel
34 Rue des Rosiers, 75004 Paris, France +33 1 48 87 63 60 Metro: Saint Paul
23 Rue des Rosiers, 75004 Paris, France +33 1 42 71 53 72 Metro: Saint Paul