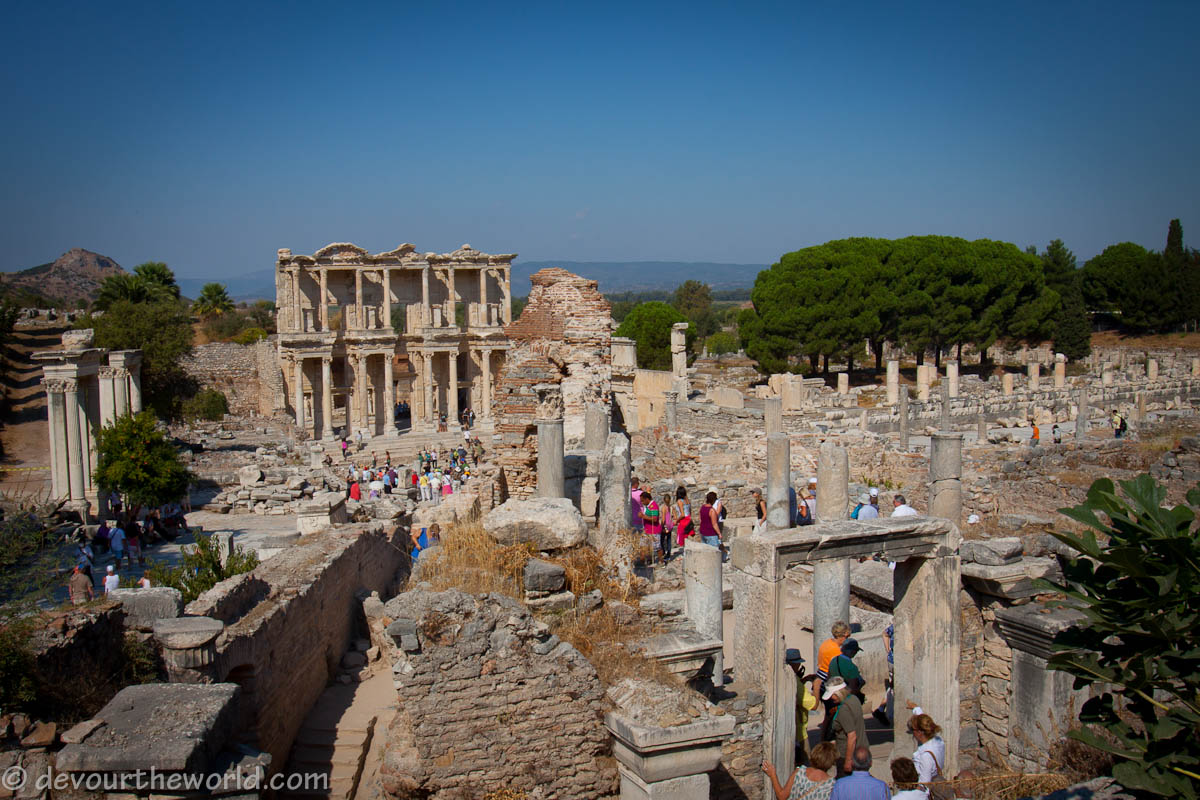 One of the leading reasons why I wanted to go to Turkey was so that I could visit Ephesus.  I've read Paul's letter to the Ephesians so many times, I wanted to see the life of the Ephesians come to life. Apostle Paul had such a great love for the Ephesians that I wanted to see and walk the path that he walked.  I've said before that I try to keep my expectations low.  I can honestly say that I didn't do the same for Ephesus.
We started off our trek from Izmir to Selcuk before the sun even crested, which was rather dumb seeing as how the train station kiosk didn't open for another hour after we got there.  We killed time by doing what we do best – eating:
We were able to purchase our tickets through sign language…and guesswork…making up words here & there to finally get our tickets.  As we were waiting in line to board the train, we saw someone holding a huge hank of rope and a few sets of knives, everything a serial killer would need to commit a crime.  I'm not sure who he was selling his goods to but he was headed to Selcuk with us.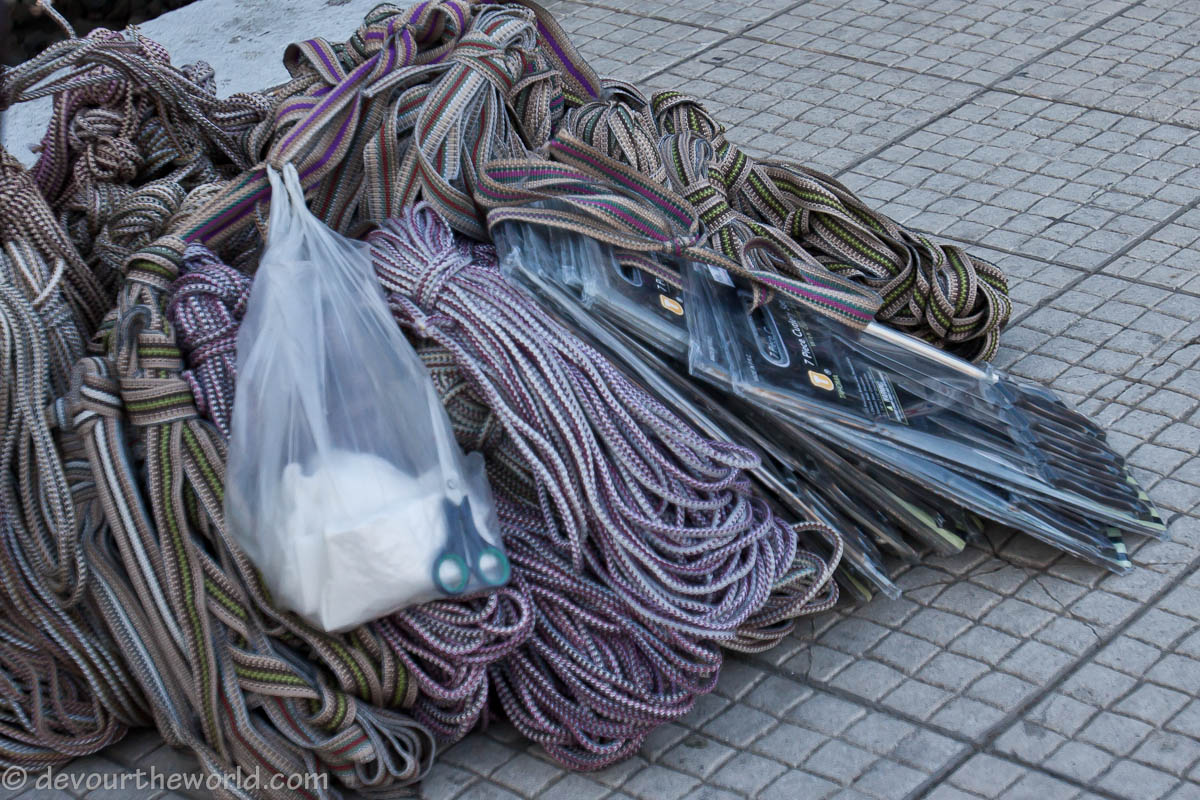 The minute we stepped off the train and onto the streets, we were overwhelmed by "tour guides" offering to take us to the Virgin Mary's House then on to Ephesus.  We first wanted to get our bearings straight, pick up some bottled water, and figure out our course of action [I didn't arrive into Turkey until midnight the night before so we hadn't had an opportunity to talk about the game plan other than, "hey, let's go to Ephesus"].  This was a great plan until we realized that all the taxis left and there wasn't going to be another one swinging by the train station until the next train arrived an hour later.
We started to head towards Ephesus in hopes of finding ourselves a taxi along the way.  About 20 minutes into our walk we found a taxi station where we were able to negotiate a ride to St Mary's House and Ephesus for less than $50.  The road was windy in an uphill swerve.  I was a little worried that I might get car sick but we made it to our destination before it became a problem.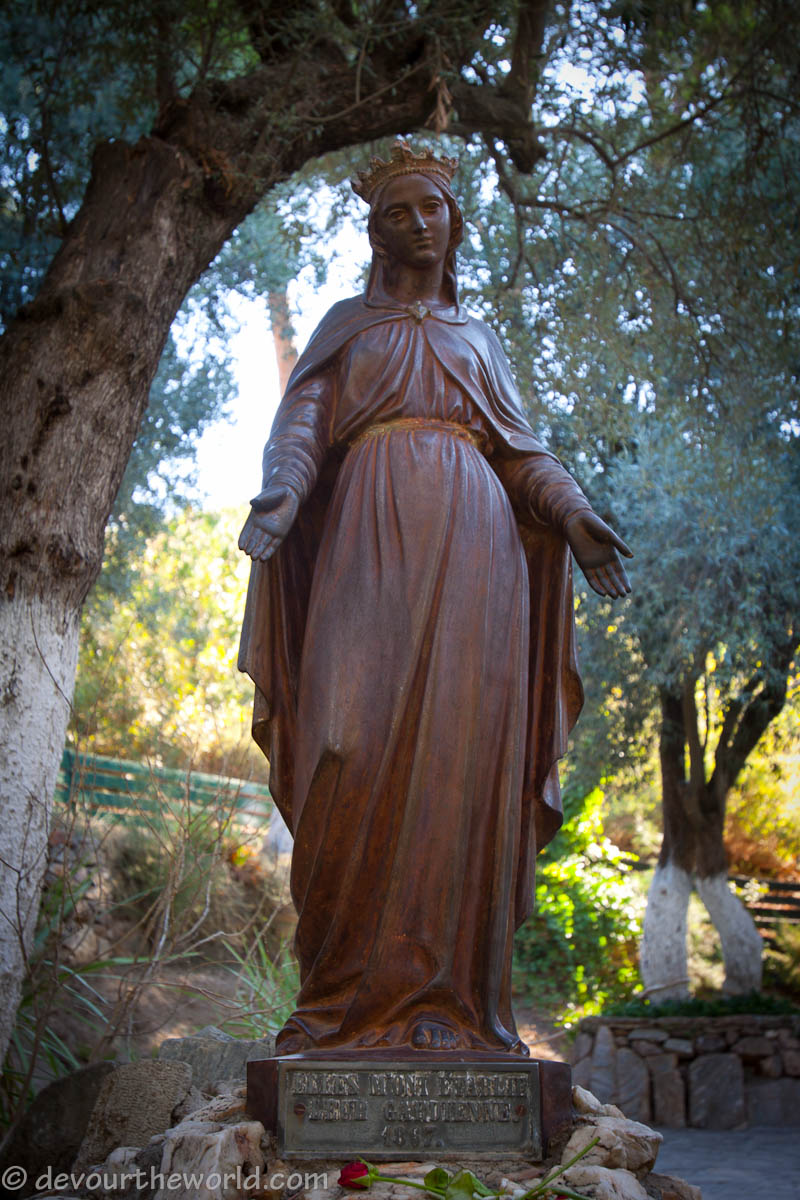 All the websites and guidebooks I read mentioned that St Mary's was overrated.  My whole thinking was that it would be silly of me not to check it out since I traveled halfway around the world.  Really, what was another 5 kilometers?  Ummm…I guess I didn't delve too much into the history of why they thought The Virgin Mary lived there.  It was based on visions that an invalid German woman had.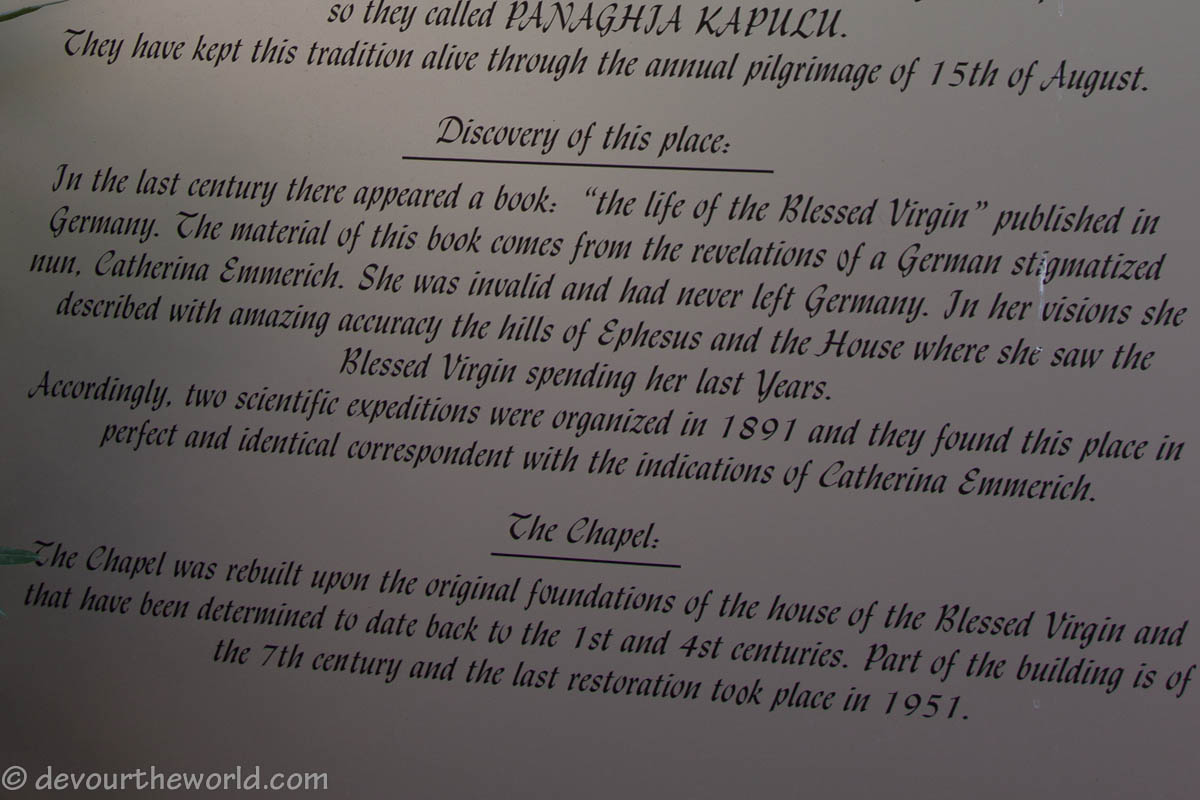 Further, the original structure was no longer there, a new[er] building in its place.  WHAT???!!! Seriously??  And yet there's this line of people [me included] waiting to shuffle through an empty building, the entire length of the shotgun home taking no more than 30 seconds to cross through.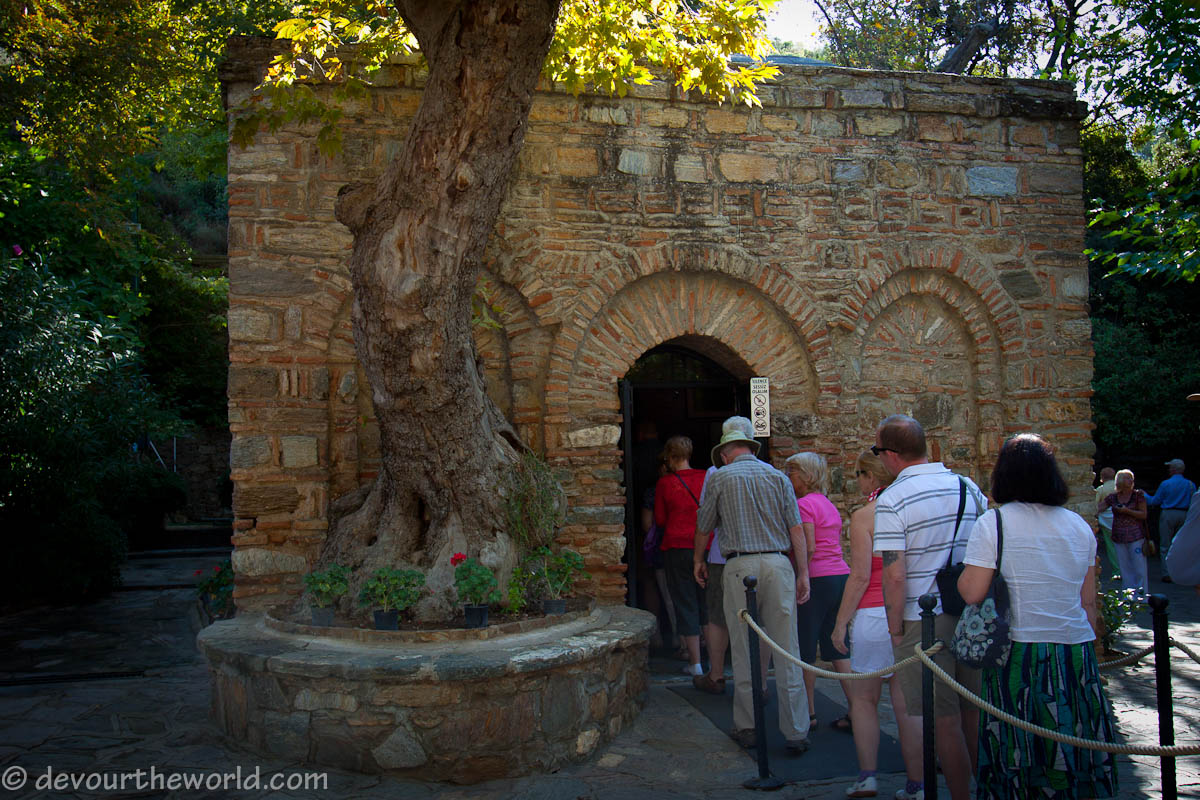 I left there with a sense of …nothing.  No deeper emotions, no sense of awe, no sense of inspiration.  I was let down.  I felt a wee bit foolish.
We got back into the cab and headed towards Ephesus, hopeful that the ancient structures would fill us with a sense of awe.  I wondered if I'd have a sense of being an Ephesian, strolling the promenade, imagining what it was like as a port city [The water has receded about 3 miles or 5 km from Ephesus].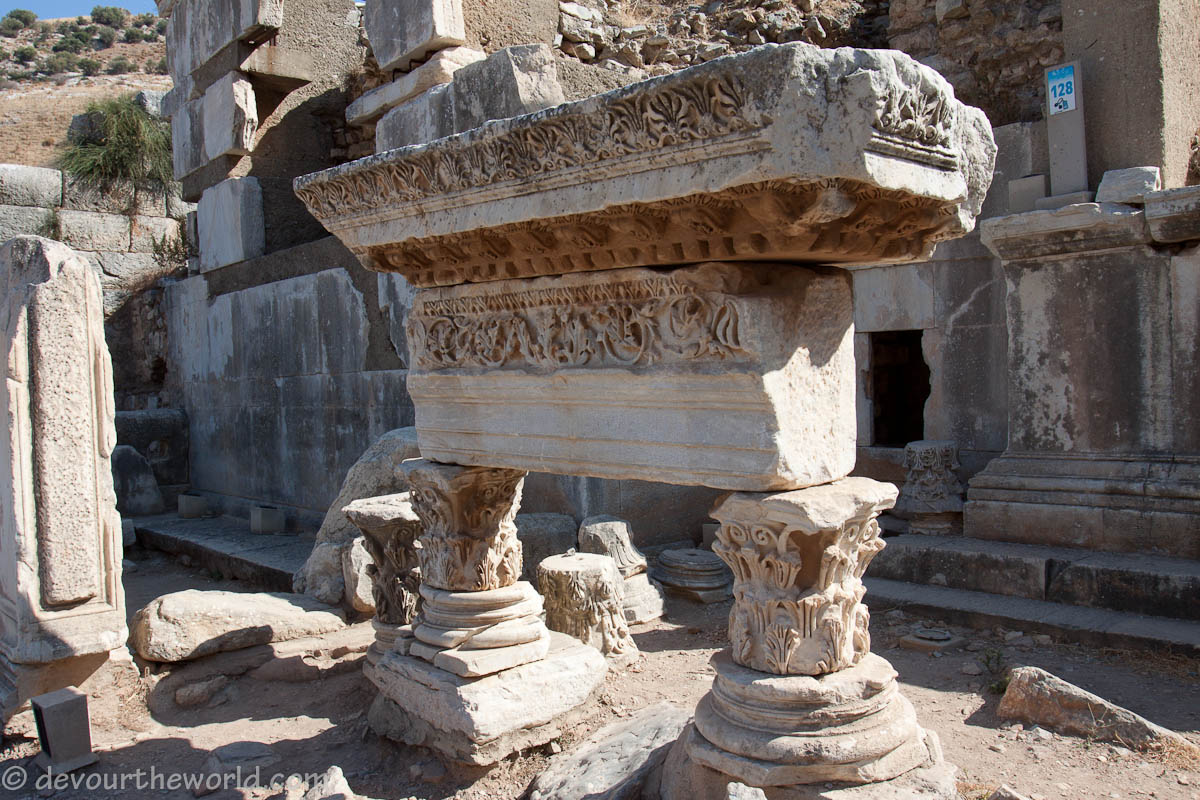 Ephesus was not exactly what I expected.  I had a hard time imagining Ephesians strolling through the Promenade when it was being over run by cruise ship tourists.  I had a hard time imagining what the structures looked like when it was first built because the columns and structures that were currently displayed were proportionately bizarre [see above photo – I'm not sure what that's supposed to be]. There were pockets of beauty like the first image on this post. The Library, the 2 story building pictured in the distance, is a spectacular work of art.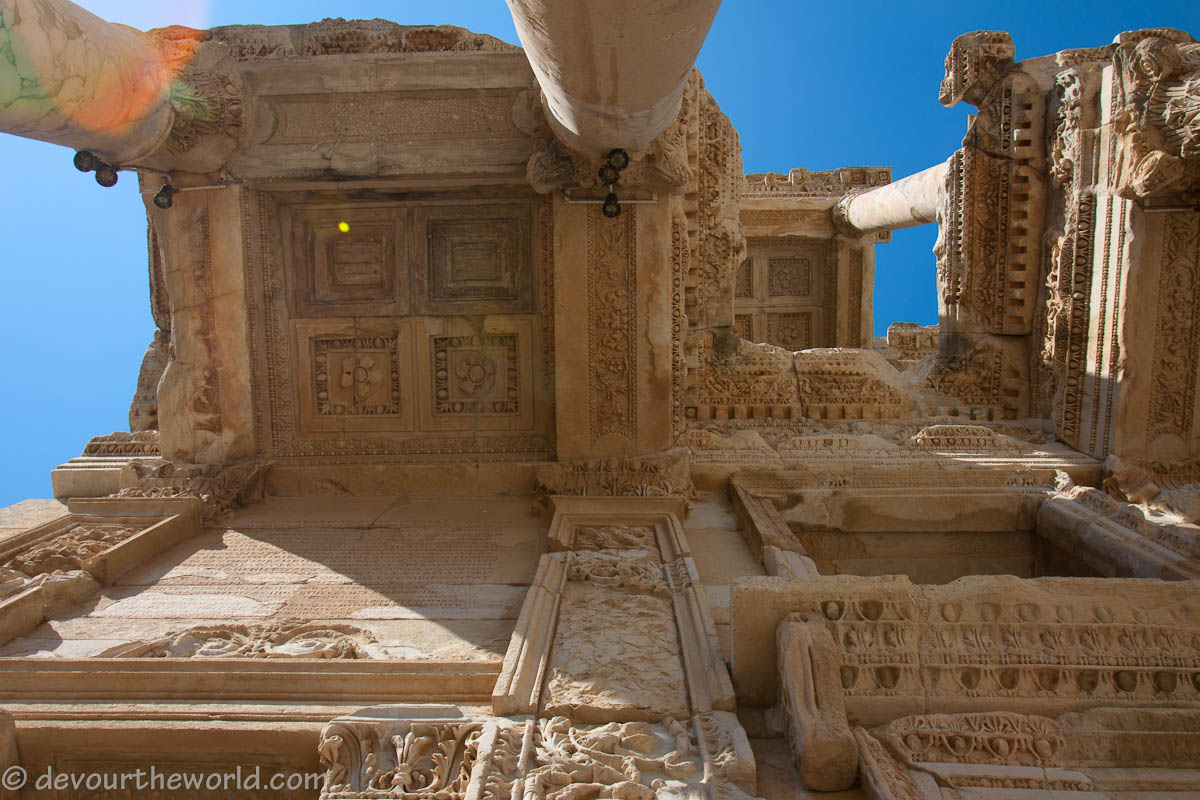 The detail work on the Library [pictured above] was impressive.  These are the type of structures that I could spend hours looking at. I got a crick in my neck trying to figure out how they placed each of the beams, tiles, stones into place.  It was crumbling but still gorgeous.  Even more interesting was the Terraced Houses that are being restored.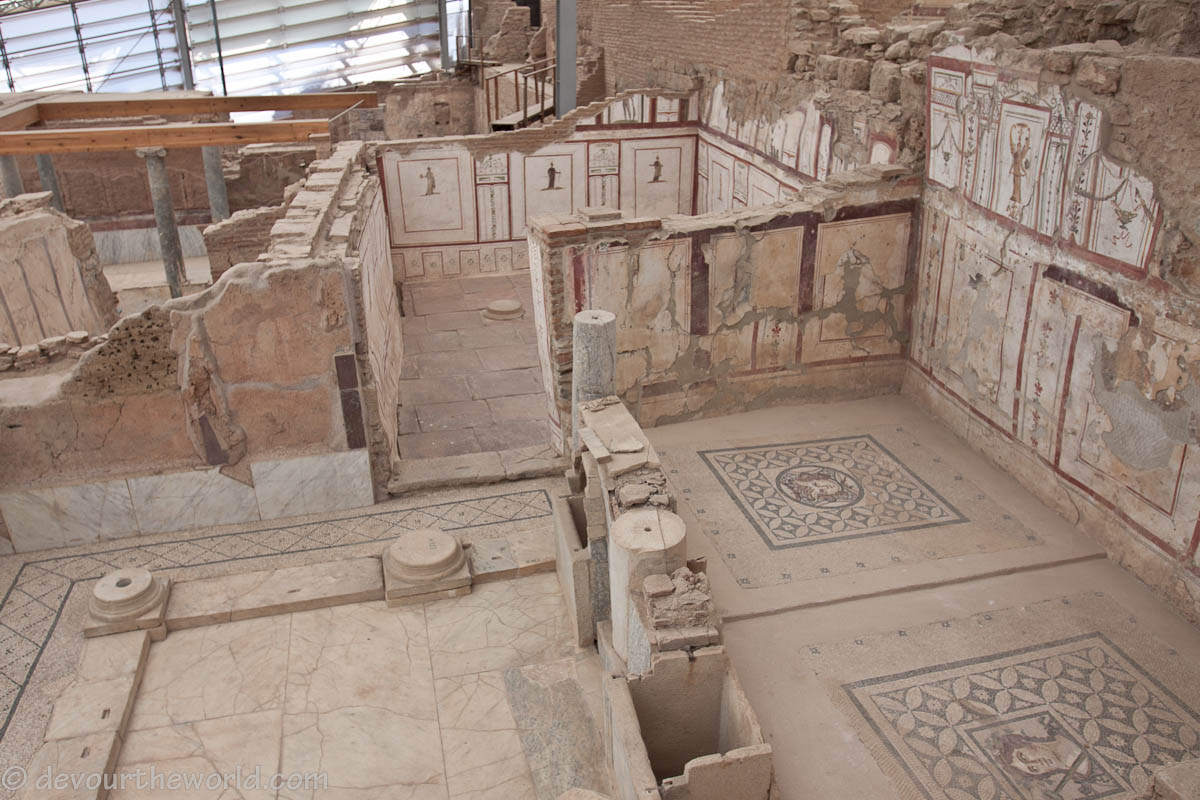 I don't know what kind of paint they used but I want it.  The fact that you could still see even a HINT of paint after all those centuries is amazing.  I would never have to paint again. Even more amazing was this guy below who was putting the tile pieces back together.  I don't think I'd be able to survive that job.  I always wanted to cut my puzzle pieces to fit into the puzzles when I was a kid.  I was a very lazy kid.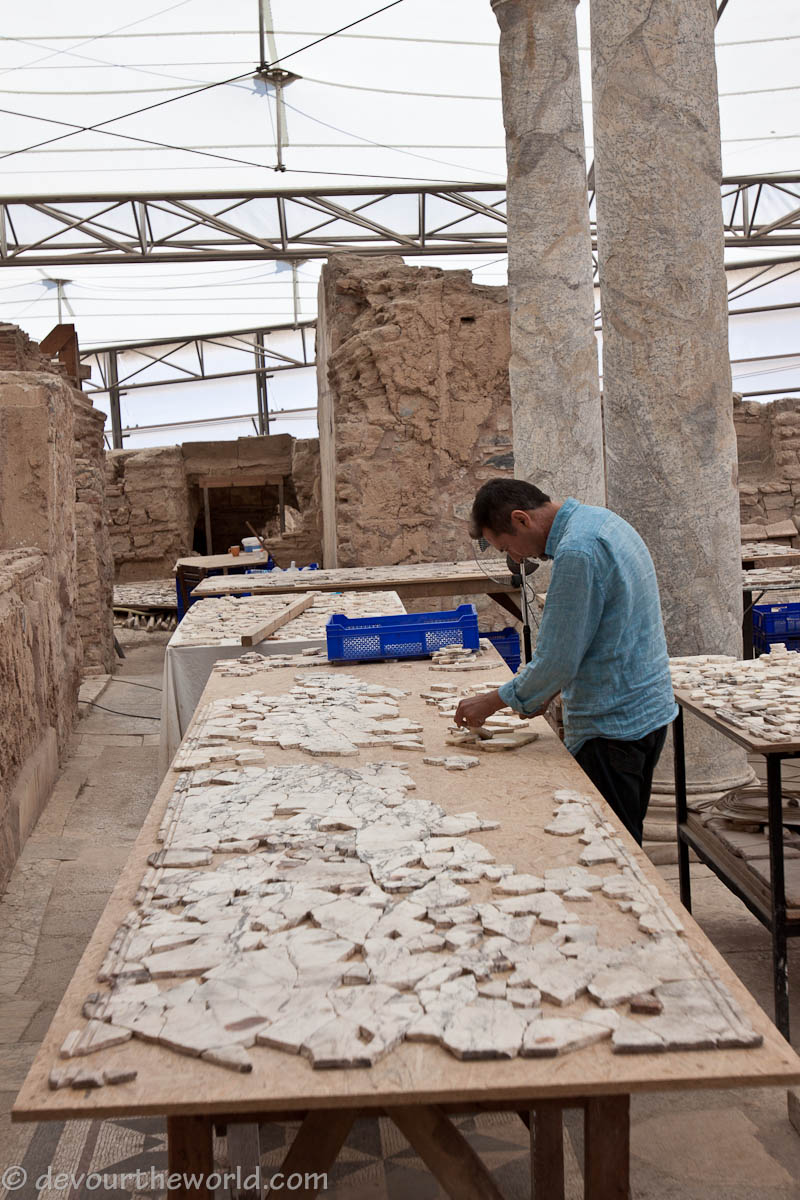 Over all, I was a little disappointed with my trip to Ephesus.  Perhaps I was being unrealistic.  Perhaps it was the crowds, or the odd mishmash groupings of columns and edifices, or the apparent lack of protection from hands [and feet] of the remaining ruins.  Whatever it was, I didn't feel that sense of awe that I thought I should have felt.  A little let down, we headed away from the crowds and in search of a meal.
Kebab House was our destination.  Part restaurant, part carpet sellers [seriously, they kept trying to sell me carpets], the proprietors were warm and welcoming, asking us where we came from and where we were going.  This was my first "real" meal of my trip to Turkey.  I hate tomatoes.  I mean, I want to love tomatoes but my body just rejects the acidity in the tomatoes and makes me want to spit it out as soon as it touches my tongue. Regardless, I will try it every single time [I know I'm ridiculous]. When I saw the beautiful color of the tomatoes [this really is how red they were!!], I had to try it.  These tomatoes were perfect. I continued to eat tomatoes all through Turkey.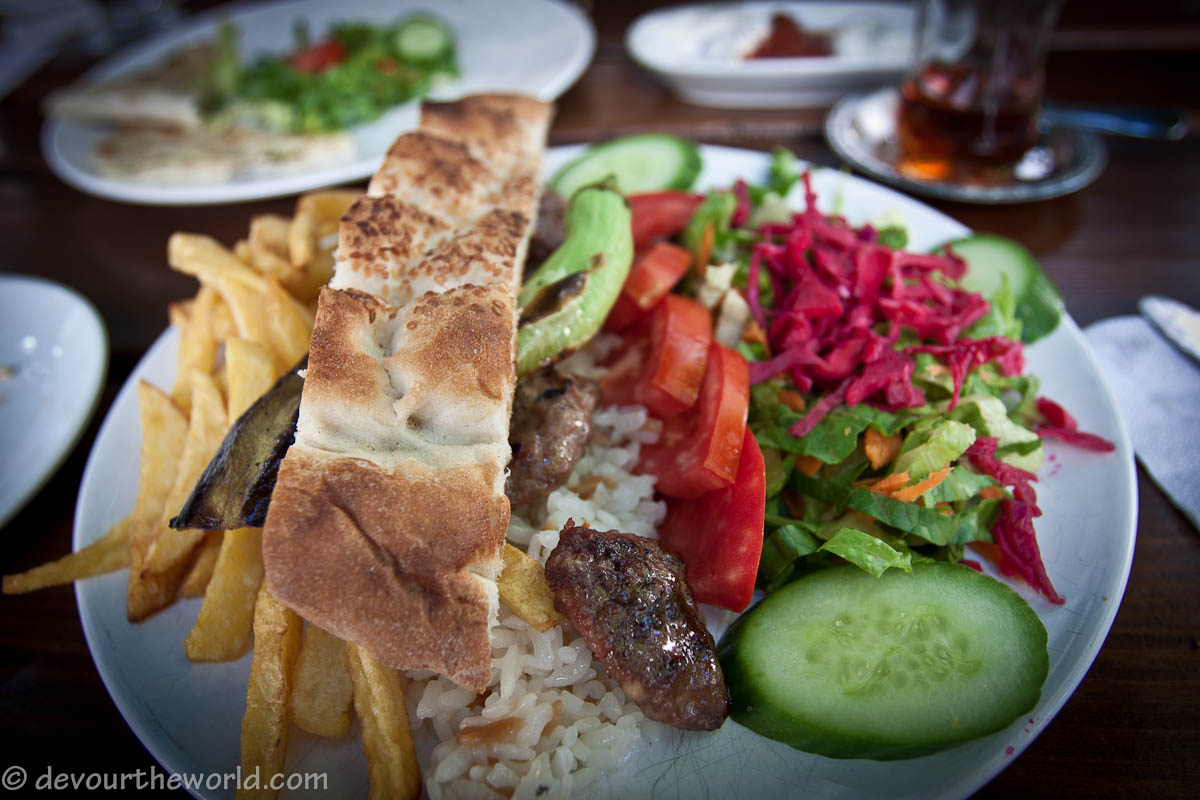 This meal revived my tired spirits.  It made me remember why I was here, to experience everything about traveling – the highs, the lows…and somewhere in between. I remembered that traveling isn't only about seeing famous sights or my own prejudiced expectations, it's also about the small things – the human interactions, the tastes, the smells, the sounds, and the unfamiliar experiences of being outside of my familiar day to day life.
A lot of times, certain places won't live up to expectations. How do you manage the situation? How do you change your thinking to move towards positivity?