Last month, I received some sourdough starter from my friend from High School, Sari.  Some of you  may have seen some clips of Sari's 4 year old daughter teaching us various cooking skills [via delicioustings.com].  This sourdough starter actually comes from Germany over 50 years ago and [if I got my story straight] was gifted to the Berkeley School District Garden & Cooking program.  This starter produces some wonderfully tangy bread and I'm excited about all the options that I have before me with this starter!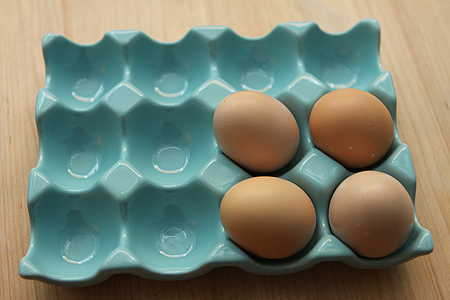 My other friends from High School/Junior High respectively, Todd & Emiko, recently asked for some starter to use for their wonderful breads! I happily obliged since they promised me a loaf of bread to take home.  [My momma didn't raise a fool.]  The last time I went to their house, Emiko had mentioned her recent acquisition of 3 hens.  I had laughed because we live in Los Angeles.  I didn't know anyone who actually had hens in Los Angeles…until that moment.  Emiko had the last laugh when she produced [and gifted me with] these beautiful eggs.  The shells were much harder than what you would buy in the stores.  As I was leaving, Emiko's only request was that I use the eggs as the main star of whatever dish I made.
I thought about various recipes that I could use the egg in.  Egi Gohan – eggs & rice was at the top of my list but seemed too boring for these beautiful treasures.  I remembered a lunch I had at Pizzeria Mozza and how much I enjoyed it.  That was it.  What was more perfect was that I've been trying to find a time to try out a sourdough pizza dough recipe that I wanted to try out.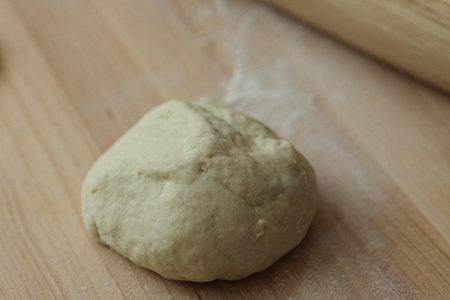 I love sourdough.  It's one of my favorite breads.  I had no idea when I first started that it would take a day to get any finished product from the starter.  I started and stopped so often that I never thought I'd get a chance to actually TASTE the product.  Pizza was the perfect thing and so easy to make
! Mixing the ingredients together and letting proof for 18 hours was the most challenging part!  After that point, I rolled it out into a "rustic" form.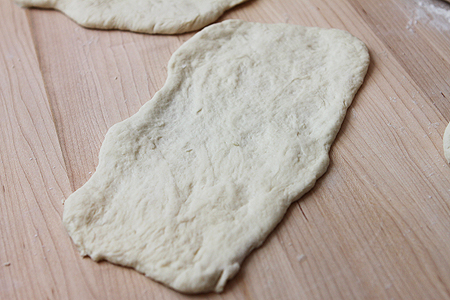 Then I baked it at 500 degrees on a pizza stone for a few minutes, just to pre-bake it a bit.  I'm not a big fan of sauces so I w
as determined to keep my pizza from being laden with thick cheese and red/white goopy sauce.  So after removing the the crust from the oven, I lightly drizzled olive oil and sprinkled finely diced garlic on the crust.  I layered on small chunks of goat cheese and topped it with a huge handful of arugula.  I took some fine slices of Prosciutto di Parma and placed it on the arugula.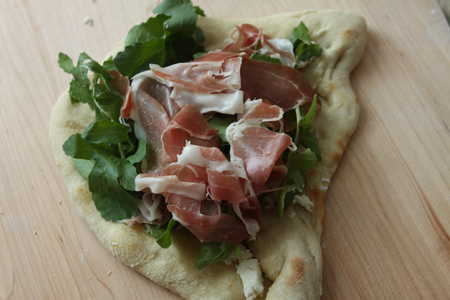 In the little hole that I made in the Prosciutto I gently and carefully placed the slippery raw egg…only to see it fall off to the side.  I battled the egg for a bit and eventually, I won.  I baked it off for another 10 – 15 minutes, still at 500 degrees.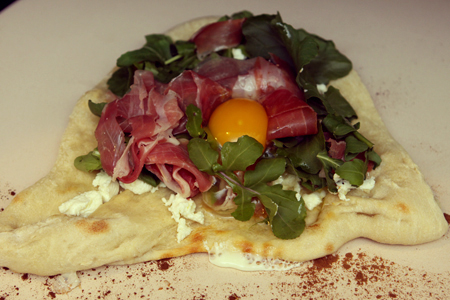 I was ready to eat this.  All. By. Myself.  It was an amazing pizza – tangy sourdough, salty Prosciutto, with the rich moist egg yolk delightfully [and LIGHTLY] coating my pizza.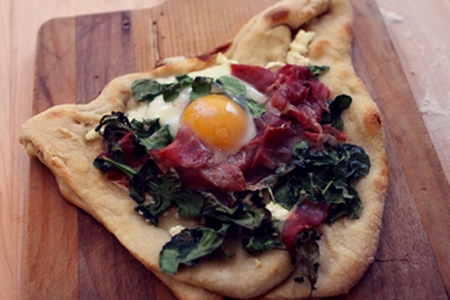 Summary: Sourdough Pizza
Ingredients
Sourdough Pizza Dough
1 cup sourdough starter
3 cups unbleached bread flour
1 1/2 tsp sea salt
1 1/2 tsp sugar
3/4 – 1 cup water
Toppings:
1 Tbsp Olive Oil
1 clove garlic, minced
2 ounce Goat Cheese, crumbled
1 cup arugula
2 – 3 strips Prosciutto
1 egg
Instructions
Sourdough Pizza Dough:
Mix together starter, flour, sea salt & sugar.
Add 3/4 cup water. Add more water as needed until the mixture is a wet/sticky consistency. The amount of water needed will depend on humidity levels in your area.
Let proof in covered bowl for 18 hours until volume has doubled.
Punch down, divide dough into 4 balls.
Roll out pizza dough. Let rise for 20 minutes.
Place pizza stone in oven and preheat to 500 degrees.
After the dough has risen for 20 minutes, place in oven on stone to bake for about 5 – 10 minutes until the crust is slightly golden.
Remove and place crust on cutting board.
Toppings:
Sprinkle olive oil on crust,
add minced garlic, spreading evenly.
Spread crumbled goat cheese over crust, add arugula & prosciutto, making a pocket/hole where you can place the egg.
Return pizza onto stone in oven.
Crack egg open, gently placing the egg in the hole.
Bake off for an additional 10 – 15 minutes until the crust is crisp and egg is cooked to a sunny side up consistency.
Quick Notes
Salty prosciutto pairs well with the sourdough crust and rich eggs.
Variations
Use whatever ingredients you have on hand.
Cooking time (duration): 25
Number of servings (yield): 4
Meal type: dinner
Culinary tradition: Italian
My rating: 4 stars:  ★★★★☆ 1 review(s)
Microformatting by hRecipe.