Some days when all else fails, Sake tasting is the only way to go.  A couple of summers ago, I spent almost 2 weeks on a family vacation to Japan.  Family vacations are always rough [at least in my family] with the age range from 10 years to 81 years old.  It's tough finding common ground for all the participants [especially when there's 15 of us].  At some point, I had to take my own needs into consideration, so I made an urgent call to my cousin, Chiyoko, begging her to get me into a Sake tasting in Okayama.
I was told that Okayama is one of the most prolific areas of microbreweries in Japan, due to the high quality Okayama rice [I was told by an Okayama native so take it with a grain of salt…or rice].  This was the city where I sampled my very first alcoholic beverage ever at the age of 13, eh hemmm….let's just say I was really young when I had my first taste of sake.  I swear I thought it was water…and I was thirsty.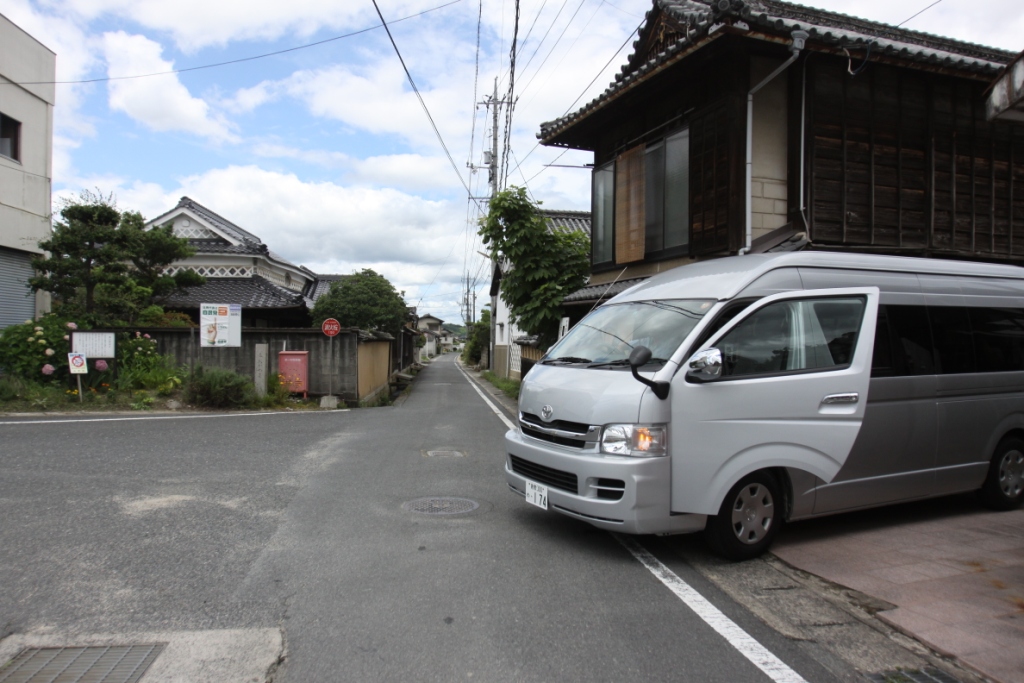 On short notice, my cousin managed to find us a local brewer willing to take us through the facility's museum. The brewery was located on the old ancient road to Edo, making this "Sakazuke" a well placed respite for the weary samurai travelers to Edo.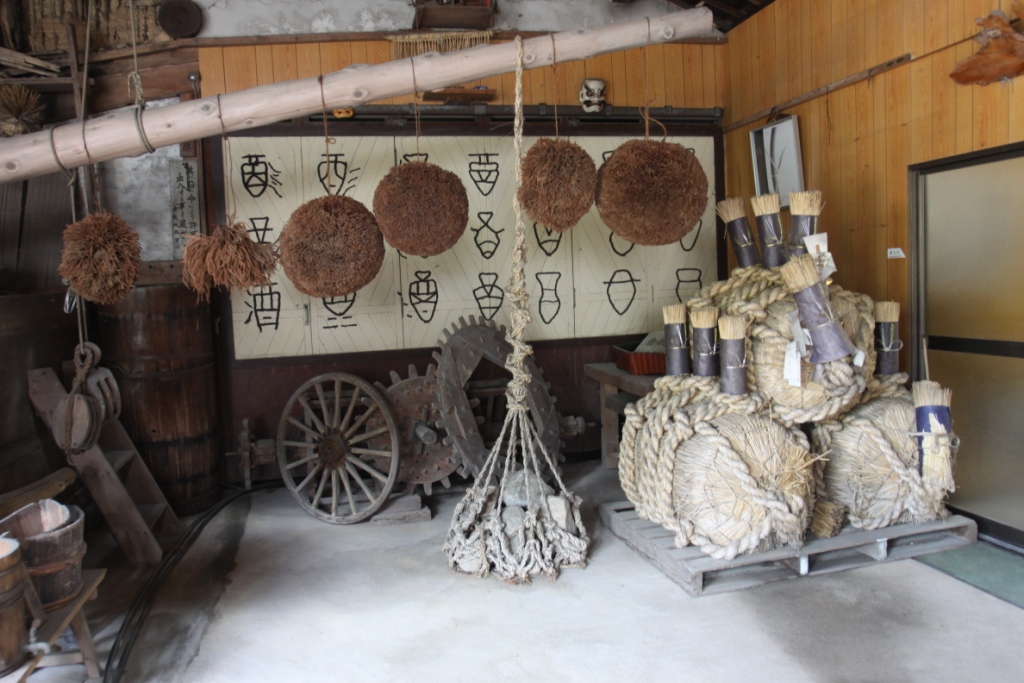 Although I didn't get to see the sake making process, I was treated to a fascinating history lesson in Sake making.  The brown balls made of Spruce leaves [pictured above] were hung outside the factory to indicate when the sake was ready.  To the right were barrels that were artfully covered with the dried grass of rice. We were told that this artistic method of wrapping the barrels was no longer finished of this way since there weren't enough artisans to accomplish the laborious feat.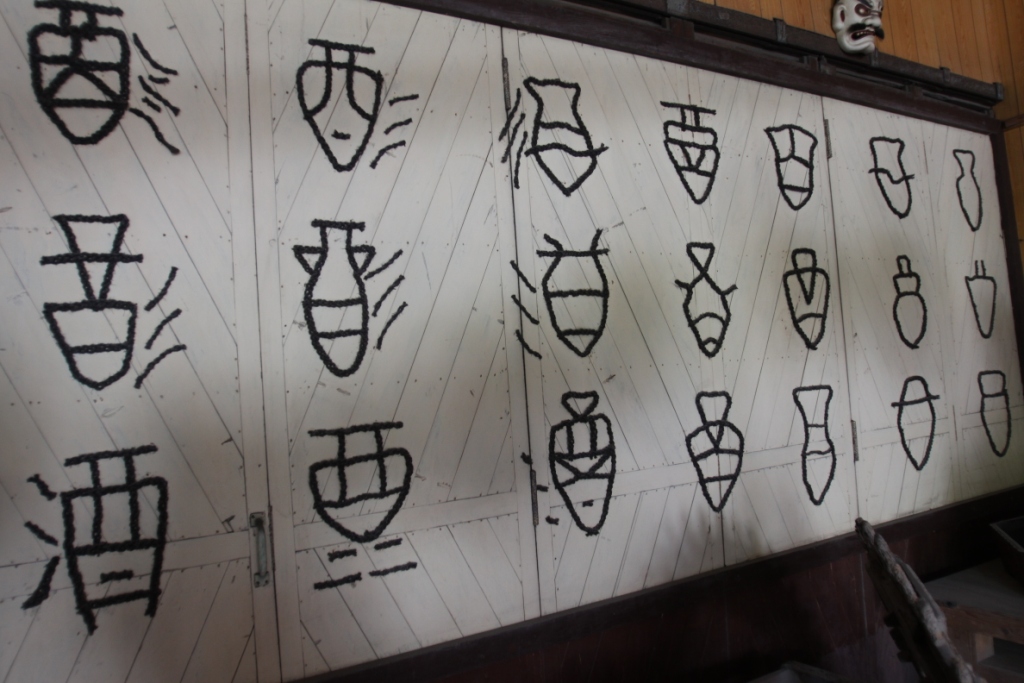 We were treated to a Kanji lesson as well.  The diagram starts from right to to left, top to bottom.  They believed that the drawing to the top right was the drawing of the urn [see photo below where I'm clutching onto a clay urn]. Throughout time, the style of the bins changed until eventually, it came to the current kanji for Sake.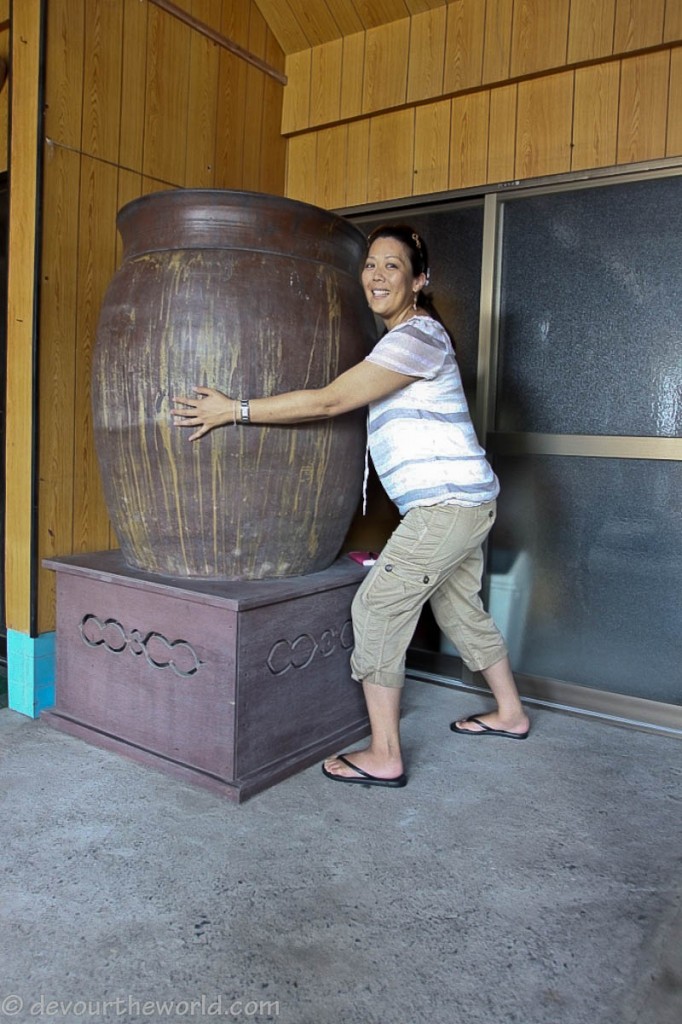 There is a style of pottery from Okayama called Bizen Yaki.  It is positively one of the most beautiful works of art that I collect religiously.  I was hoping to run off with this urn but that thing was heavy and I wasn't able to move it an inch. Plus I couldn't stash it in my carry on.
Unfortunately, they didn't allow me to take any photos of the ancient tools that was used to make the sake…but for the one random photo of the old mode of transportation I got: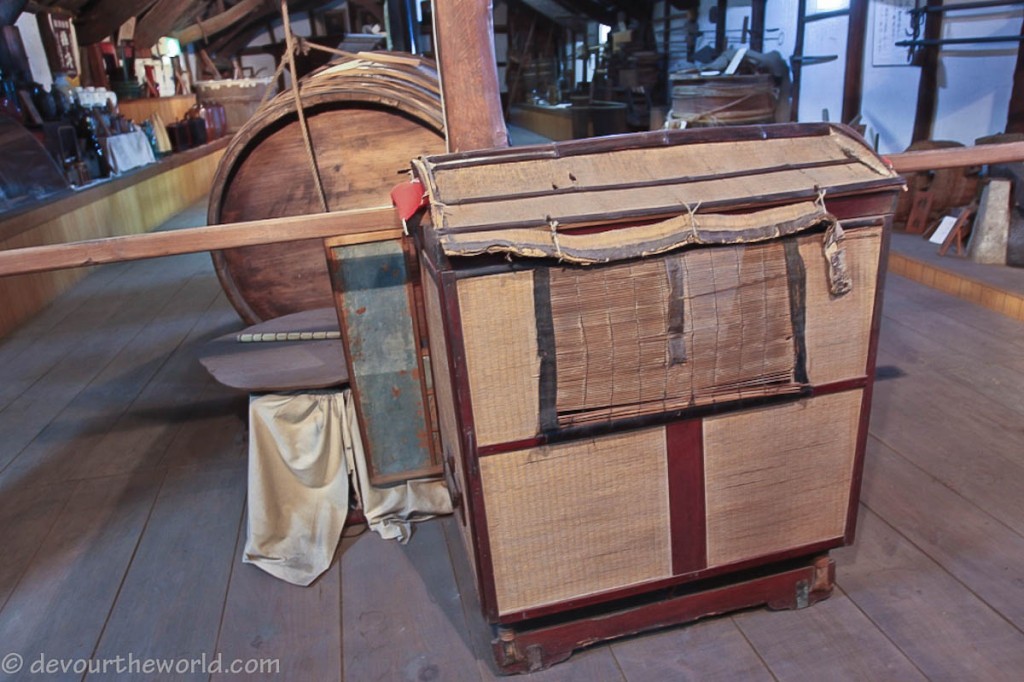 The best part of any sake tour is the tasting.  We got to sample a few of the varieties which we all we enjoyed.  I think I believe my cousins that the sake brewed in Okayama is best because of the fertile lands and water quality!