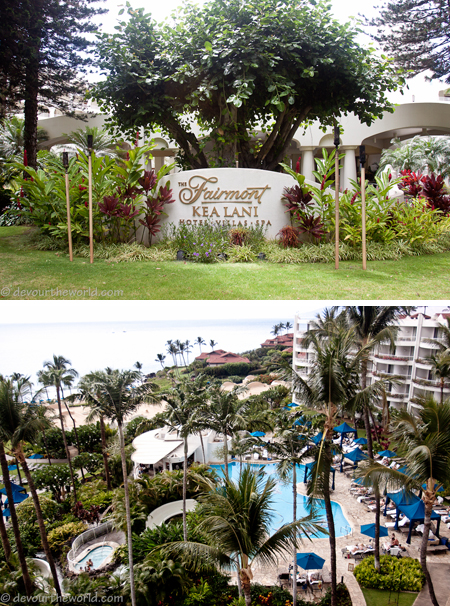 Last November was my 3rd trip to the Fairmont Kea Lani.  My first 2 trips were so busy I didn't have time to enjoy the property and all that it offered.  I was determined to change that and be completely pampered by the uber attentive staff.
The one thing that I love about this hotel is that ALL of the rooms are one bedroom suites.  See the curved sofa below? It's actually a comfortable pull-out bed, making this room perfect for families!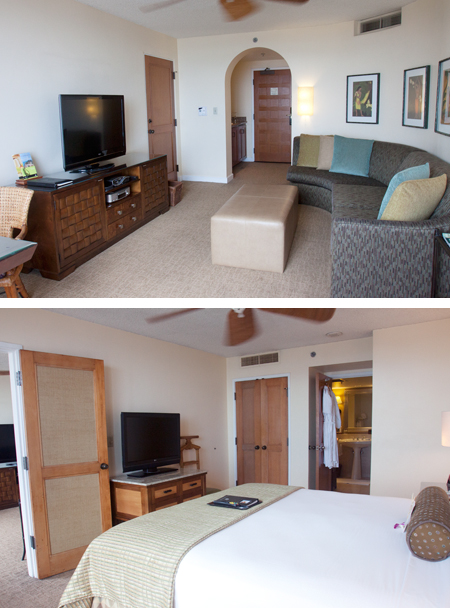 If you're traveling with a larger family [or have a larger budget], the Villa is AH-MAZING. 2 bedrooms, a kitchen, living room, en-suite washer/dryer, patio with a plunge pool and barbecue.  It is the perfect "condo" for your trip to Maui.
If you are part of the Fairmont President's Club, you get free internet access and gym clothes for your stay! I've been a member for almost 10 years now and take advantage of it whenever I stay at a Fairmont. I hate packing tennis shoes and these shoes are so much cleaner than my own tennis shoes – I'm still not convinced that these weren't brand new!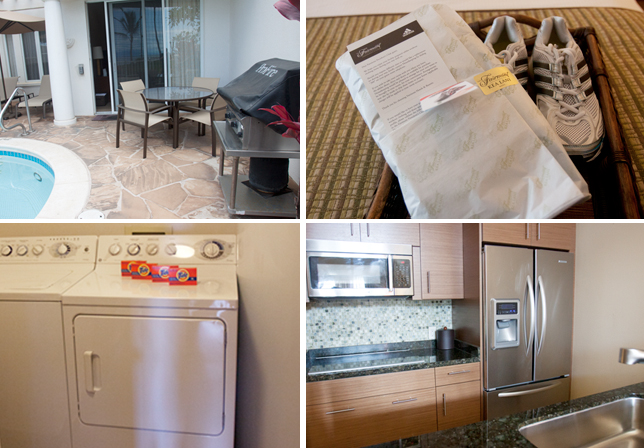 The bedrooms in the villas are very spacious – one room is upstairs with a full bathroom and a HUGE closet and one full bedroom off the living room area with another huge bathroom.  I actually wanted to move into the villa.  Unfortunately, neither my bank account nor the hotel would let me. Boo.
The sales manager and I attended the same college and had a lot of mutual friends in common.  The weird thing is that we couldn't figure out why we never met in college, especially since we were both a little loud and a little obnoxious. In any case, he was kind enough to take me to their signature restauarant, Ko, and the fantastic menu that Chef Tylun Pang had developed over the last year.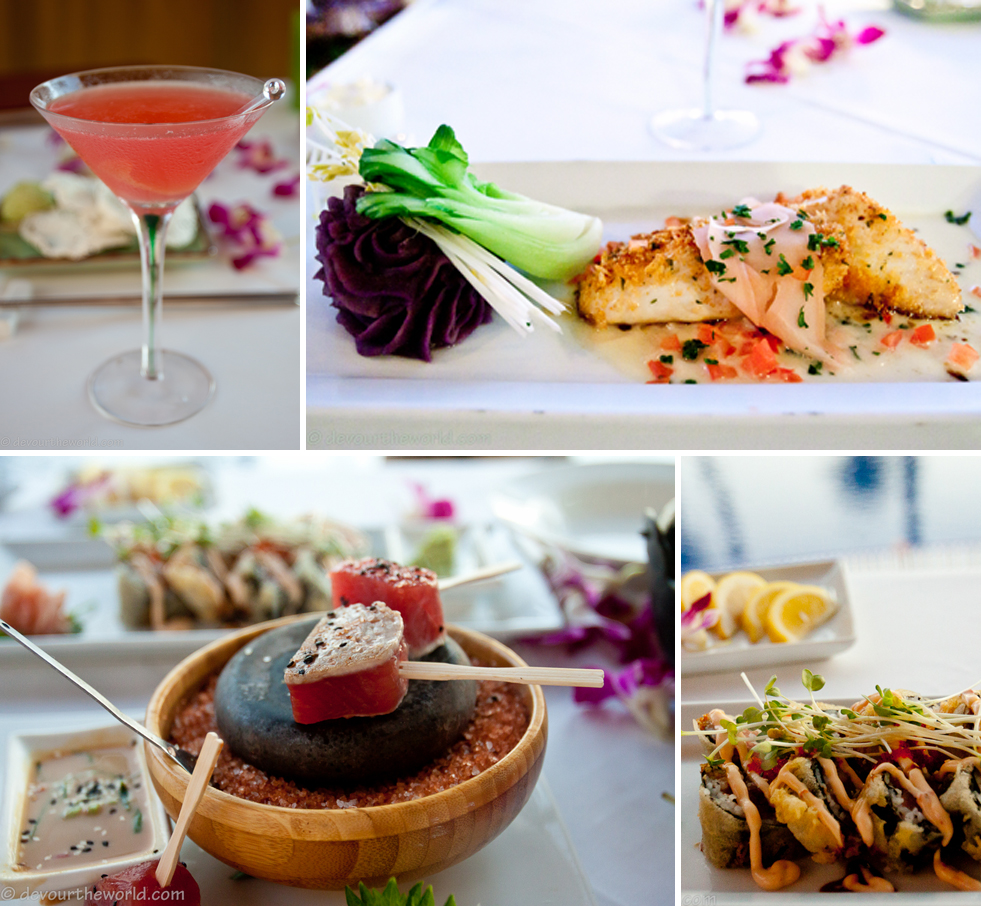 My favorite was the seared ahi tuna since i could control the sear on the stone.  It was a fun interactive dish that I totally dug.  I love the healthiness of the food that was offered since I was planning on digging into as much SPAM and Portuguese Sausage as I could.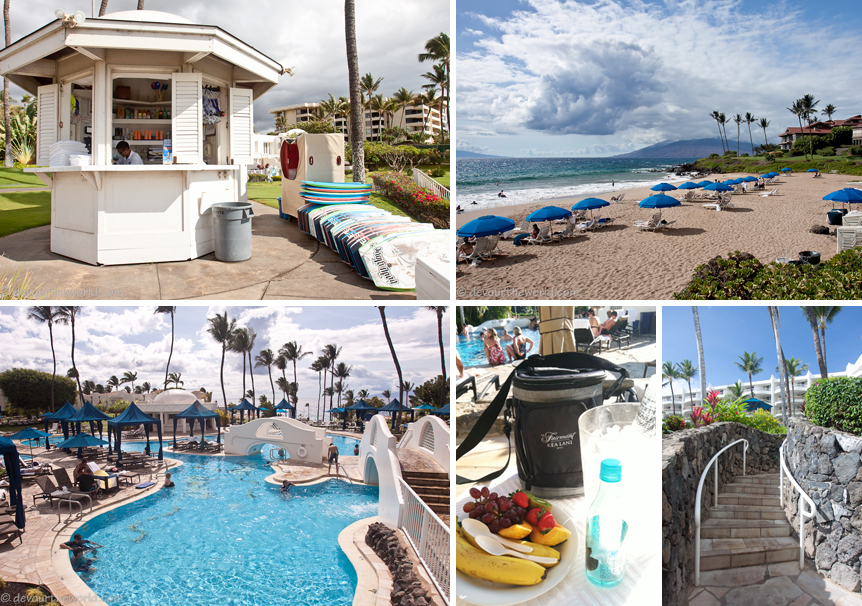 I love the Kea Lani's Pool area [especially the slide!!!].  The cabanas were comfortable and well shaded for people like me who are sun-phobic.  The towels were nice and fluffy, making a great cover up when it started to get a little chilly.  The beach was the perfect location to watch the sunset – make sure you grab a chair early and a nice big bottle of wine.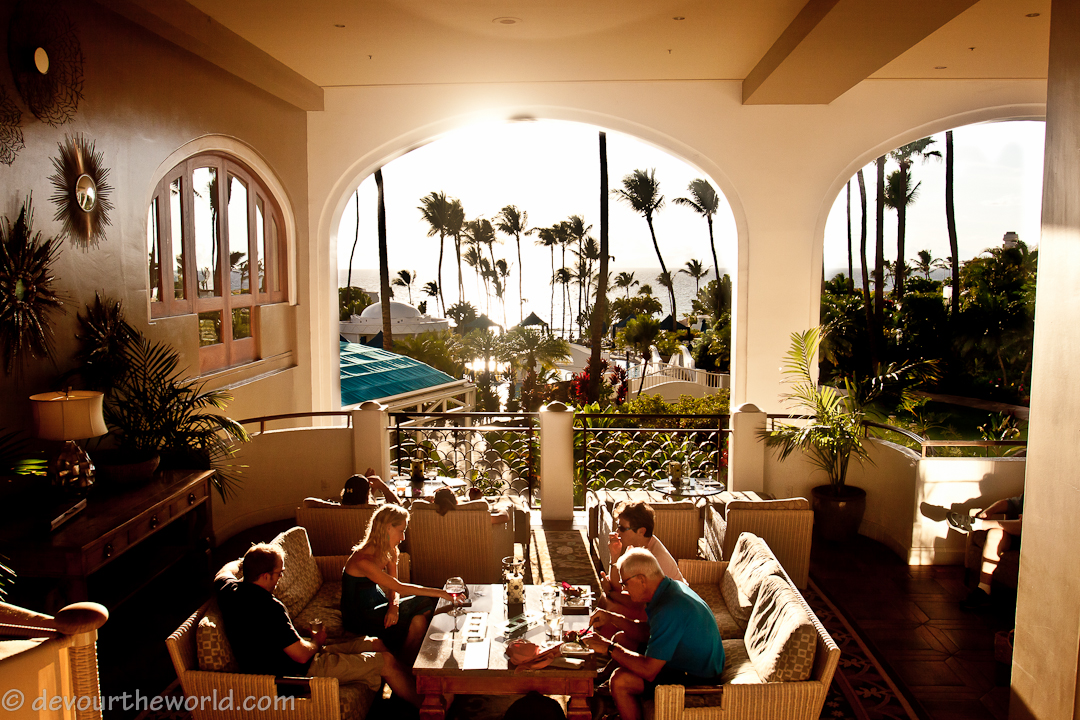 If hanging out on the sandy beach isn't your thing, you can always enjoy watching the sunset from the lounge. The view is lovely and is close in proximity to some fantastic drinks [and those cushions are comfortable enough to sleep in!].  Personally, I opted for a glass of wine on my huge balcony to say aloha to my day.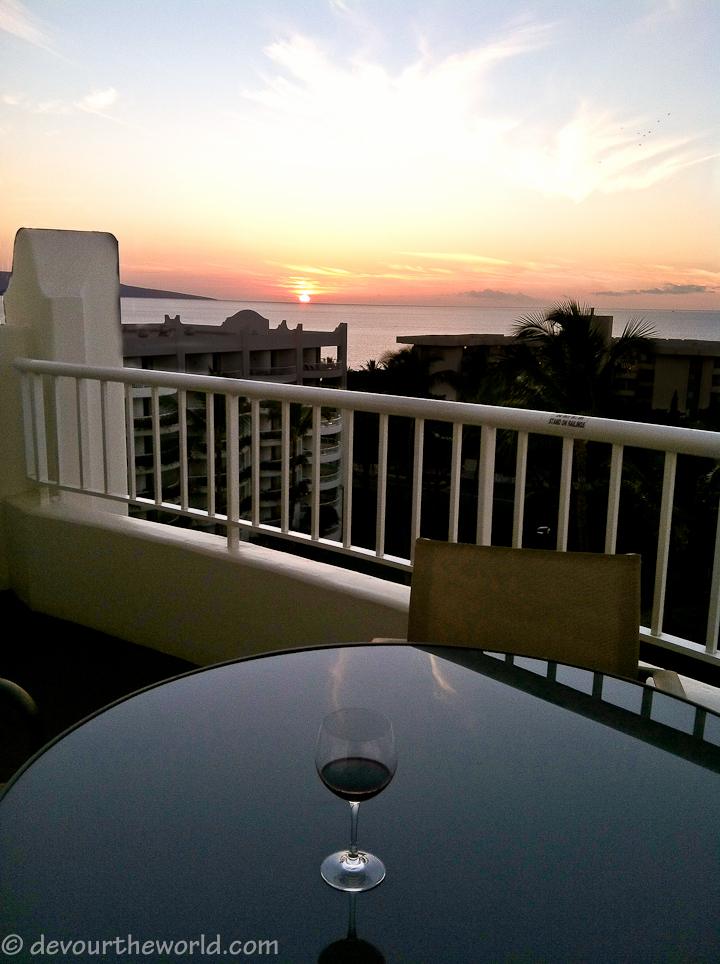 *Although this post sounds all sales-y and sponsored, I did pay for my room during my stay.  I just happen to REALLY like the Fairmont Kea Lani and want to share the love with you!