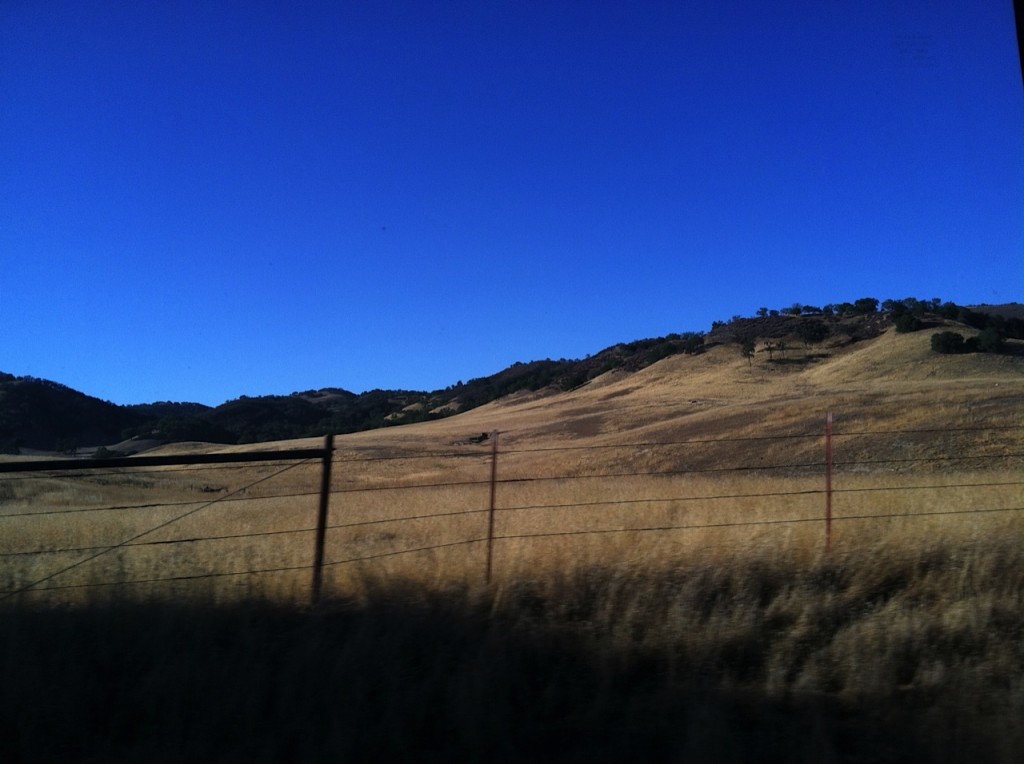 California is the 3rd largest state in the US.  That doesn't give me the excuse for overlooking so many areas in my home state that I have yet to visit. It's a travesty, especially in light of how beautiful this state is…and how beautiful Paso Robles is.  Located about halfway between Los Angeles & San Francisco, it's not the easiest place to get to and it's really not "on the way" to San Francisco or vice versa.  It's a distinct destination.  You need to have intent to get there.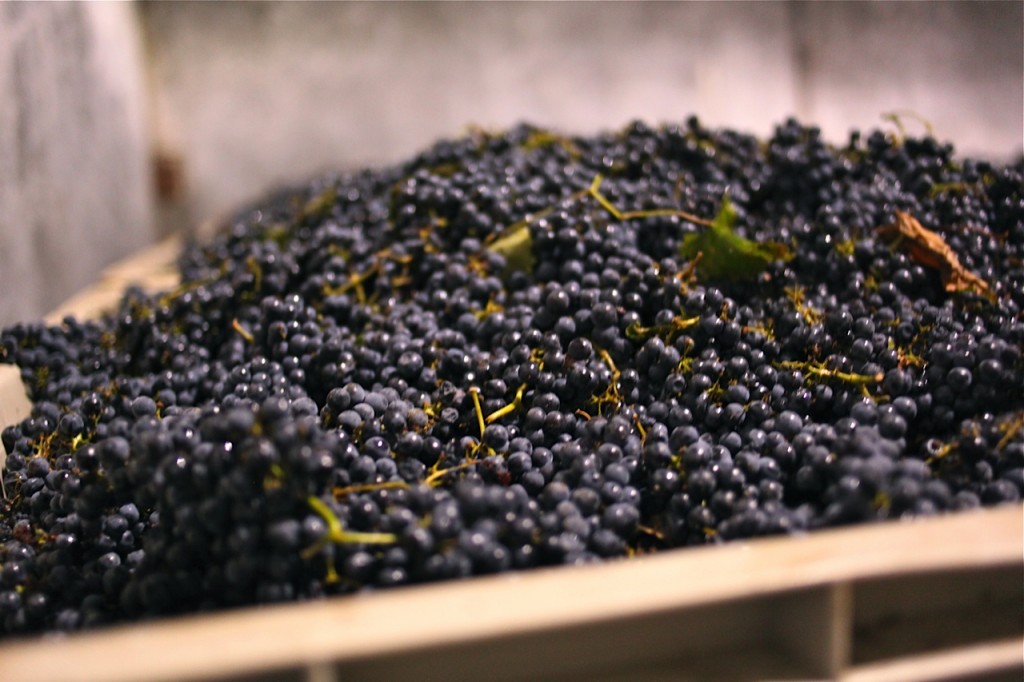 While my main goal was work oriented, my [personal] secondary goal was to visit the juice [nectar] of the grape during harvest season.  There's something about Paso Robles that reminds me of Sonoma in its relaxed and laid back vibe.  Surrounded by all the grapevines, you can't help but instantly de-stress.  We all felt the tension pour right out of us as soon as we landed…but that could have been the anticipation of the massive amounts of wine we were hoping to drink.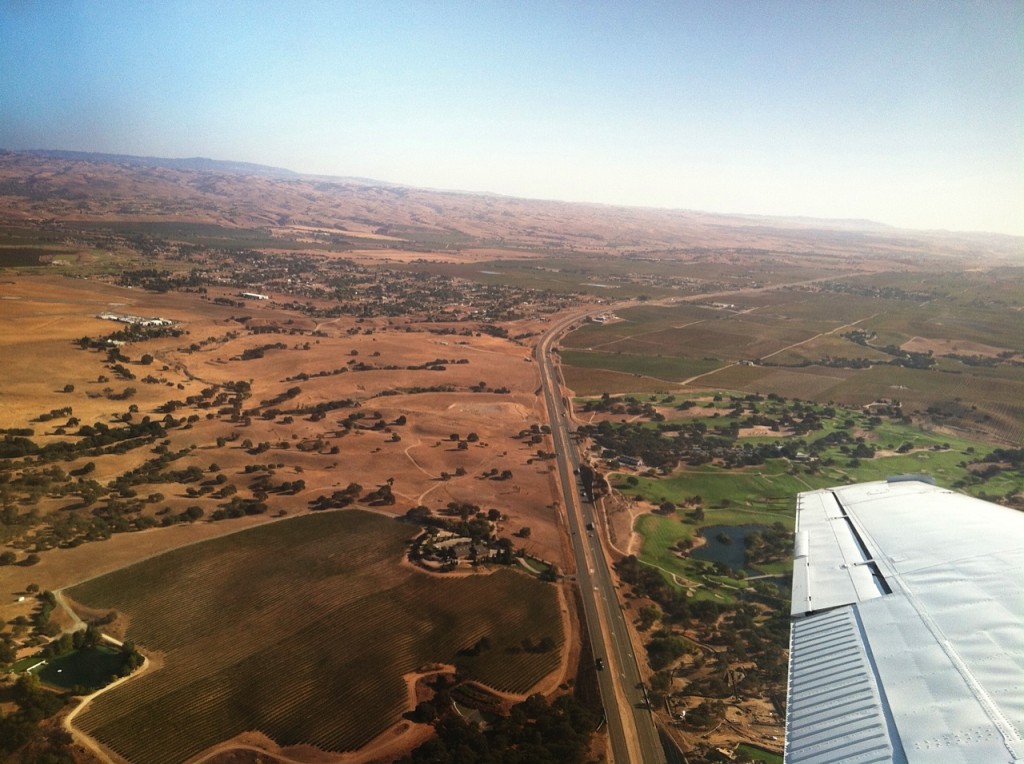 After a bit of research, I discovered so many things to do in Paso besides wine tasting! Wonderful restaurants options [too many for my short stay], golfing, spa, hot air ballooning, and boutique shopping are all available near downtown Paso.  Hearst Castle, San Luis Obispo,  Morro Bay [kayaking & stand up paddleboarding, anyone?] and Cambria are available within an hour's drive.  Admittedly, as much as I love all aspects of the myriad of things to do in Cali, my favorite by far is drinking wine & eating food.
Grape plantings began in Paso Robles as early as 1790 by Franciscan monks but lagged until 1850′s when Frenchman Pierre Hypolite Dallidet planted a 7 acre vineyard. You can find 3rd and 4th generation wine growers still in Paso Robles such as Dusi Vineyard.  I have to admit that I'm a bit of a wine snob and always turned my nose up at the wines in Paso, preferring wines in Napa, Russian River and the like.  My stance changed when I tried some wine from Estrella Creek, which had a wonderful fullness to the wine that I was not expecting.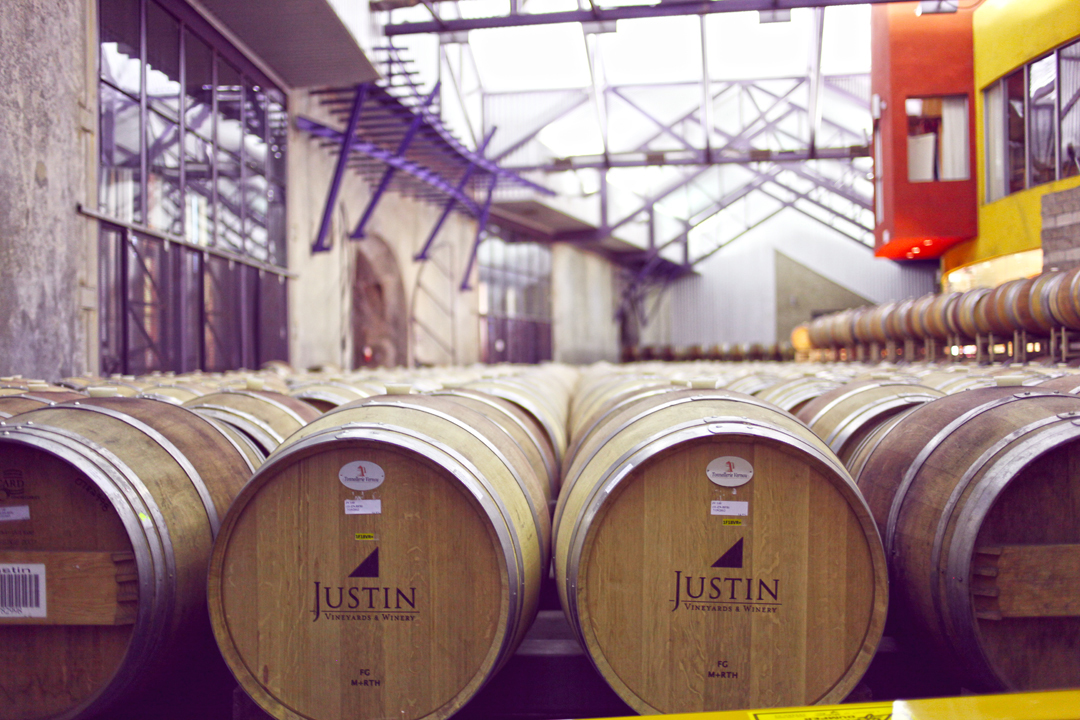 While we were in Paso, we had a chance to visit our sister company, Justin Winery.  Justin Winery is located about 30 minutes from downtown Paso Robles, the land purchased by Justin Baldwin in 1981 with its first release of Isosceles less than 30 years ago.  Some of my favorite wines from Justin include the Cabernet Sauvignon, the Tempranillo, and of course the iconic Isosceles.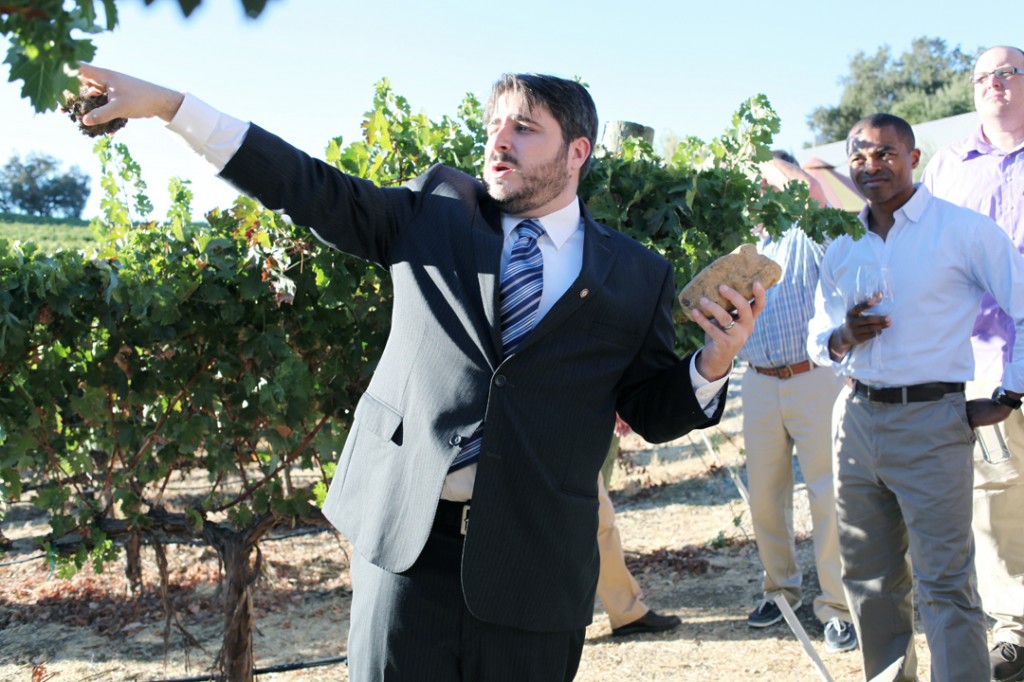 We were met by Chris Jahns [pictured above] who took us on the tour of the vineyard, processing area, and the caves. He explained the terroir of the vineyard that sits on limestone and silica from the ocean that had originally covered the area which causes the vines to grow stronger and heartier, resulting in a better grape product.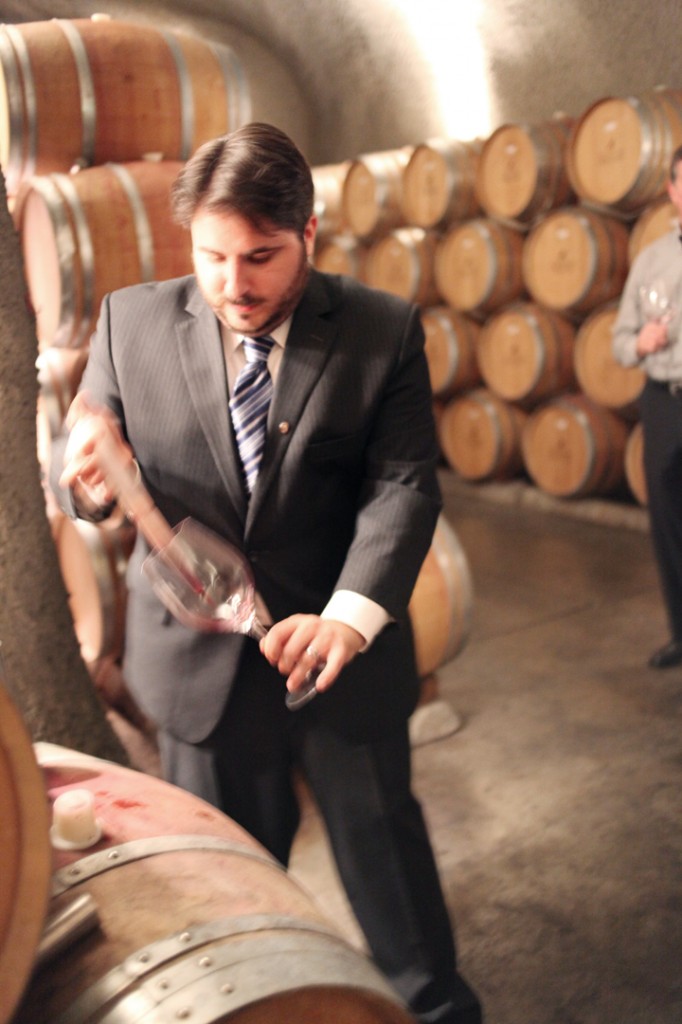 The best part of the tour was the barrel tasting.  I expected the wine to still be slightly green but I was surprised to discover that it was already drinkable and well balanced.  The only other thing I needed was a straw so that I could drink from the barrel directly.  But that would not be classy.  If you ever have a chance to do a barrel tasting [especially if you can taste the single variety wines prior to the blending process], I highly recommend it.  It's an educational experience like no other.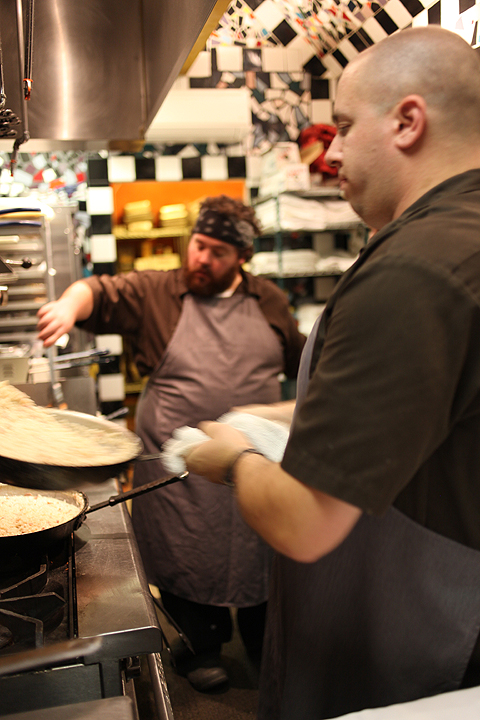 After we were sufficiently plied with beverages and vitoculture, we made our way to dinner at Just Inn.  We had so many people that Chef Will Torres created a Pre-Fixe menu just for us, paired along with wines from the vineyard.  Chef Will uses many ingredients from their own gardens as well as locally sourced goods.  I had an opportunity to check out their small kitchen. From a sous vide to an ice cream maker, they made good use out of every square inch of the kitchen and managed to produce some wonderful culinary creations. I begged Chef Will to allow me to come back and play but I suspected that he could tell that I was nothing but trouble in the kitchen.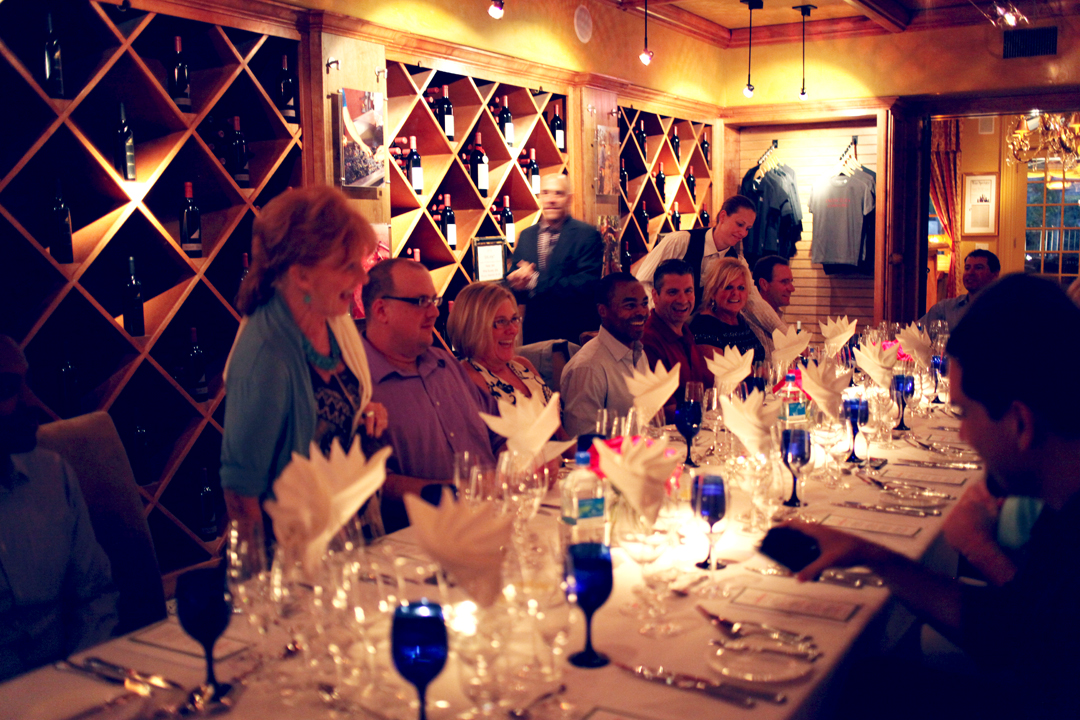 Just Inn's ambiance is reminiscent of a charming restaurant in the South of France – small, tastefully elegant, and quiet.  It was at distinct odds with our festive group.  I can only hope that we did not chase away the other diners.  The service was fantastic and Chris Jahns was kind enough to join us; even asking the trivia questions for game to see who was paying attention during the tour [of course the prize was a bottle of wine].
I would have included pictures of the food but it didn't do the dinner justice.  Each course was perfectly paired with wine, the combination so great that I drank and ate every single bite. Our meal started with seared scallops over a bed of risotto, an AMAZING savory but delicate on the palate duck ragu [I've been dreaming about that dish], a sous vide top sirloin, and an apple oat cake over a honey thyme ice cream that I wanted a 2nd helping of.  Chef Will's ice cream maker made ice cream in 8 minutes…I was tempted to ask him to make me up a batch for the road.
One of the worst mistakes I made was bringing my credit card with me to dinner.  I jumped up from my seat [which was conveniently located in the tasting room] and proceeded to buy a CASE of wine. Not a few bottles, but an entire case.  I'm still crying over that bill but at least I've been doing it over some pretty great wines!!!
If you find yourself in Paso Robles, be sure to make a visit up to Justin Winery in Paso Robles.  As my friend texted me just yesterday, "it was the best winery of the day!"
Justin Winery
11680 Chimney Rock Road Paso Robles, CA 93446 USA 805.238.6932