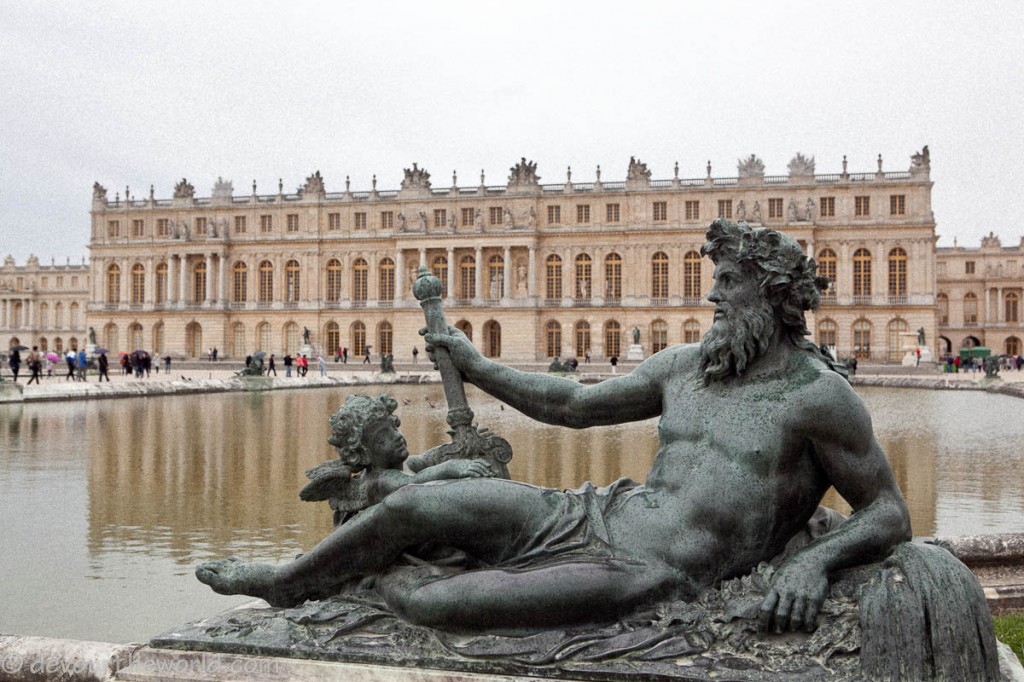 I don't do a lot of sightseeing when I'm in Paris.  My travelmate said it best, "I only see stuff to occupy the time between our meals."  I've been to France a few times and there are 2 places that I still haven't visited that most everyone makes a priority:  the Louvre and Versailles.  I can now say that I've visited Versailles.  Being the uncultured gal that I am, I may never actually make it into the Louvre.  I don't think my poor little brain could handle that much art at any given time.
Versailles actually houses art in a way that my short attention span can handle – throughout the palace and its gardens.  My eyes will only take in about 10% of the art around me which is as much [or maybe even much more] than my mind can absorb.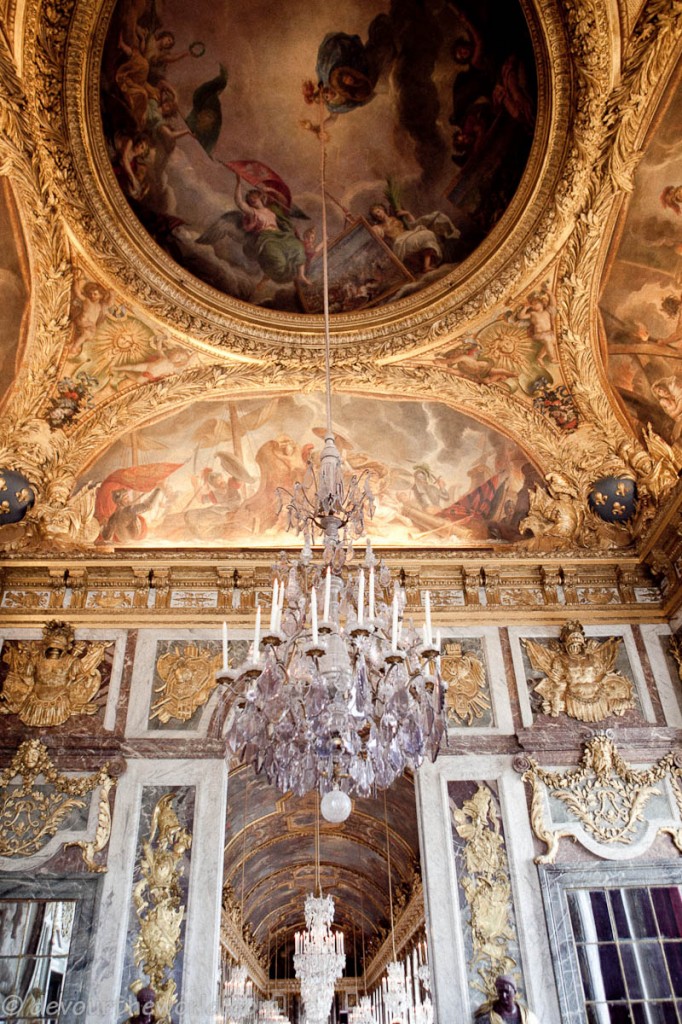 I absolutely loved the Hall of Mirrors.  I would've loved it more had it been completely empty from tourists.  I'd like to go back just to see this place deserted.  I had to photograph the chandeliers.  I actually would love a chandelier in my bedroom but if I put one in, I wouldn't have any room for an actual bed, thus defeating the purpose of said room.  But really, think how spectacular[ly ridiculous] it would look.  I warm up to this idea more and more as the years go by.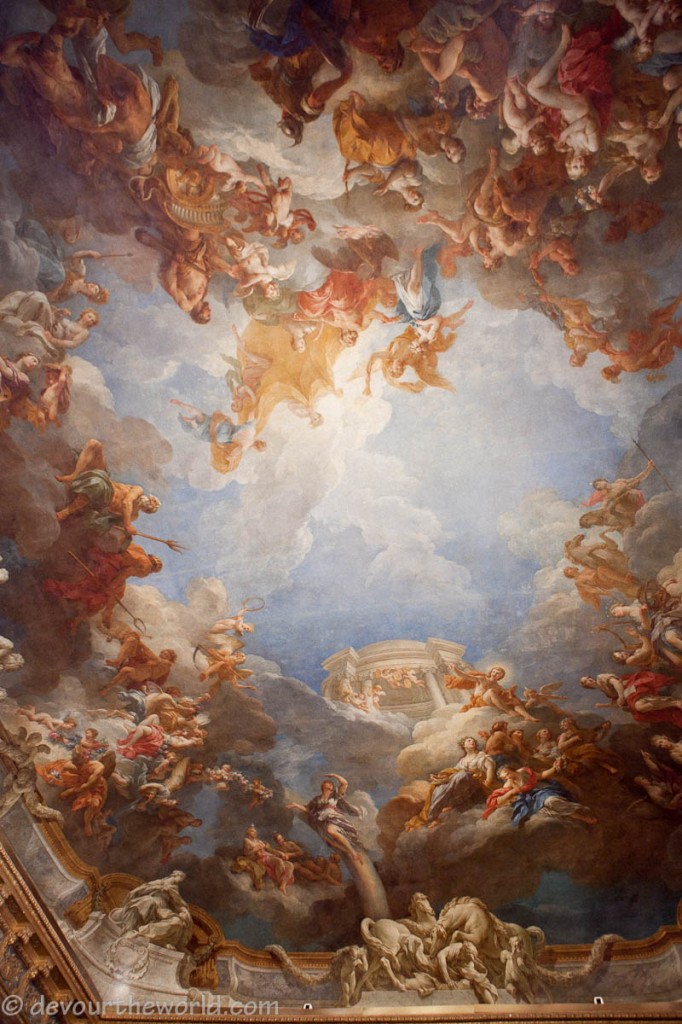 I stare in awe at the ceilings in these palaces and wonder how anyone could paint that many hours in such an uncomfortable position.  I can barely paint my ceilings a flat white using a roller without giving myself a sore neck!  I'd even admit that I got a crick in my neck after shooting some of these photos.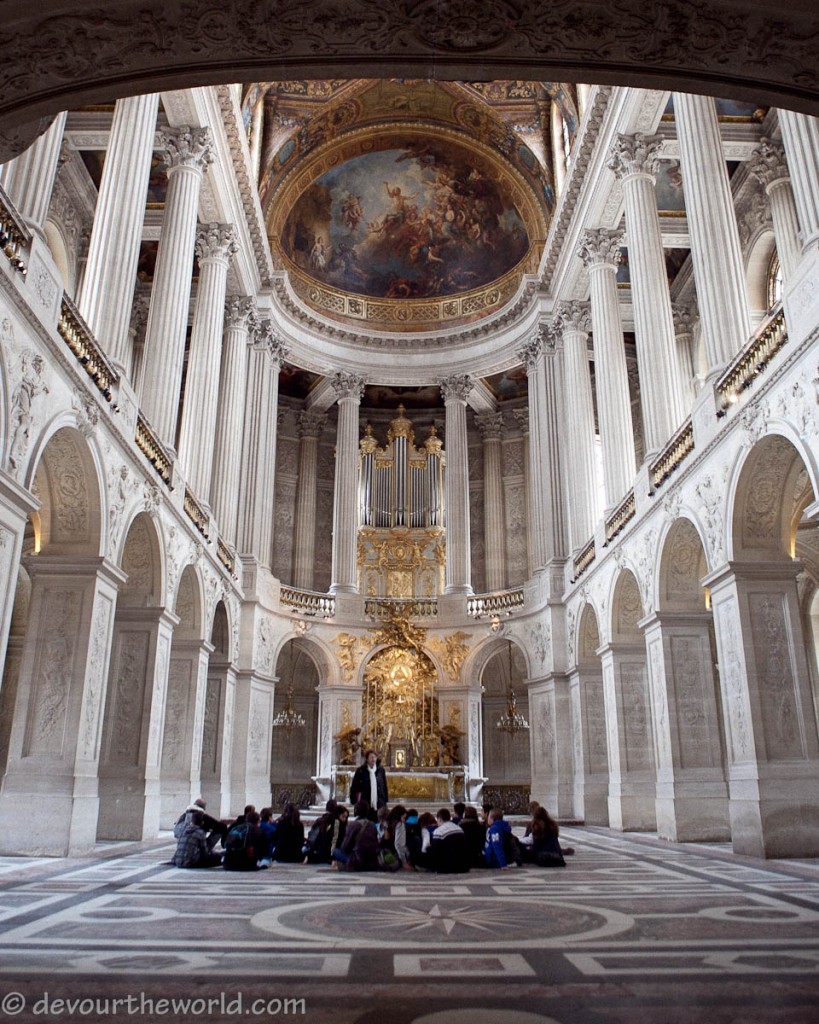 Of course, every home should come with its own chapel right??  The opulence and sheer decadence is absolutely breathtaking.  My teeny little brain can't even wrap around the idea of how much this would cost in today's day and age!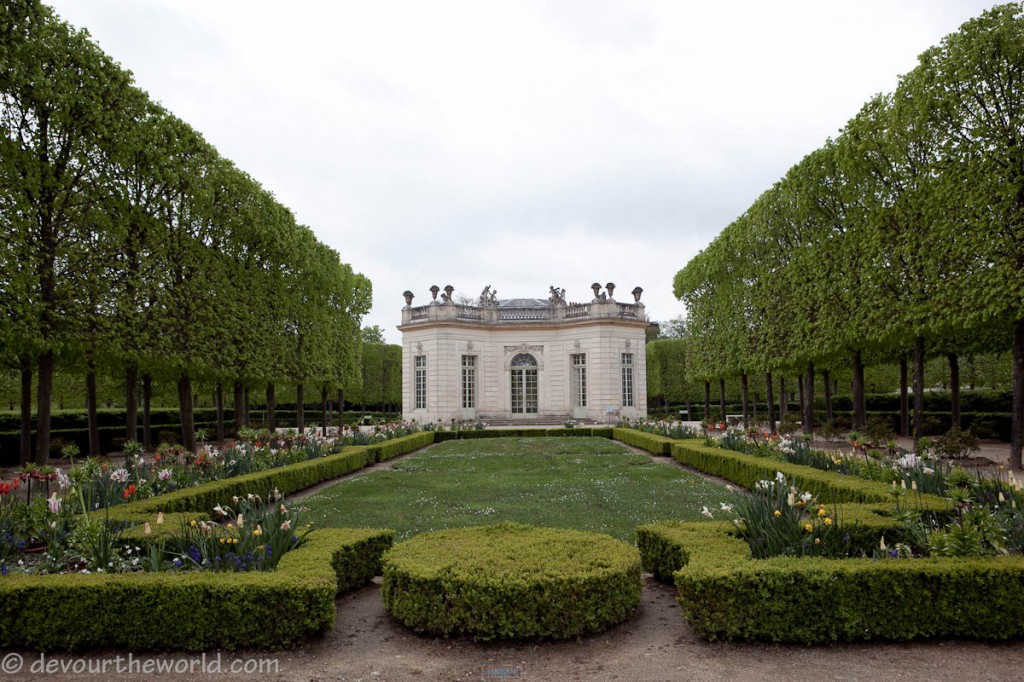 I think my favorite part of Versailles were the outdoor gardens.  Everything was so precisely trimmed and trained.  I loved the perfect symmetry in everything.
If it wasn't for the fact that we were there after having traveled for more than 19 hours and it was pouring rain, I would have enjoyed it even more!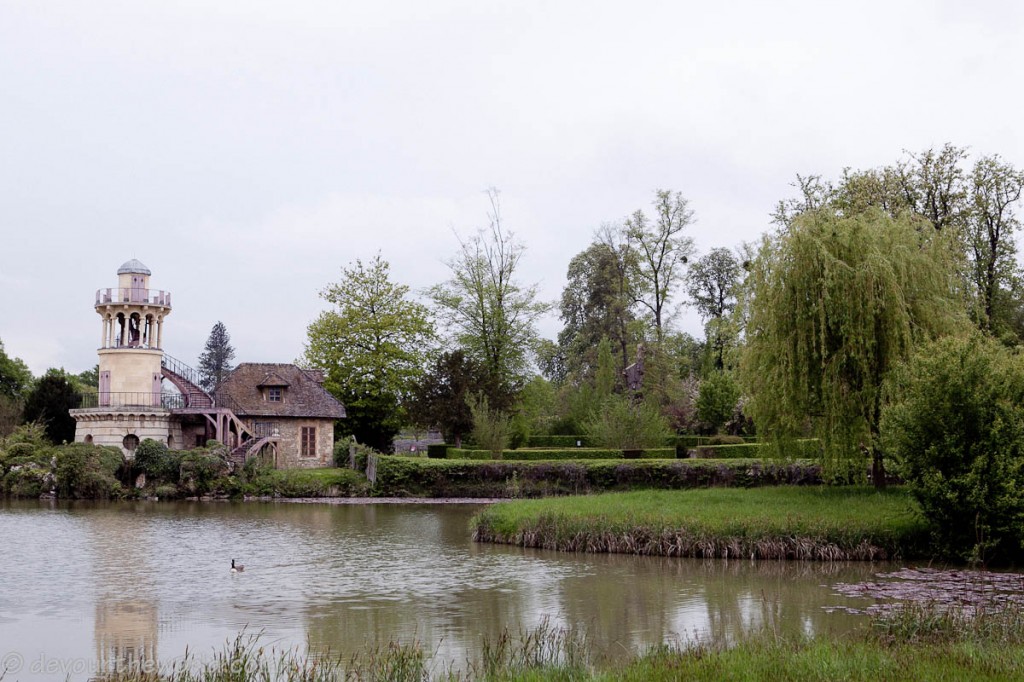 The area that caught my attention in the Gardens was Marie-Antoinette's Le Hameau [Hamlet]. I think it was funny that she used this area [functioned as a working farm] as her own personal play area where she dressed up as a peasant to get away from the restrictions of court life.  Saucy Minx.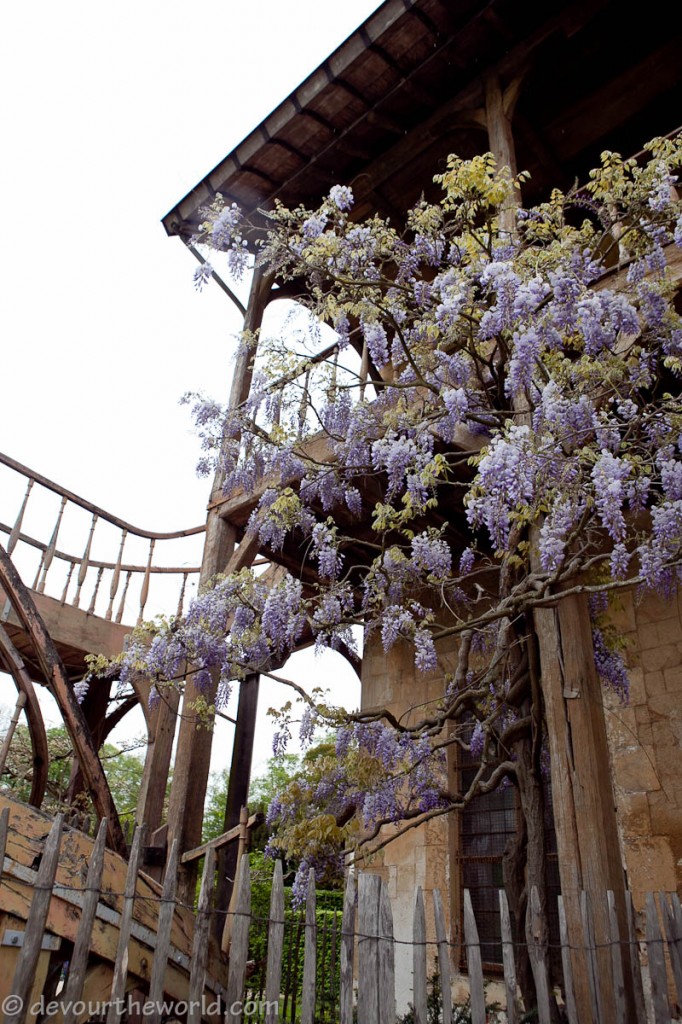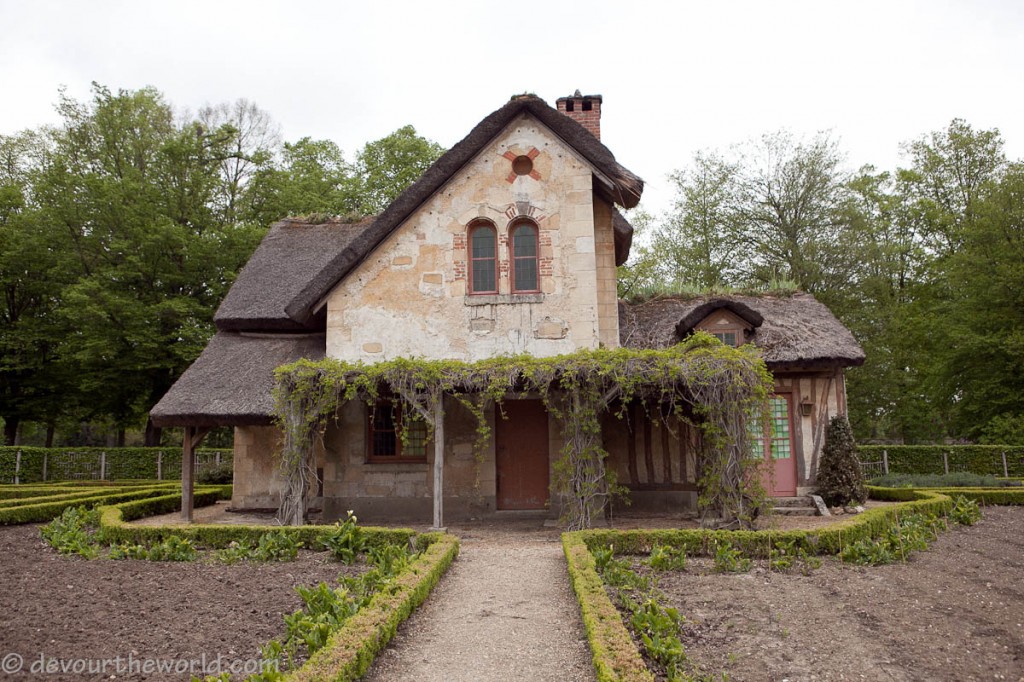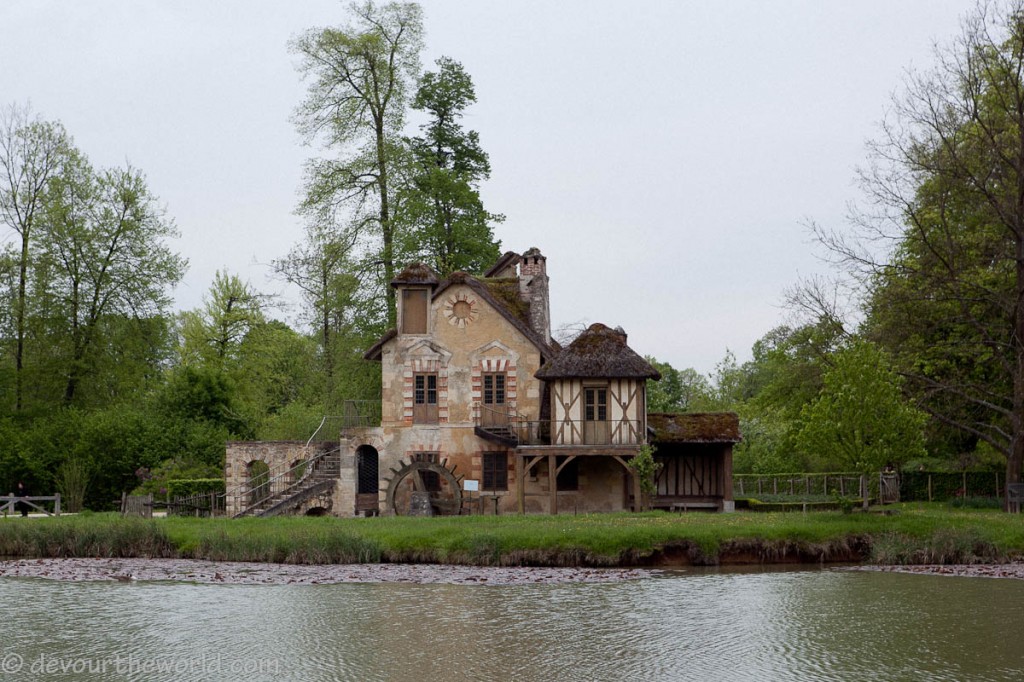 I'm glad I made the trek out to Versailles, although I definitely could have done without the crowds.  Getting there earlier in the day would definitely help.
Also, be sure to pick up food supplies beforehand to enjoy a picnic in the gardens [sans the rain like we had]!  We picked up sandwiches at Versailles out of necessity – it was expensive and not really tasty.
By the end of the day, my feet were dog tired.  If I ever go back again, I would rent a golf cart [rentals available at 30 euros for an hour] to get around the grounds.
How to get there from Paris:
Take the RER C to Versailles Rive Gauche Exit out of train station, Right on to Av du General de Galle Left at Av de Paris  
Entrance Fees:
18 Euros for the passport which allow access to the Palace, grounds, Trianon palaces and Marie-Antoinette's Estate You may also wish to purchase the Museum Pass [price ranges from 2 days for 39 euros to 6 days 69 euros]. Clearly, I do not visit enough monuments/museums to make this worthwhile.