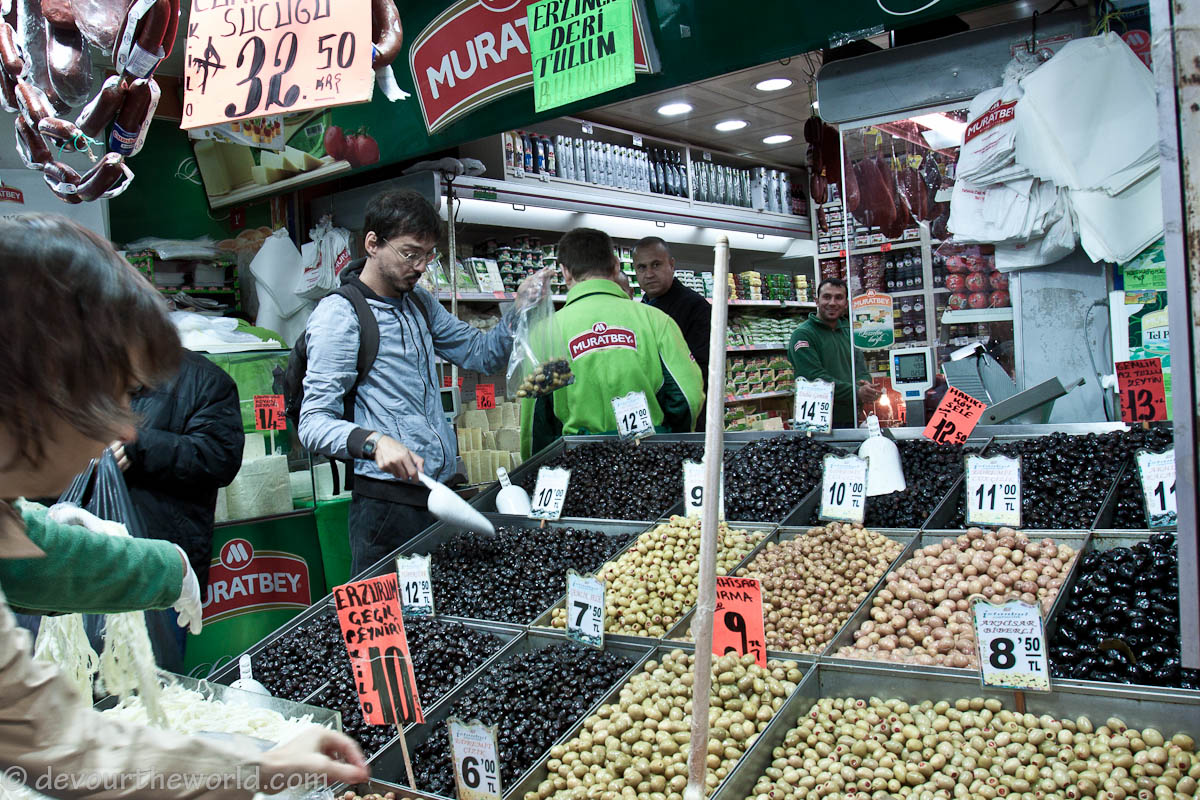 I try not to set my expectations too high about anything lest my expectations get crushed to bits and pieces.  That didn't really work out well for me when I headed out to Turkey.  There were so many people singing the praises of the food, the people, and the sights that it was impossible not to have heightened expectations.
I set up a tour with Istanbul Eats based on a few recommendations from the friendly folks in Twitterland.  I set out on a cold and rainy Thursday with my friend, Carrie, with very high expectations.  I was determined to eat my way through Istanbul the best I could and, as my over-6-feet-tall-dainty-eating-male-colleagues from Arkansas can attest to, I approach eating like it's an Olympic sport. I was so anxious to get there "on time" that we showed up 30 minutes early.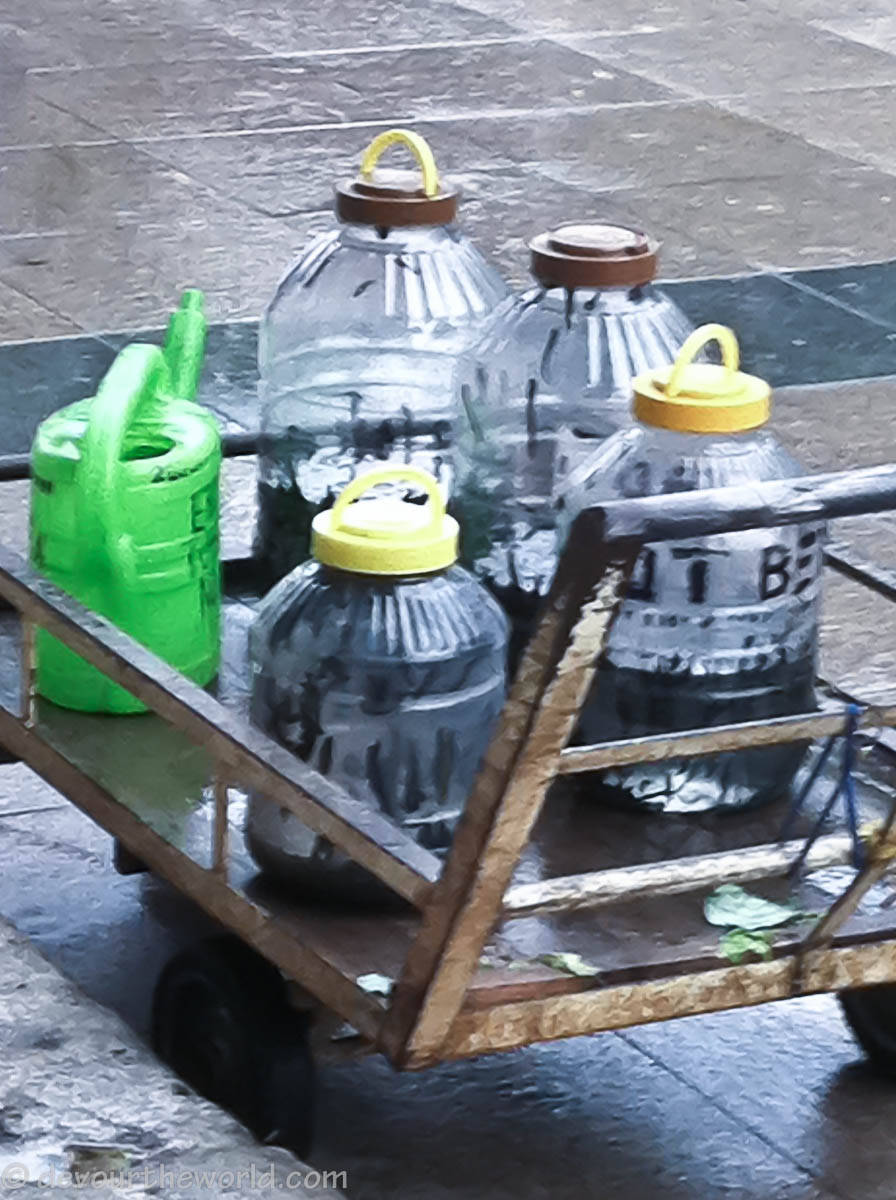 As we stood there in the rain, I saw a man wheel up with a cart of jars filled with black wormy things.  I did a double take.  Those weren't worms, they were leeches. I watched in fascination as he began cleaning out each of the jars while carefully picking out the dead floaters with tweezers.  I looked in askance to Carrie, "what the hell is he doing with barrels of leeches??" Carrie shrugs her shoulders and responds, "bloodletting?"  We never figured it out because our guide for the Old City Food Tour, Angelis, arrived [but if you guys know what this was for, please let me know].
He enthusiastically beckons all five of the members of the tour over towards him.  Apparently we were all waiting on the wrong side of the building which I suspect was my fault since the other tour members waited around Carrie & me. First words out of his mouth after, "good morning" was, "I hope that you are hungry because we're going to be eating a LOT of food.  Come on," and off we went.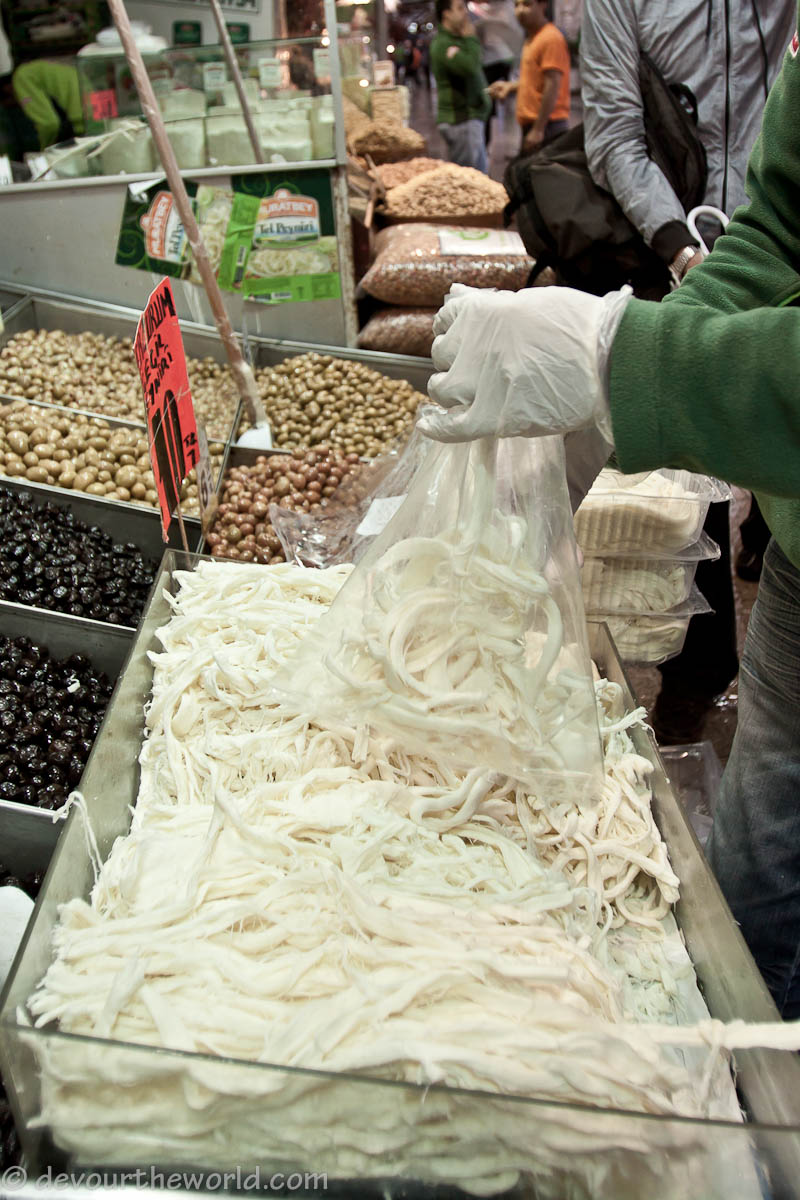 I loved this String Cheese like cheese. Just a bit salty.
I was a little nervous about the pace we started off at, thinking there was no way that I would be able to keep up, but it was a case of hurry up and wait, while we picked up the components of our traditional Turkish breakfast.  It continued to rain lightly as we went from stall to stall as Angelis greeted each vendor warmly and respectfully, stopping in his movement only to explain what each product we were picking up was.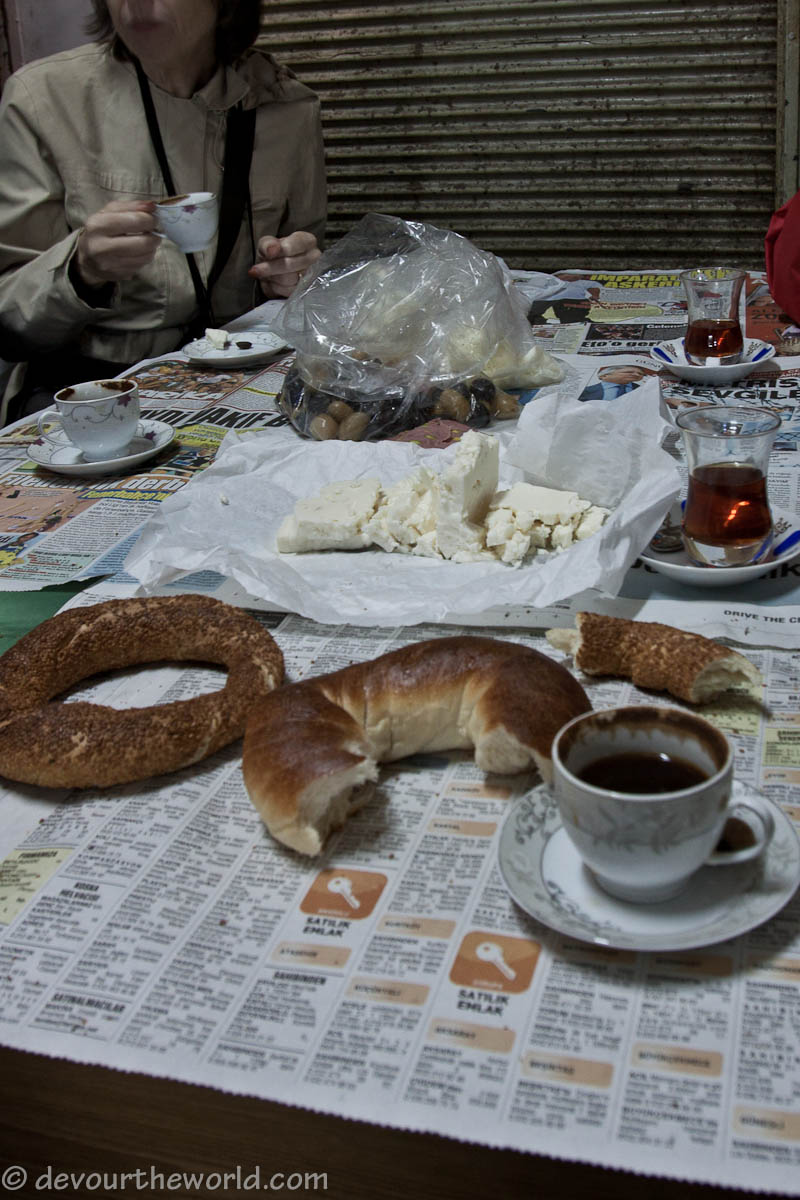 I was baffled as to where we would find a spot to sit and eat as he walked us through a narrow passageway into a lobby that had huge bags of coffee beans piled up high along the wall.  Just beyond those bags was a rickety table with a newspaper "tablecloth" spread out on it. We began placing the food we collected onto the newspaper.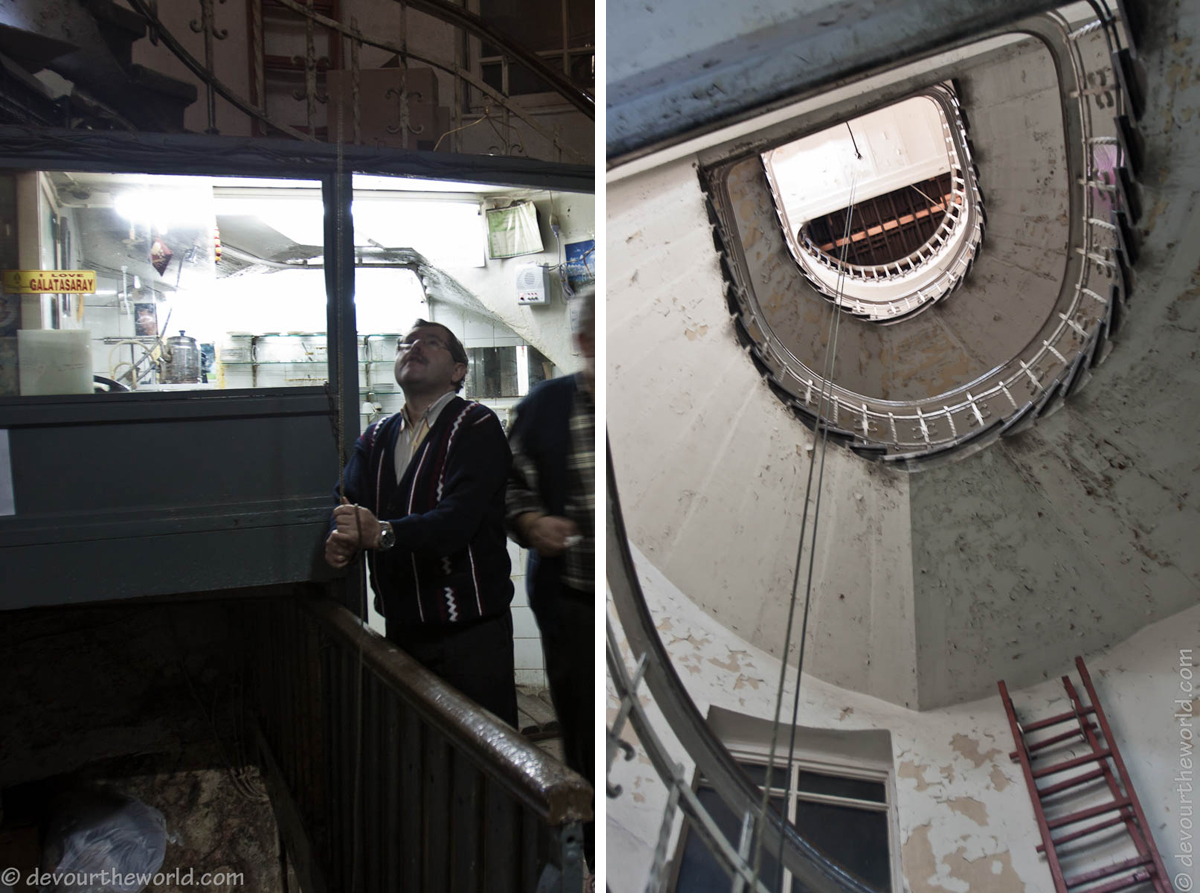 We dug in to the cheeses, meats, and simits [similar to a sesame bagel] as we waited for the tea/turkish coffee to arrive.  I started laughing when I saw a pulley system that reached from the top floor 3 stories up down to the lobby where we were sat, that sent down the hot drinks to us.  It was awesome.  It was ridiculous.  It was at that point that I knew I was in for a special treat the rest of the day, taken to places that I wouldn't have found or discovered on my own as a tourist.
Some highlights of the food tour included a stop at the the Kral Kokorec, which consisted of lamb intestines wrapped around offals. It first cooks on a spit, then is chopped up and fried to a crispy consistency with some fresh finely chopped vegetables, then placed into a bun. Most of the people in our tour were turned off by it but I actually really liked it – spicy and flavorful.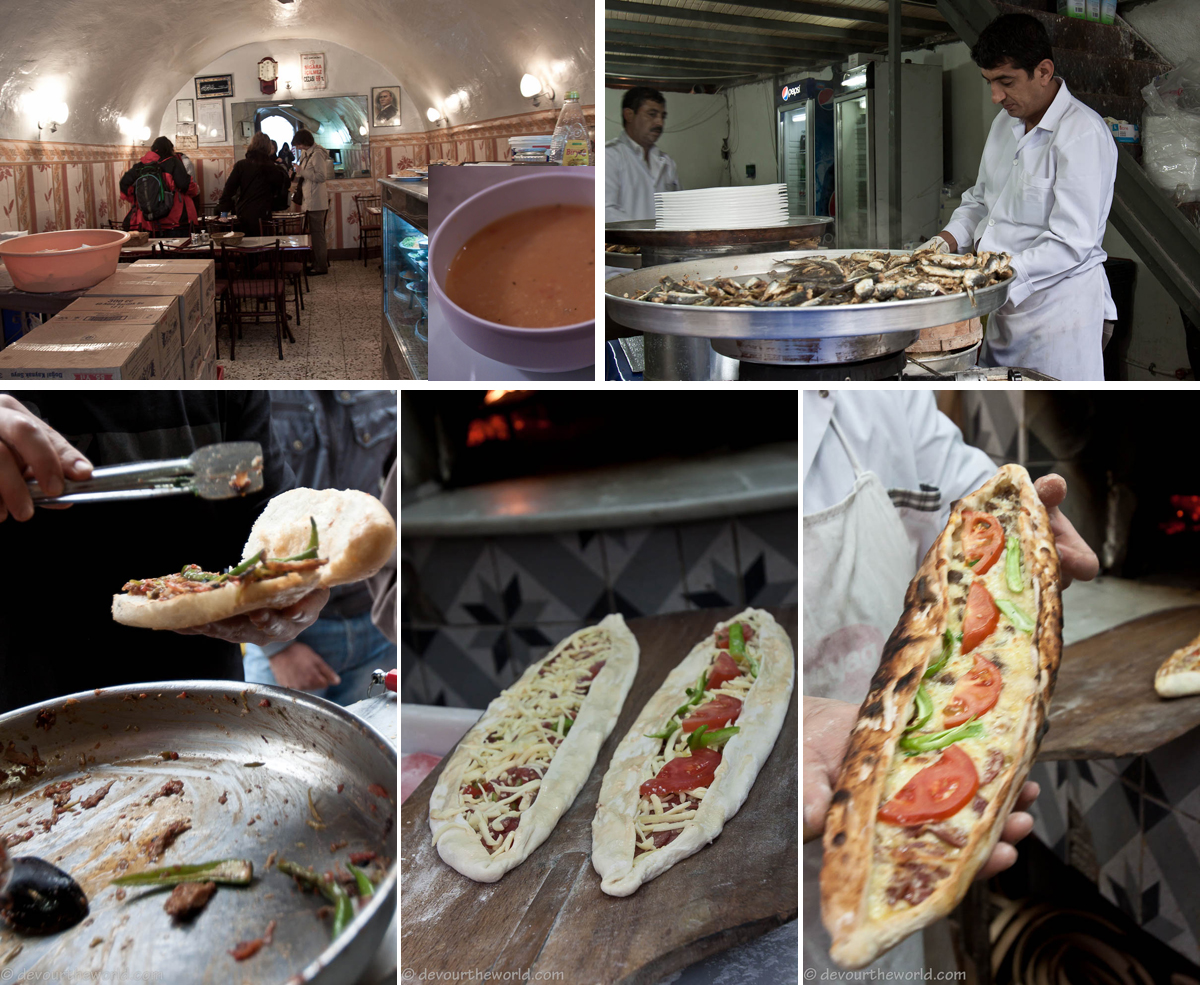 We continued on to various savories – Pides from wood fire ovens, Soups from traditional and somewhat historic Soup Kitchens, deep fried anchovies from the street, and a doner kebab that I wish I could eat right now.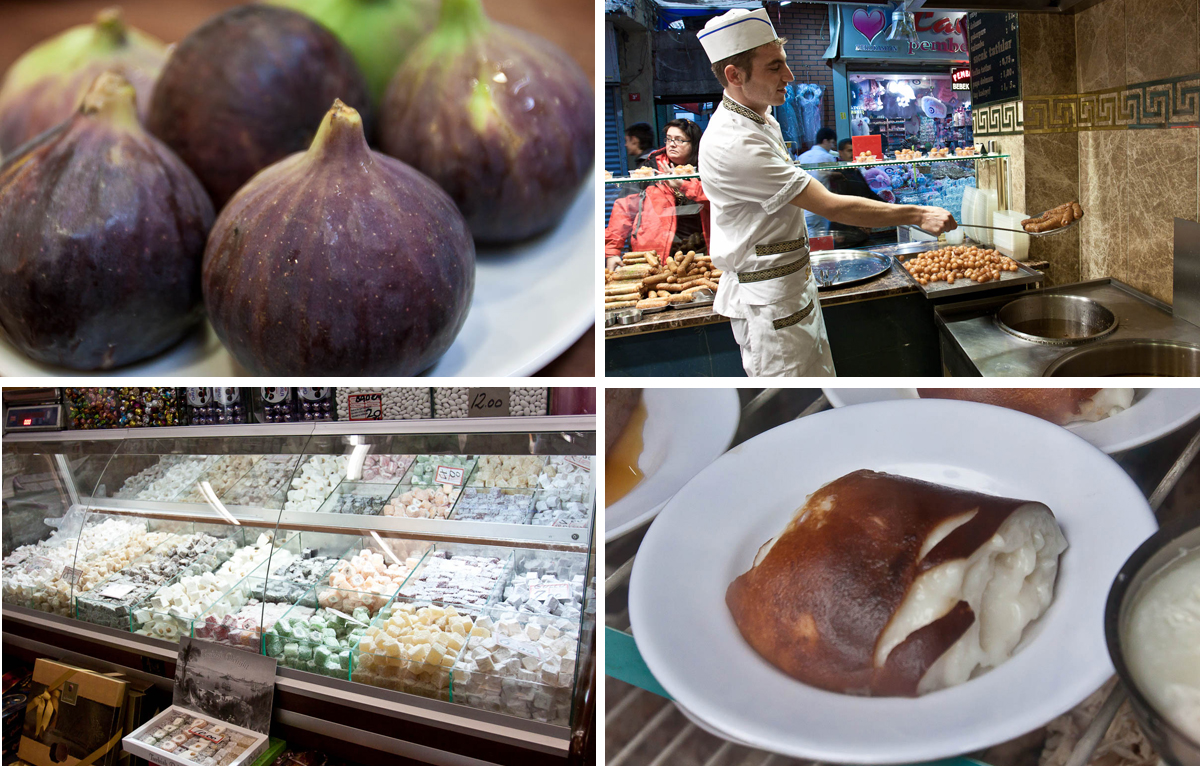 Interspersed with the savories was my personal favorite – the sweets! Fresh figs from street vendors, Baklava from my friends/supermodels at Gaziantep [they told me that if I needed a job, they'd hire me], Altan for Turkish delights, and some Chicken Pudding – chicken slow cooked in milk until fully melted – that was absolutely wonderful [I never would have guessed there was chicken in it]!
This is not an inexpensive tour. However, food rates very high for me so I didn't mind shelling out the money for it.  I enjoyed my time with Angelis.  He was very flexible when I expressed an interest in having some Hamsi [anchovies] and made sure he incorporated it into our tour.  Istanbul Eats also puts out a book, at a much less financial commitment, which we used as well.  It was a great resource.
Istanbul Eats
Book a tour
  Istanbul Eats book
Buy the Book