The original title of this post was "Paddle Board Lessons in Waikiki".  For those of you following my twitter stream or facebook updates, you probably know that I've been in Hawaii for my cousin's destination wedding from Japan. During our one free day, her brother, Dai, and I decided to head out to the beach [and left his other sister back at the hotel, near death from the flu…because we suck] to try our hand at paddle boarding.  I had learned to paddle board in Maui about a year ago and thought my cousins would enjoy the hands on activity.
I decided on Waikiki Beach Services to lead us out but when I got there and saw the rough, choppy waters, I turned to Dai and asked him if he'd mind changing to surfing instead.  The waves were just big enough to have some fun "bunny slope" surfing lessons and he had expressed an interest in surfing the evening before.  As a traveler, you just need to adjust to any situation; as a meeting planner, you always have to have a Plan "B".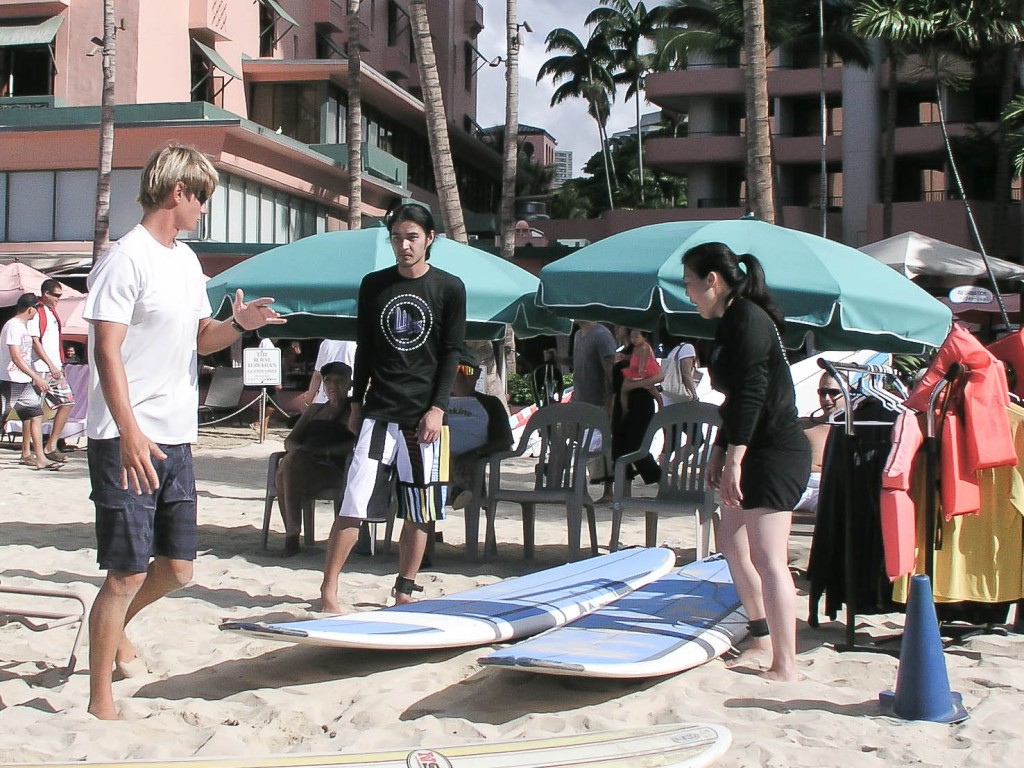 Trevor, our paddle board instructor turned surf instructor, patiently showed us our moves on sand before we headed out to the water.  I screamed a little at how cold the water was [it really wasn't but I'm a wuss] and Trevor told me that I sounded like a local girl, complaining about how cold it was.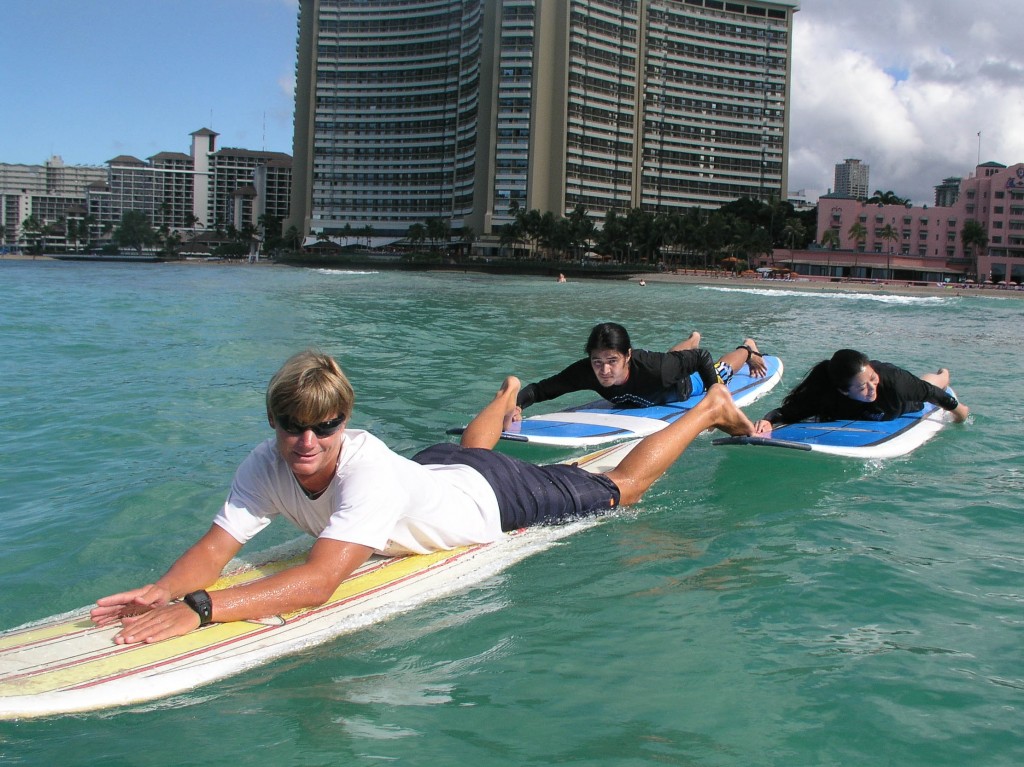 One thing I had forgotten about surfing was how painful it was on the arms from all the paddling that was required.  Luckily Trevor towed us out a lot.  I will not lie and pretend like I was working it when he was towing us.  I was as much of a bump on that surf board as my cousin was – one of the many benefits of a private surfing lesson.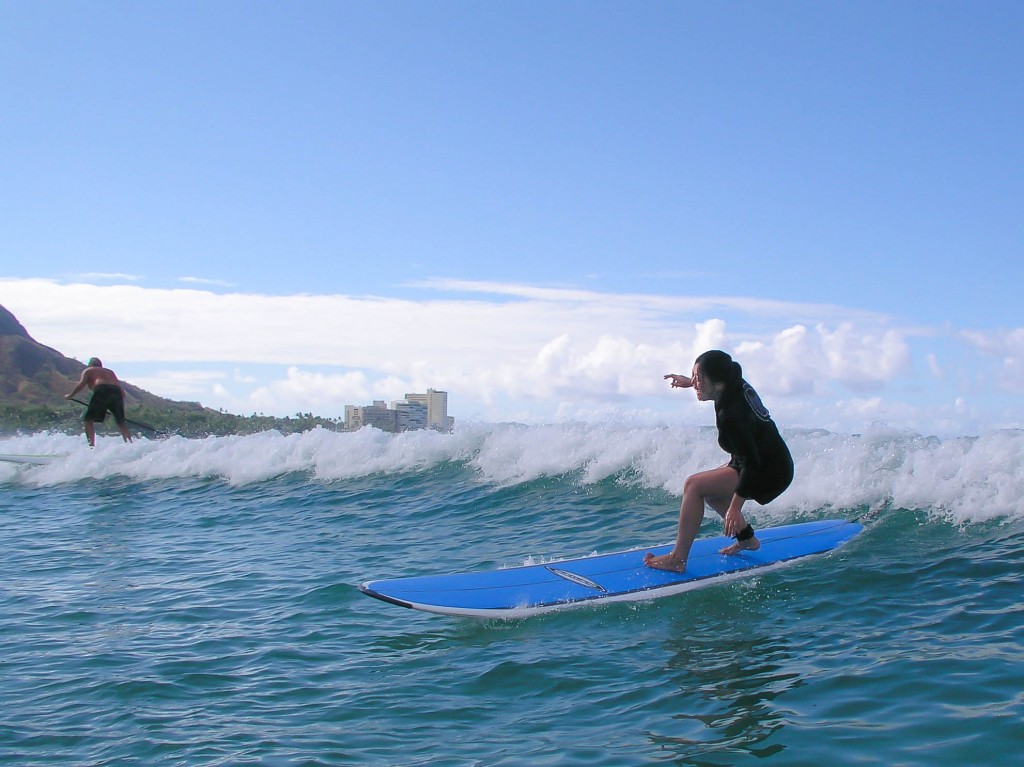 Trevor was with us all the way, telling us when to paddle, when to stand and giving us tips on how to correct our form.  I had so many problems with my form it was ridiculous.  As you can see from the photo above, my feet were too far to past the center line, causing me to veer left and almost tip right off my surfboard with my right heel up causing an unstable stance.
Over all, I was just happy to be standing on my surfboard for the first time.  It's the small things in life that make me happy. It was actually so much fun this time around that I think I may actually try to surf again!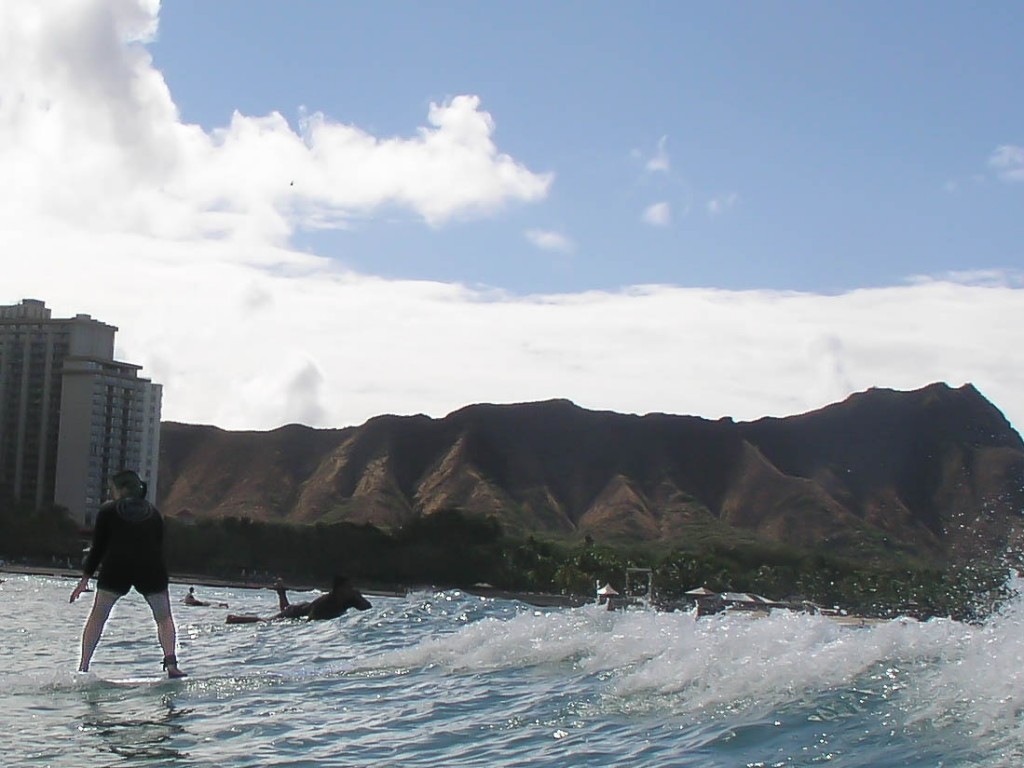 Waikiki Beach Services
Located near the Pool area of the Royal Hawaiian Hotel 2259 Kalakaua Ave
Honolulu, HI 96815 phone: 808.388.1510  
Special Notes:
Be sure to call ahead to reserve yourself a spot. If you'd like to tip your instructor, be sure to bring cash. Do not bring valuables besides your cellphone, Credit card, ID, room key – they have a small dry box that you can put your things in.  
Things to bring [will be placed in a large communal plastic bin]:
sunscreen
towel
slippers
Rash guard will be provided for you
wear board shorts to lessen sand abrasion on your thighs.