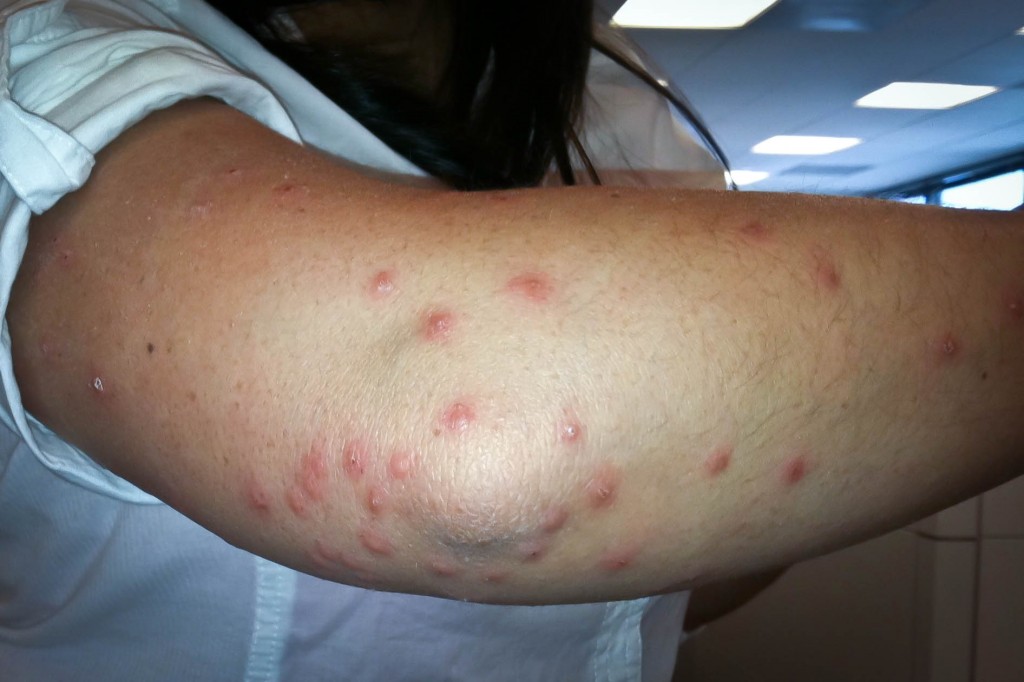 Bed Bugs. Blood suckers. Public nuisance. Eradicated when we will still used DDT but now making a resurgence throughout the world.  Resistant to most pesticides [and yes, resistant to Clorox wipes].  The mere thought of having been bitten by a bed bug is bad enough but to bring it into your home is a totally different thing.  Normally when I travel, I usually stay, if not in luxury resorts, at least hotels that are reputable and clean.  I kept hearing and reading about how no hotels are safe – all are equally likely to have bed bugs.  I neurotically wipe down telephones, remote controls, door handles; check the bed for bugs, droppings, shell casings; and pretty much always wear slippers around the room.
Imagine my surprise when the bites on my arms kept multiplying, even after my return home.  Confused, I went to my doctor's begging him to tell me it wasn't bed bugs.  He looked at me with pity in his eyes and told me that he can't positively say that these were bites from bed bugs, but the patterns are similar to such [breakfast, lunch, dinner – 3 bites clusters].  He advised me on what I needed to do in my home [throw stuff away, dry clean clothes, wash EVERYTHING and dry in high heat].  I cried as I threw books away…I cried as I shelled out hundreds of dollars on home remedies…I cried even more as I shelled out hundreds of dollars on dry cleaning…and I became suicidal when I realized that I would have to pay to fumigate my duplex as well as for the displacement of the other tenant, after seeing a bed bug crawling across my foot.
At first, I hesitated sharing this embarrassing problem.  My first instinct was ABSOLUTELY NOT posting anything about it.  I didn't even want to tell my friends or family but every part of my body was so bitten up, I couldn't hide it.  To tell the 7 people who read my blog – how mortifying, I thought!!  Then I thought how I wouldn't wish this on my worst enemy…I need to tell people what to look for and how to avoid it.  Please remember that I wasn't at some slum hotel – I was at a couple of very upscale resorts when I brought these unwanted critters home with me.
Here are some of my tips on how to avoid bringing home that unwanted souvenir, Bed Bugs:
1.) Leave your suitcase off the wall, off the floor using either the luggage stand or leaving it on the bathroom counter, if there's room.  Also, I purchased a luggage bag similar to the one by BugZip to keep my suitcase protected.
2.) Don't unpack your suitcase or leave things in drawers.  Bed bugs do hide in dressers, as well.
3.) Check the bed area:
the mattress,
box springs,
sheets,
AND headboard.  I hate doing this part – the headboard is HEAVY.  I do my best but even then, it's only a cursory check.
This is a good video on how to check and what you're looking for
4.) Check the dresser area, floorboards AND the wall socket [where I saw evidence of bed bug feces but had no idea that's what I was looking at].  You're mostly looking for bed bug feces which are black spots that you can't easily wipe off [I kept trying to swipe at it with Clorox Wipes to no avail.]
5.) Spray your things with Bed Bug Repellant. I've used Lavender oil on my bed when I was being bitten by bed bugs at my house and it seemed to keep them away.
When you get home from a trip:
1.) Don't bring your luggage inside your house if you can avoid it.
2.) The first thing I do is put my clothes into the washer or if it's too late, I heat treat my clothes in a dryer for 30 minutes [thermal death point is 113 degrees, it's suggested that you heat your things up to about 140 – 160 degrees in order to reach thermal death temperatures].
3.) I put my suitcase into an airtight bag [along with everything else I traveled with] and set it outside for an hour or so in the sun until the heat kills any possible bed bugs.
4.) I spray down my stuff again with lavender oil in the hopes that it'll draw out the bed bugs away from the item [still keeping it the bag].  This does not help if I've managed to bring home bed bug eggs/larvae.  This is not a proven method, I just think that it will help.
5.) On my wishlist of things I want that I still don't have is the PackTite Portable Heating Unit. At $315, it's a little steep for my pocket [especially after the thousands I had to plunk down].
I still feel creepy crawlies all over me and am convinced that I've got a bed bug crawling on me [it's not].  Psychologically, it's such torture [broke down at work in a fit of tears].  Sleeping in your home is nearly impossible because you just know that bed bugs are crawling all over you while you're sleeping. I hope that it never happens to you!!
* I won't disclose the name of the hotel that I suspect that I got my bed bugs from as I did stay at a couple of hotels during that trip.  Flaming that resort isn't the purpose of this post and I sincerely hope that you understand! 
** In case you were wondering, the hotel did not take responsibility or compensate me for the bed bugs.
*** Since the hotel was an international destination, I wasn't able to enter it into the BedBugRegistry.com [it's only in the US right now]