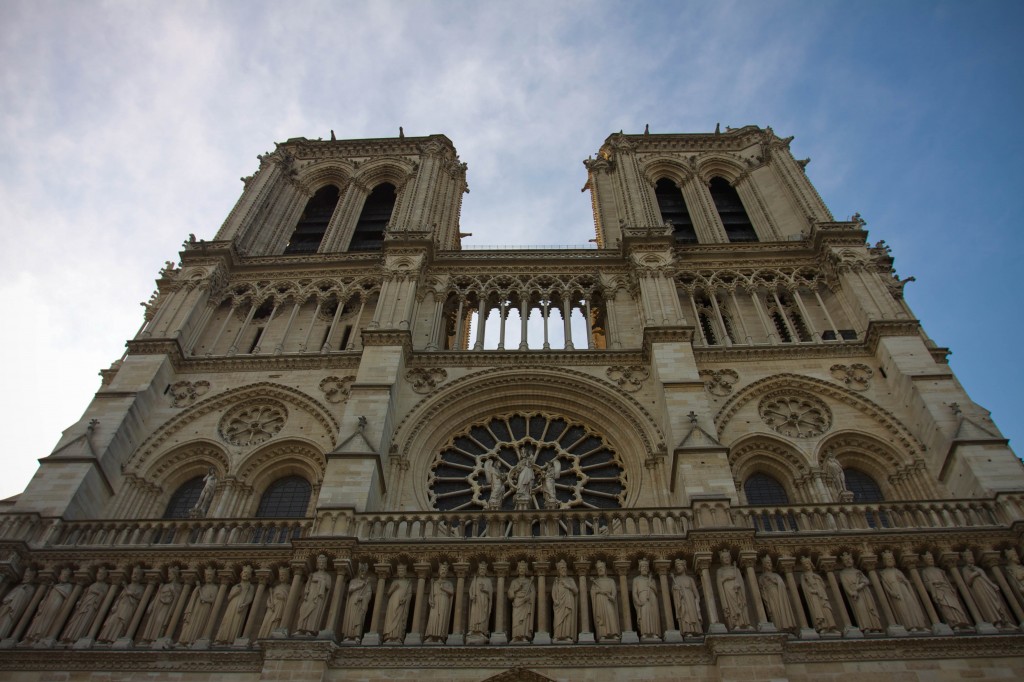 Is it possible to be in love with a building?? If it is, I'm deeply and passionately in love with Notre Dame. Notre Dame isn't just any building – it inspired Victor Hugo's "The Hunchback of Notre Dame" where you can imagine the deformed Quasimodo ringing that bell in the belfry. Notre Dame is a dark and sexy Gothic cathedral that just screams out to be explored, studied, and appreciated.  Notre Dame took almost 200 years to build, beginning in 1163 and completed around 1345. Just the perfectly symmetrical facade of the building is enough to cause me to stare for hours.
For as much as the sight of the outside of Notre Dame causes me to get all tingly when I see it from afar, it's the inside of the cathedral that captures my heart and attention.  Beautiful stonework curves, mathematically perfect; ornate metal grillwork; gorgeous chandeliers; breathtaking heights; and stained glass windows that glowed in the darkness of the cathedral – it's such an imposing sight and makes me feel so small.

I was so anxious to enjoy the cathedral before the crowds that I arrived at Il de la Cite just before 7:30 in the morning.  Since doors didn't open until 8:00, I spent the time stalking the front door, pretending to take a ton of detail photos.  I've been to Notre Dame when it was over run by tourists – I still loved it but I was constantly battling the crowds to get a good angle for my shot.  In contrast, when you are the very first person there, you've got run of the place.  I nearly lost my teeny little mind [and filled an entire CF card] snapping photos of every. single. nook. and. cranny.
Sadly, there is still so much I haven't explored within Notre Dame – my desire to be there when the doors open precludes me from certain activities, such as walking up the belfry which opens up later in the morning [crazy, i know].  I will go back again and I will eventually get up there.  You can't keep me away.