"Hello", Greece! This is one place where I never imagined myself to be – cost, time, and effort…and all the other excuses I gave myself.  Then, one evening at the end of last year, I met up with my new friend, the talented Heather of Heather Christo for drinks.  She painted such an amazing picture of Greece that the wheels in my head started to turn.
It started to get me thinking about what I wanted to do for my 40th birthday.  Without a doubt, traveling is one of my passions so why not travel somewhere I haven't been to and didn't really imagine myself ever seeing? Somehow the stars aligned and I found myself ticketed to Athens, along with my three girlfriends, Christy, Erin, and Fuyumi.
Beyond the incredible views, I really had no expectations of Greece. I wasn't sure how much I'd enjoy Greek food [truthfully, I haven't had a lot of it up to this point] or what there was to do there besides looking at old ruins.  I had intended to research the heck out of Greece before departing for my trip but some last minute family emergencies prevented me from doing a thorough job before my departure date.
Luckily, Greece is not necessarily a place that requires one to do a lot of research in order to get the most out of it.  It was simply enough to just BE.  Santorini allowed me the best opportunity to sit back, relax, enjoy the spectacular vistas, and allow the Greek hospitality to invite me in and guide me.  And since we were there just in time for the Greek Orthodox Easter celebrations, we had many opportunities to experience a truly blessed Easter.
We were advised by our host not to miss the Easter Midnight Service at the Orthodox Metropolitan Cathedral in Fira.  We saw a slew of people carrying candles to the service so in the spirit of the evening, we purchased candles for a few euros a piece. Red Eggs were left in our rooms, to which we were challenged to remember the phrases: "Christos Anesti" and the appropriate response "Alithos Anesti" or "Christ is Risen" and "Truly, He is Risen" as we tried to crack each other's eggs with our own. Finally, the evening wouldn't be complete without partaking in Margaritza soup & Lamb after the Midnight Service at Mama's House.
The only thing that really caught me off guard was the fact that I always had this preconceived notion that since Greece was in the Mediterranean, it'd be warm…always.  Even when I saw the forecast of temps reading low's in the 40's, I still refused to acknowledge that it'd be cold because my stubborn nature wouldn't allow me to give up my preconceived notions. So I brought capris, tanks, and t-shirts…and 1 pair of jeans and 1 long sleeve t-shirt.  I was freezing my @$$ off.  Words to the wise: when you go to Greece in the winter/spring time, expect it to be chillier than the temperate climate of Southern California.  Don't be a doof like me…you can't tell in the photo below, but I was really freezing my butt off.
What did I love most about Greece?  I loved how Santorini allowed the inner Photo Geek inside of me to break free and run rampant all over the island.  It's a novice/amateur photographers dream – it was nearly impossible to take a bad photo here!  This is where I discovered how important it was to shoot in RAW [and that 4GB memory cards weren't quite large enough] to get the most out of the spectacular colors of Greece.  None of my photos were retouched or tweaked below.  WYSIWYG [What you see is what you get]!!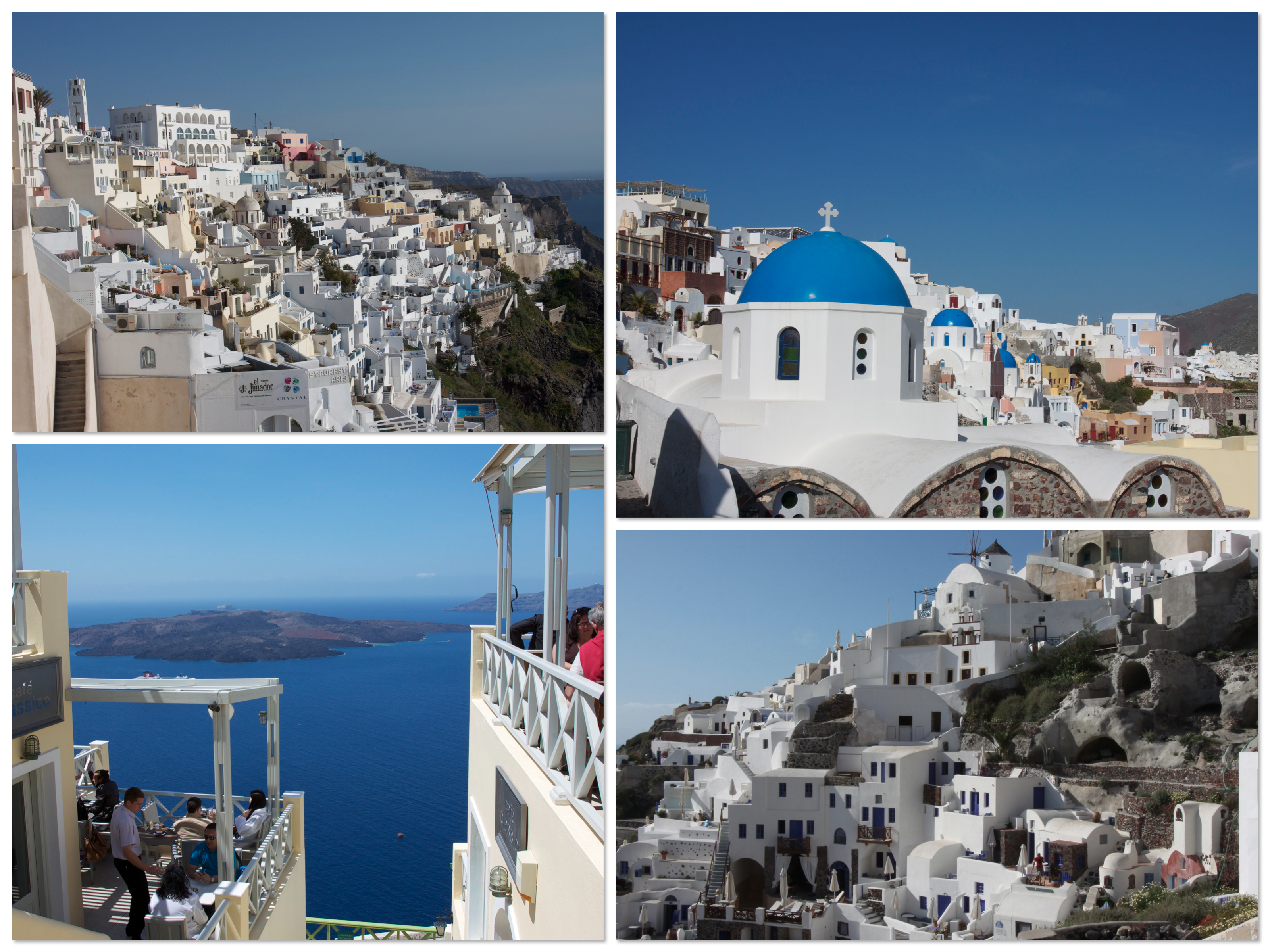 For additional information on Greece:
Athens Metro Maps – Easy to get to the airport using the metro
Aegean Airlines – I opted to fly instead of taking ferries due to time constraints