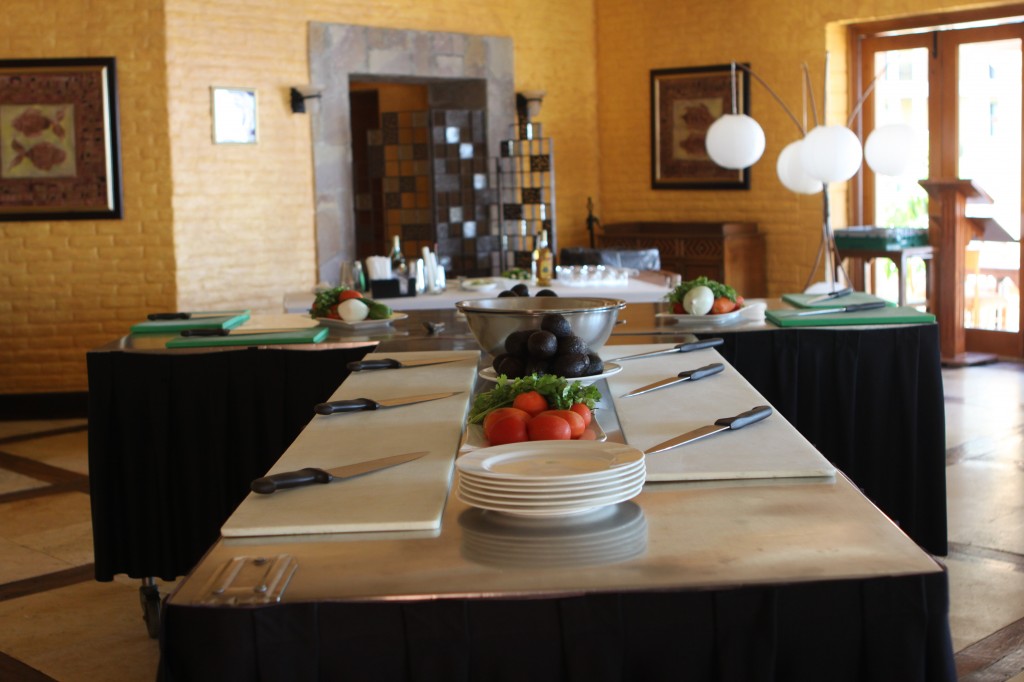 "We all know that this trip is really Jenny's Trip that we've all been invited to," my boss joked.  I will concede that I might treat my events as if they were my personal party/vacation/gathering.  That's only because I pour my heart and soul into these meetings because the people I work for care enough to spend a significant amount of time, effort, and money to host these events.
I will also concede that I might include activities that I personally like to do on my vacations.  Take cooking, for instance.  When I first suggested this last year, my boss made fun of me and ridiculed me for my choice…and it was one of the most popular and fun events we had!
This year's cooking class was no different.  Then again, how can you go wrong with Margaritas, Salsa, Guacamole, and Tamales?  Right.  You can't.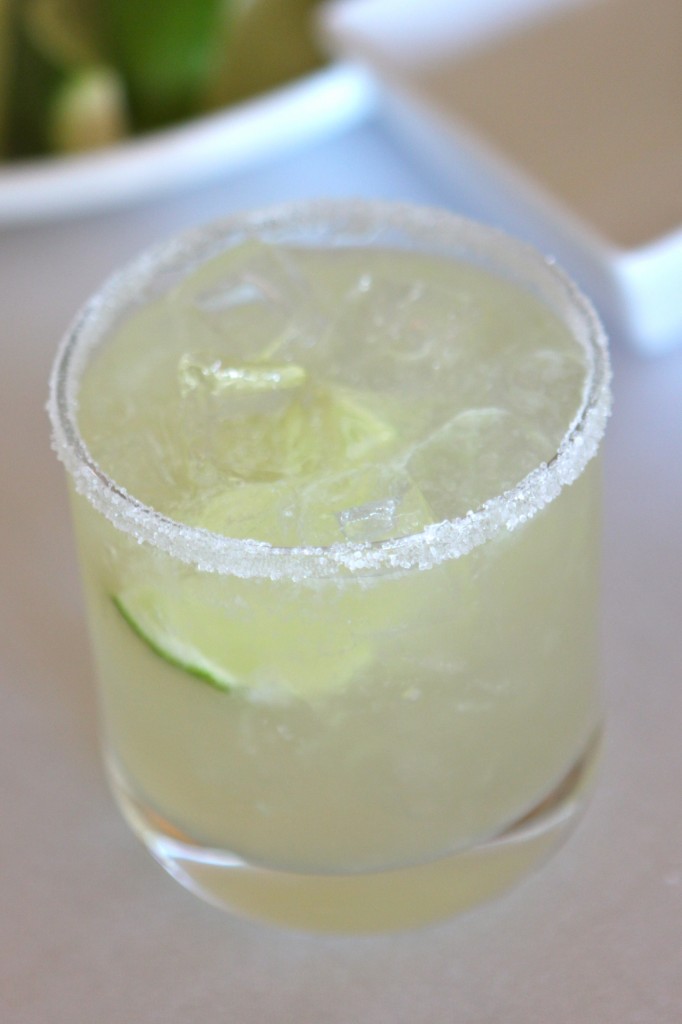 What better activity to do than learning how to cook the regional cuisine of the place where you're visiting.  It hits all of your senses – sight, sound, taste, smell, and touch.  Added to that, you also get to work with and get to know other people over a common ground – food & drink!
Personally, I've met people from all over the world at cooking classes in foreign countries.  It forced me to connect with and discover more about other people and places, especially since I'm really not gregarious by nature, talking to strangers requiring a huge expense of energy on my part.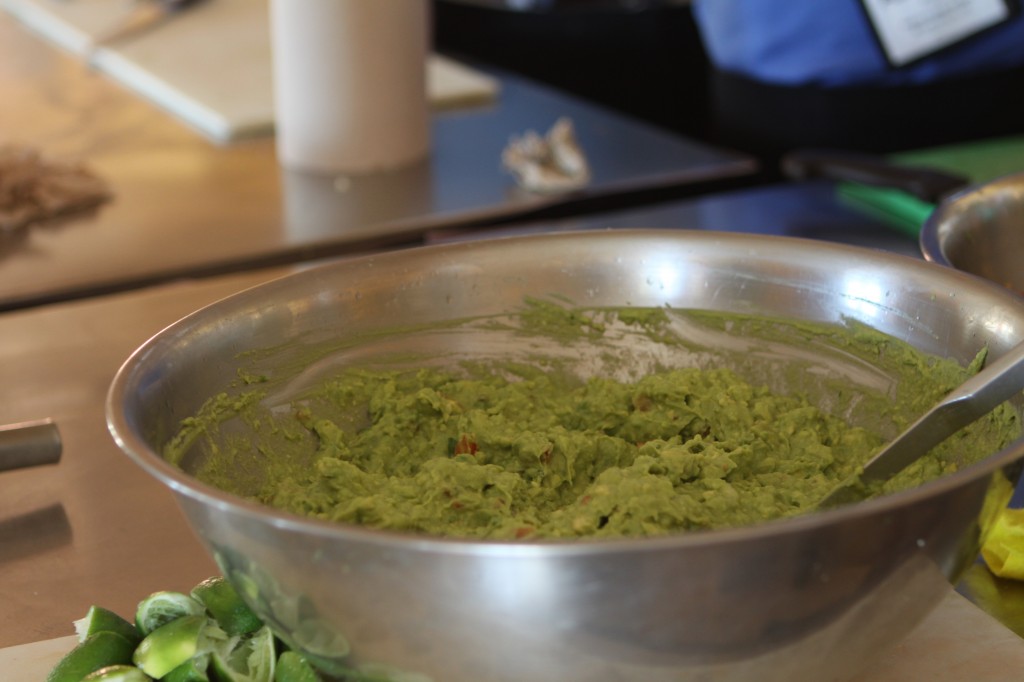 Guacamole is something that I've always thought of as being sinfully decadent.  I don't relate to those who dislike avocados.  Rich, creamy and sweet – this fruit pairs well with so many things…especially CHIPS!!  Gaby, of What's Gaby Cooking, hammered into my brain with all her posts & tweets about guacamole, that it's a sin NOT to have a little more guacamole in my life!
What I loved most about this class was that it wasn't focused on the measurements and RECIPE of how to make it.  It was all about adjusting to taste and the techniques of how to make a good guacamole.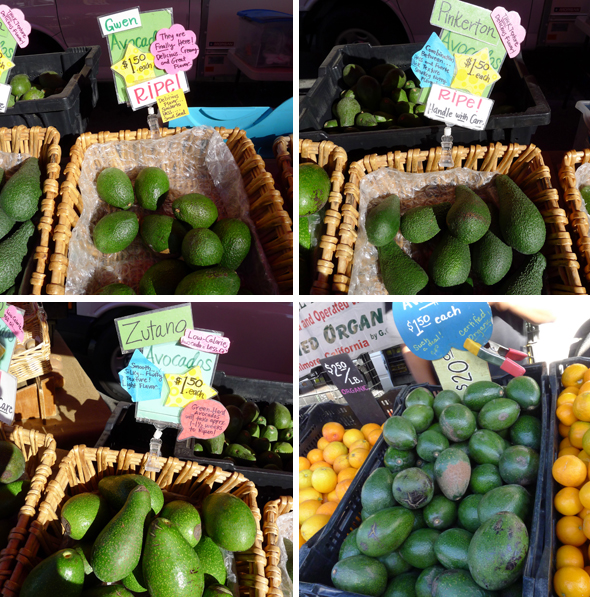 First and foremost, the avocado.  I find that California Avocados are the best – sweetest, creamiest and the best amount of flesh.  Unfortunately, I've been banned from the backyards of my friends and there's now a watch dog guarding the avocado tree in front of my neighbors house.  So saying, I've been relegated to searching the farmers markets for some hugely expensive [as in "not free"] avocados.  [G R U M B L E]
For those of you who may or may not know how to pick an avocado for readiness, the best way to select is to gently press the top & bottom of the avocado [the narrow end would be the "top"], looking for just a little bit of give.
Chop up the jalapenos [1 for just a hint of spiciness and more for the a burning mouth feel].
Mince garlic cloves – I use 1 clove for every 1 – 2 avocados but I really like my garlic.
Dice white onion into small enough pieces where you aren't getting the "crunch" from it.  It should blend in to the mixture well enough where it's not overpowering.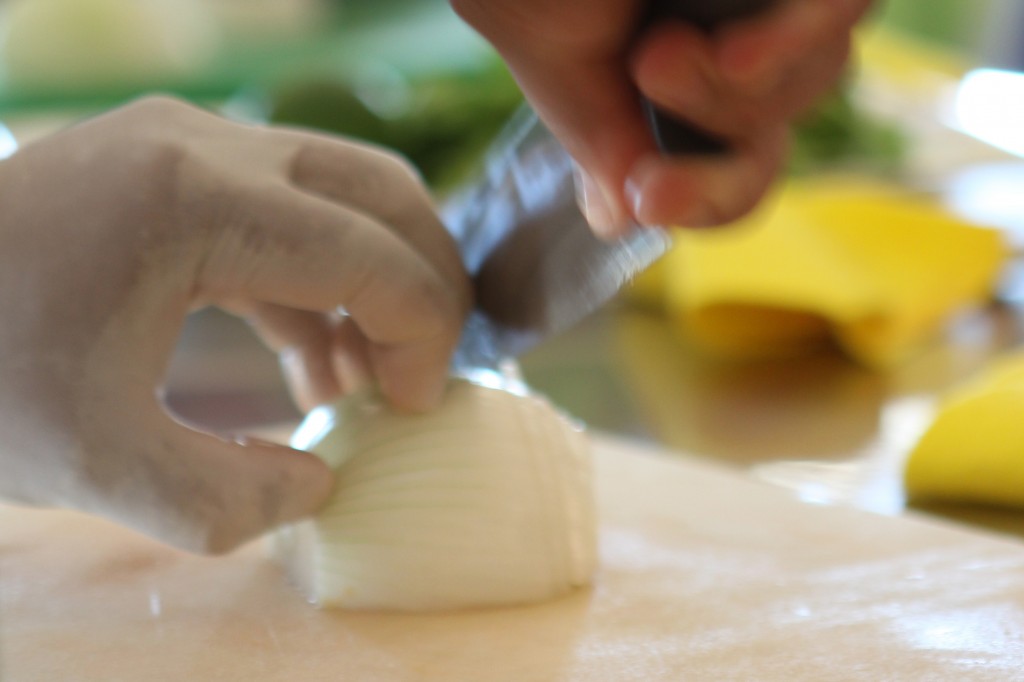 Dice the tomatoes into small pieces .  Any type of tomatoes will do but try to pick the sweetest one you can find.  Ingredient quality matters.
Squeeze the juice of a lime [i use about 1 tablespoon per avocado but you should adjust to taste].
Add cilantro leaves, if desired. Salt to taste.
For those of you who insist on a recipe, please use this as a guideline only – don't be stuck to it, go with your tastebuds!!!
Summary: Easy guacamole
Ingredients
2-3 Avocados, mashed
1/2 – 3/4 cup tomatoes, diced
1/4 – 1/2 cup white onions, finely chopped
2-3 cloves garlic, minced
1-2 jalapenos or serrano chili peppers, finely diced [deseeded for less spicy]
sprig cilantro, chopped
juice of 1 lime
salt to taste
Instructions
Scoop out avocado flesh and place into medium sized bowl, adding all the ingredients on the list except for the salt.
Mash together with fork. I prefer the chunky consistency but you may opt to blend if finely in a processor if you want to have a creamier consistency.
Add salt to taste.
Cooking time (duration): 15
Number of servings (yield): 4
Meal type: snack
Culinary tradition: Mexican
Microformatting by hRecipe.