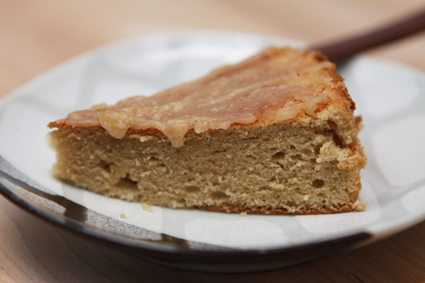 Welcome to my new home. It's taken me over a year to finally sit myself down and get it done.  It's still a work in progress so please excuse the mess.  Let me know what you think and drop me a line if you've got any suggestions!
I'm turning 40 in a few short weeks. It almost makes me look around with wild eyed confusion and panic. 
Almost
because the months leading up to my
30th
birthday, I became completely unhinged only to discover that this decade turned out to be
fantastic
.  All the people I've met, loved, and lost; places I've been, experienced and immersed myself in; hobbies I've taken up, checked off my bucket list, and all the new things I've learned – all in 10 short years.
I bring my age up because in the nearly 40 years that I've been alive, I've only known Tea Cakes to be a cake.  Much to my surprise, when I was doing an internet search, I discovered that most recipes for tea cakes are for the cookie variety.  The Tea Cakes I grew up with were of a rich brown sugary, moist treats baked in square muffin pans.  I used to love bringing home Tea Cakes from the bakery I worked at and eating the sweet cake with a cup of  bitter hot Japanese Green Tea…on the days that I could actually hold out that long.
I found a recipe for Grace Pastries' [now out of business] Tea Cake but it just wasn't what I was looking for.  I wanted something a little more complex in flavor – a little nuttier, so I substituted out some of the cake flour with Almond Flour.  The cake came out drier and denser than what I wanted so I scrapped that recipe and started on my little quest for my tea cake.  My co-workers are having a love-hate relationship with me right now.  Love, because they get baked goods every day; hate, because  it comes with strings attached – I quiz them about every little detail about the cake.  They won't touch the stuff now [unless I'm not around to harass them].
After several trials, my colleagues begging me not to bring in anymore cake, I think I've finally found my recipe!  It's a multi-step process consisting of the batter: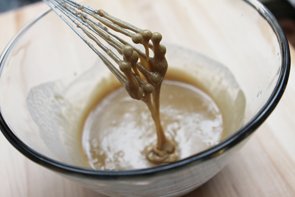 and the whipped egg whites:
to a nice fluffy, shiny whip: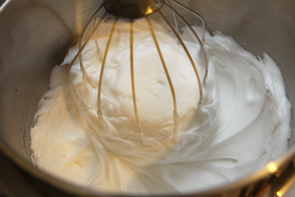 and you gently fold the two together…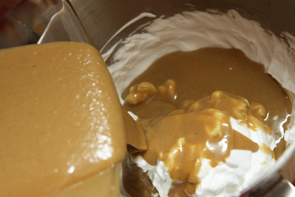 until you get a nice consistent and smooth batter…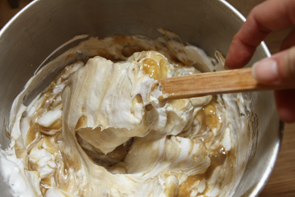 Bake it for 35 – 40 minutes in an 8″ round pan [or you can even make muffins out of this!]. Let cool and pour on the glaze, cut a slice and serve with a nice cup of hot tea.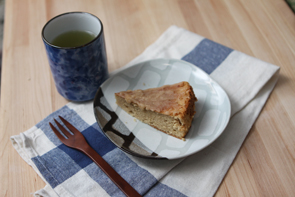 Ingredients
1 cup cake flour

1/2 cup finely ground almond [or almond flour]

3/4 cups brown sugar, packed

1/4 teaspoon baking soda

1/4 teaspoon salt

3/4 cups buttermilk

1/2 cup oil

2 egg yolks

1/2 teaspoon vanilla

3 egg whites

1/4 cup granulated sugar

For the glaze:

3 tablespoons butter

3/4 cups confectioners' sugar

1/2 teaspoon vanilla

2 tablespoons boiling water
Instructions
Pre-Heat oven to 350 degrees.

Batter: In a small bowl, whisk flour, ground almond, brown sugar, baking soda, and salt, breaking up any clumps. Make a well and add buttermilk, oil, egg yolks, and vanilla. Mix ingredients until smooth.

Whipped Egg Whites: Using an electric mixer [whisk attachment for stand mixer], whip egg whites until frothy/foamy. Then as you continue to beat the egg whites, slowly sprinkle the sugar until it's all combined. Whip until firm. [it's ready when you can tip the bowl upside down and nothing falls out.]

Slowly pour the batter over the egg whites. Gently fold the mixture together until the consistency is smooth and well incorporated.

Lay a parchment paper in two 8″ round pans [or butter and flour it]. Divide mixture between the two pans, knocking the pan on the counter to get any air out of the mixture.

Bake for 35 – 40 minutes until you can poke a toothpick in and it comes out clean. Let cool in pan, then remove. This cake is a chiffon so it should be relatively easy to remove.

Glaze: Melt butter in pan until golden brown, add sugar, vanilla, and boiling water to butter. Mix until smooth. Pour glaze over cake and allow to cool.
Quick Notes
A nice nutty tea cake that goes well with green tea.
Cooking time (duration): 60
Number of servings (yield): 8
Meal type: dessert
My rating: 5 stars:  ★★★★★ 1 review(s)
Microformatting by hRecipe.