I will admit that I'm not much of a beach-goer, mostly because I hate being hot and am a bit sun-shy [as noted by my extremely pale legs]. Vieques Island, just off the coast of Puerto Rico was most notable as a former bombing range of the US Navy. It's hard to imagine that it possesses some of the most beautiful beaches I've ever seen. When I first went to Caracas Beach [Red Beach] and Bahia de la Chiva [Blue Beach], I was absolutely stunned and in awe. The clear, crisp colors of the beach was amazing – clear blue waters and endless powdery white sand as far as my eye could see [but I'm nearsighted].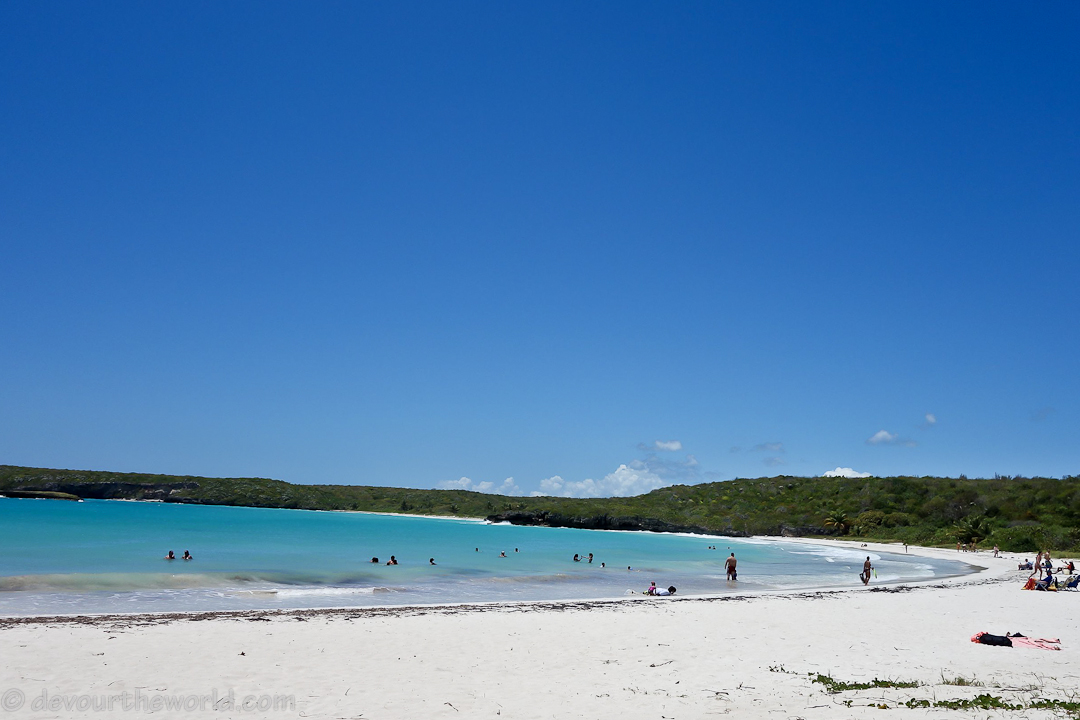 This was one beach where I could sit all day long reading a book, sipping a glass of wine and just enjoy the view.  You know, the view of the back of my eyelids as the gentle waves hypnotically lull me to sleep. There are no facilities at this beach making it inconvenient for parents who are trying to potty train their kids but for adults who want to have some time away from their every day lives, this is the perfect respite.
In order to achieve your own personal Nirvana, you will need a few things:
Beach towel or chair
umbrella if you need some shade [there are coconut trees but you risk the chance of having a coconut fall on your head, thus ruining your perfect outing]
a cooler stuffed with ice cold drinks – water, soda, beer & wine. Actually, you might need two coolers.
a good book
lunch and snacks
A note about lunch: if you go on a Friday, Saturday or Sunday, I highly recommend a stop at Sol Food Truck at the entrance of the road to the beaches. The sandwiches that they prepare are absolutely amazing. I had the Caribbean Pulled Pork sandwich topped with a homemade Purple Psychedelic Coleslaw.  Items on the menu range in price from around $8 – $10.
Most importantly, choose to spend your day at Caracas Beach without any of the tethers that demand your attention – cellphone, email, or stress. Leave them behind and enjoy your time there.
How to get there:
By car: you can rent a car and drive to PR 997, the turn off is at the entrance to Garcia Gate
By taxi: you can pre-arrange a pick up time as cell service can be spotty.
{ 3 comments }